John's Note: The trophy buck is the oldest and the smartest deer on the land you land. Trophy bucks must have eluded hunters for at least 3 years and often for 5-6 six years to become a trophy. He has learned to recognize the mistakes hunters make and understands how and where to hide where hunters can't find him. If you're going to take the wide-racked, heavy-antlered, high-tined buck of your dreams with a blackpowder rifle, you must hunt mistake-proof and realize your quarry may be smarter than you are.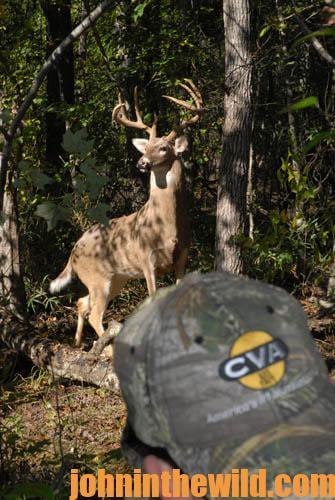 Good blackpowder hunters can be better hunters if they don't commit sins that decrease their odds for bagging any deer, especially trophy deer. This week, we'll look at how to avoid the problem of being too anxious and overzealous to bag trophy bucks, one of the most-common mistakes even good blackpowder hunters – sportsmen who have taken several deer and who have hunted for 4 or 5 years – make.
Many blackpowder outdoorsmen want to be trophy hunters. Once a hunter gets into the sport of blackpowder hunting and begins to read about Boone & Crockett (http://www.boone-crockett.org/) trophy deer and about the hunters who take these types of animals, he may set a goal for himself to become a trophy hunter. However, many of these sportsmen don't put-in the hours or take enough deer to become good hunters ­– much less trophy hunters. These hunters are missing-out on a lot of fun. As a trophy hunter, the blackpowder hunter may hunt all season with his rifle and not even see a B&C set of antlers. A buck must have extremely-large antlers to make the Boone & Crockett record book. A blackpowder hunter may search his entire life for a trophy deer that's B&C size and never find him. He'll have to let numbers of nice deer walk-by without ever harvesting them.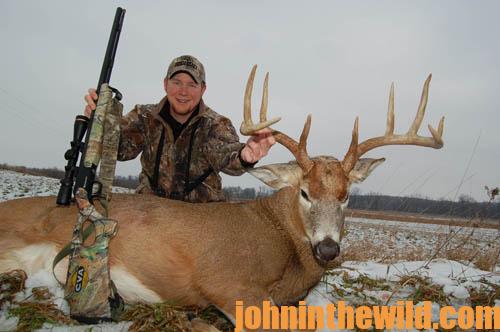 But bagging deer and enjoying the outdoors is what the sport of blackpowder hunting is all about. Therefore the hunter who becomes a trophy blackpowder hunter too quickly misses the best of hunting, because he's so obsessed with taking a trophy. Too, if a blackpowder hunter hasn't bagged quite a few deer, he won't be mentally ready to take a trophy, even if the shot presents itself. If the hunter ever will have shaking knees and shortness of breath before a shot and be so nervous he can't hold his arm steady – it will happen when a big set of antlers comes into range of his blackpowder rifle. Only by learning to deal with the emotional problems directly affecting the shot can the hunter expect to be successful; and taking numbers of deer can the hunter learn to control his emotions at this moment of truth.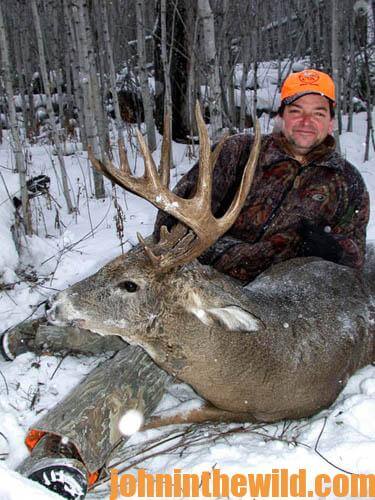 The blackpowder deer hunter who wants to become a trophy hunter should have bagged at least six to 10 deer before he tries to become a trophy hunter, and 20 deer will be even better. This idea of being a trophy hunter has been overplayed in my opinion. Everybody shouldn't hope to be a trophy blackpowder hunter. Trophy hunting isn't the ultimate in hunting. I do it because I like it, and I've taken enough deer that I want to attempt to bag bigger deer, although I still enjoy taking a doe or a smaller buck. However, a blackpowder hunter doesn't have to become a trophy hunter to be a good hunter.
Too, many good hunters don't harvest deer as often as they can, because they don't know when to take their shots. They either shoot before they have good shots or wait for the best shots and never get shots. Experience is the best teacher a blackpowder hunter can have, because a hunter must learn when he should take a shot. But my rule is that when an animal presents me with a good shot that I feel I can put him down with, that's the time I shoot my CVA rifle (http://www.cva.com/). I don't believe you ever should hurry a shot. However, also I've found that you shouldn't wait on that best shot, because often deer won't give you the shot for which you're looking. I've waited around for that best shot before, never have had it presented to me and have watched a nice deer walk away from me. Don't play with a deer, don't watch a deer, and don't take a head-on shot either. But when you've got a good shot with your blackpowder rifle, take the shot.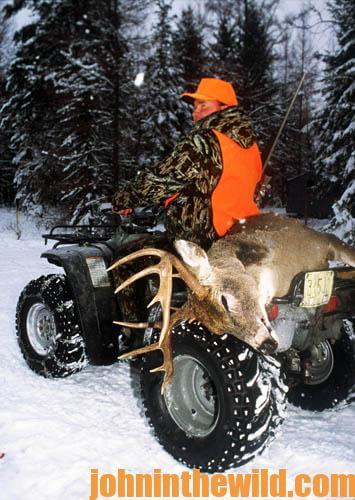 To get John E. Phillips' eBooks, audio books and print books on hunting deer, including his newest deer-hunting book, "Whitetail Deer and the Hunters Who Take Big Bucks," available at http://amzn.to/2bYwYOK/, click on these books to learn more, "How to Hunt and Take Big Buck Deer on Small Properties," "How to Hunt Deer Up Close: With Bows, Rifles, Muzzleloaders and Crossbows," "PhD Whitetails: How to Hunt and Take the Smartest Deer on Any Property," "How to Take Monster Bucks," "How to Hunt Deer Like a Pro," and "Bowhunting Deer: Mossy Oak Pros Know Bucks and Bows," or to prepare venison, "Deer & Fixings." Or, go to www.amazon.com/kindle-ebooks, type in the name of the book, and download it to your Kindle, and/or download a Kindle app for your iPad, SmartPhone or computer. You also can find John's books on Nook at www.barnesandnoble.com.
For free information on making jerky from your deer to provide a protein-rich snack, you can download a free book from http://johninthewild.com/free-books.
EXPLORE MORE: you'll love these stories from John too