Editor's Note: Lake Guntersville (http://www.lakeguntersville.info/) is still kicking out monster bass, and anglers all across the country travel there to fish. In the first picture today, Phillip Criss, who guides on Guntersville Lake in north Alabama, is holding a 9-1/2-pounder that he caught mid-March, 2017. Criss fishes between 200 to 250 days a year on Lake Guntersville. If you throw in the number of days he fishes to find bass for his clients, he's probably fishing 300 days per year. This week Criss will tell us the secrets to catching springtime Guntersville bass.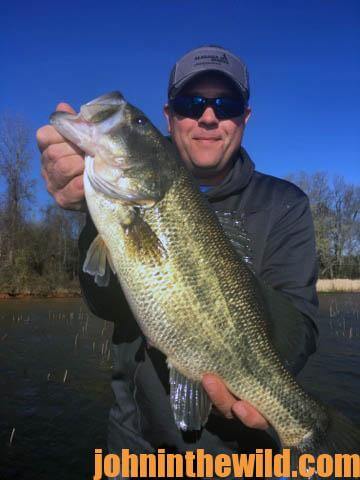 One of the most-exciting moments we had on my last guide trip was one of my customers was throwing a Rat-L-Trap crankbait (http://www.rat-l-trap.com/), and he had a strike that almost  knocked him out of the boat. The fish took off, taking almost all the line off the reel. I turned the trolling motor on, and we started chasing the fish. We were in an area where there were a lot of people. When they saw that bent rod, and my customer struggling, they quit fishing just to watch the fight. They wanted to see onto what this fisherman had tied. I told my customer, "I don't know what you've hooked into, but I know it's not a bass. A bass would come up and try to throw that Rat-L-Trap. I believe you've foul-hooked something really big."
Finally, we caught up to the fish, and I noticed that his Rat-L-Trap had hooked about a 30-pound carp in the tail. I told my customer what he had. He laughed, turned back to look at me and announced, "I don't care what kind of fish it is. I haven't had this much fun fighting a fish in a long time. This is the biggest fish I've ever caught. When my buddies ask me how big a fish I've caught on this trip, I'm going to say, 'I don't know exactly how much it weighed, but I know for sure that it weighed over 10 pounds.' That is as far as I'm going on the story about catching this fish." I laughed and said, "Yeah, but that's not a bass." My customer told me, "Yes, but my son never will know that." And, we all had a good laugh.
Guntersville Lake can be really tough for a newcomer to fish successfully. It homes plenty of new grass and new lily pads. Just about everywhere you look, you'll expect to find bass. Another problem this year is our area hasn't had an extended cold winter. So, the milfoil hasn't been  killed. Guntersville still has many areas with matted milfoil. The grass looks like its mid-summer grass. Any of the grass on the top of the water has been killed by the few cold fronts we've had coming through, but the grass only a few inches to a foot under the water hasn't died like it usually does. That grass is still as pretty and green as last summer and fall. Therefore, the regions where I want to concentrate my fishing on will be the spots that have new-growth grass and lily pads. Some of the areas that TVA (the Tennessee Valley Authority) has sprayed and killed are starting to come back with new-growth grass. So, I'm primarily concentrating my bass fishing on regions of grass and lily pads with 3 feet or less of water above the vegetation. I'm fishing those places because the bass in Guntersville are moving up to those shallow-water flats to spawn right now in mid-March probably through mid-April..
Besides the chatterbait, I'll be using weedless soft-plastic swimbaits and spinner baits. Spinner baits once were the number-one bait to catch big bass here at Guntersville. You could fish that bait all day long and catch bass all day long on it. But new and better techniques and new baits have caused many bass fishermen to quit using the spinner bait. However, lately, the spinner bait is starting to be productive again.
Another bait that has been paying off for me and my customers this year is the buzzbait. I fish the buzzbait in the afternoon around the primrose grass (water primrose). When the bass won't take the chatterbait, I'll often cast a swim jig and swim that jig just under the water.
Occasionally, the square bill crankbait also will produce some good bass.
Although I guess one of the all-time favorites that works really well on Guntersville at this time of year is the Rat-L-Trap, you can't just throw the Rat-L-Trap out, reel it in and expect to catch bass. You've got to be able to swim the Rat-L-Trap slowly over the top of the grass, let it drop down and rip it out of the grass. I tell my customers, "If you cast the Rat-L-Trap out, and it falls down in the grass, if you try to rip it out of the grass and can't get it out, or you pick up a lot of grass when you rip it, either don't let it fall as deeply into the grass on your next cast or speed-up your retrieve. You just want that Rat-L-Trap to catch the top part of the grass. Then, when you rip the Rat-L-Trap out of the grass, no grass will hang on your hook."
To fish the Rat-L-Trap effectively, the fisherman has to stay in touch with his Rat-L-Trap and know what that bait is doing from the time it hits the water until he reels it into the boat. If the Rat-L-Trap quits vibrating, you'll know it's picked up grass. So, at that point, you need to rip it very hard to try and rip the grass off the hook. When I start retrieving again, if I don't feel the Rat-L-Trap vibrating, I'll reel it back to the boat and pull the grass off the hooks.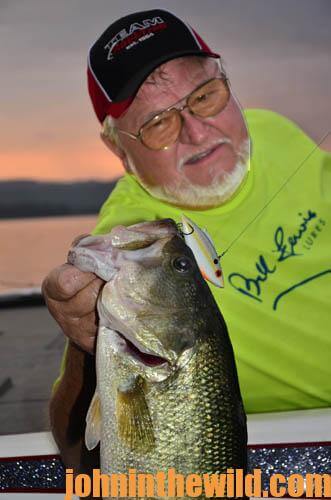 I'm often asked, "When will the grass top-out on Guntersville?" I'm expecting it to top-out sometime during the month of April. Unless TVA kills a lot of grass, we should have more grass on Guntersville than we've had in a long time. If TVA doesn't kill an awful lot of it, we should have the best rubber frog fishing this fall that we've ever had here on Guntersville.
Contact Phillip Criss on Lake Guntersville by calling 205-461-5549.
To learn more about bass fishing, get John E. Phillips' Kindle eBooks, print books and audiobook on bass fishing, go http://johninthewild.com/books/#bass, or for Nook books, visit www.barnesandnoble.com.
Tomorrow: Guntersville Is Full of Grass – How to Fish the Lake for Bass
EXPLORE MORE: you'll love these stories from John too