Editor's Note: Nolan Shivers of Birmingham. Alabama, and his fishing buddy, Cap Wilover, brought in a box full of smallmouth bass to be mounted at my brother Archie Phillips' taxidermy shop years ago. They had 10 smallmouth bass, weighing a total of 98 pounds, that they wanted to be mounted on a stringer. That was the biggest catch of smallmouth I ever had seen in my life. When I asked Shivers how they caught those smallmouths, he explained that they caught them minnow fishing below Wheeler Dam on Wilson Lake on the Tennessee River in swift water within 50 yards of the dam down to 2 miles past the dam on shell banks, Indian mounds, drop-offs and ledges. During the fall and winter months, the smallmouths and other bass on the Tennessee River gang-up near the dams, because the water coming from the hydroelectric plants is warmer than the water in the Tennessee River lakes and feed on shad minnows. A few weeks ago, I fished The Tennessee River's Pickwick Lake on the borders of Tennessee/Alabama/Mississippi with Brad Whitehead of Muscle Shoals, Alabama, guide (bradwhiteheadfishing@yahoo.com) and (https://www.facebook.com/people/Brad-Whitehead/100008425833568) and Ronnie Leatherwood of Killen, Alabama.
"One of the most-effective lures I've ever used for catching bass on the Pickwick Lake bluffs is  a 4-inch Slider worm (https://sliderfishing.com/Worms_c10.htm). Then one day I decided if I could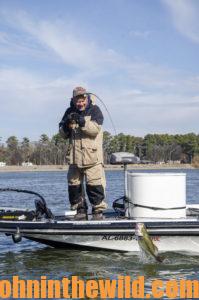 catch smallmouths fishing a Slider worm on these bluffs, then why couldn't I catch more bass fishing live shad minnows? So, I started using both to fish for and catch these live minnows. Often I could catch more bass in a day on live minnows than I could on artificial lures in the fall. Sometimes I like to fish a circle hook because it's not as likely to be swallowed into the fish's gut, you take up the line until you feel the bass on the hook, and then you set the hook, which doesn't require nearly as hard of a hook set as when you fish with straight hooks. I try and release all the smallmouths I catch unless one of my fishing partners catches a smallmouth that weighs 8 pounds or more because a fish of that size is usually 15 years old or older."
When Pickwick Lake was backed-up, the stumps, logs and other types of current breaks on the lake's bluffs became very productive. Today minnows will congregate anywhere they can hold out of the current. As Leatherwood fishes down a bluff, he looks for back currents along the bluff. When current hits, the eddy breaks often create a back current, which means that the water will hit that break and then start flowing upstream instead of downstream. According to Leatherwood, "Once I find those back currents, instead of casting in front of the boat, I cast to the back of the boat where the current is turning from coming downstream and flowing upstream instead. In these kinds of places, you can often catch several bass in cool weather."
Regardless of whether you're fishing lures or live bait, when you concentrate on the current and  the eddy breaks in cooler weather and fish shad minnows, you'll catch a wide variety of fish all day long, including smallmouths and spotted bass, a few largemouths, drum and catfish. However, don't be surprised when you catch white bass, stripers and hybrids too. In the fall and winter at Pickwick Lake, whether you're fishing live bait or artificial bait, Pickwick Lake is a highly productive place to fish where you can expect to catch 20 to 50 bass in a day plus other  species.
For further information about Pickwick Lake, contact Colbert County Tourism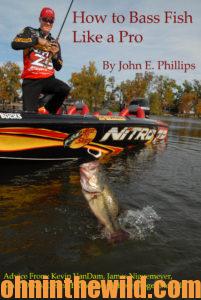 (www.colbertcountytourism.org), or call 800-334-0783. A great place to stay is the Cold Water Inn in Tuscumbia, Alabama, for delicious food and very-nice rooms. Call 855-249-1953, and visit (http://coldwaterinn.com).
To learn more about bass fishing, go to John E. Phillips' book, "How to Bass Fish Like a Pro," available in Kindle, print and Audible versions at http://amzn.to/YpoJvD.