This week when I called my friend, Tony Adams, a crappie guide on Lake Eufaula in Eufaula, Alabama, to get a fishing report, he told me a story that was hard to believe. Tony said, "I took Santa Claus fishing. I got a phone call a couple of weeks ago from the North Pole from someone who said his name was Mr. Claus, and that he'd heard I was one of the best crappie fishermen in the nation. 'I'll be coming down your way before Christmas, and I'd like to go crappie fishing with you.'"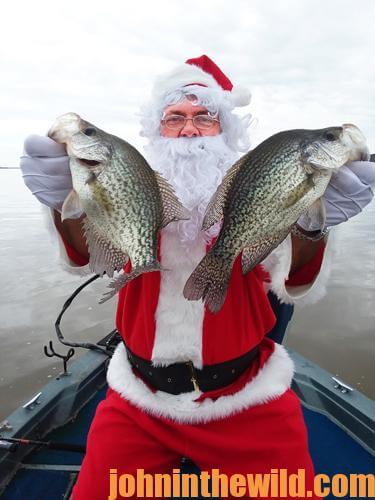 Tony told Mr. Claus, "Yes, sir. I'll be happy to take you crappie fishing. Call me a day or two before you leave home, and I'll check the weather and pre-fish to see where the crappie are holding. The day before you decide to come, I'll get some minnows and jigs together. Then we can leave early to catch you a mess of crappie." Mr. Claus explained to Adams that he had numbers of elves who worked with him who wanted to go crappie fishing. "But I won't have room in my ride to bring them down this year. Maybe I can next year. We don't have any crappie here at the North Pole, and I've tasted those delicious, lightly fried crappie fillets before."
Several days before Christmas, as promised, Mr. Claus called Tony and told him when he planned to come to Eufaula to fish for crappie. He also said, "By the way, have you got a place where I can park my ride and get fuel for my return trip home?" Tony answered, "Sure. You can park your ride at Lakepoint Marina. We have plenty of gas stations in that area." However, Mr. Claus explained, "I won't need any gas, but I do need some of that sweet Alabama alfalfa hay, for my ride." When Tony mentioned that no airport was close to Eufaula, Mr. Claus said he had a ride he'd been traveling all over the world with for hundreds of years. Although Tony didn't understand what Mr. Claus was talking about, Tony assured him he'd find some alfalfa hay.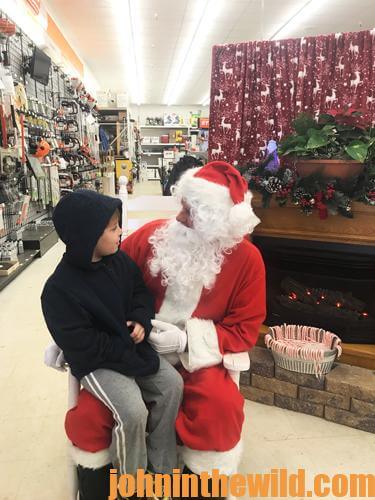 "Sure enough, this fella showed up wearing all his winter clothes," Tony explained. "He had on a red insulated suit and wore a red floppy hat trimmed in white with a ball hanging off the top of the hat, a big black belt, bigger than a cowboy's belt, white gloves and black boots. With his long, white whiskers, his head full of white hair and wearing granny glasses, he looked very old. He always had a smile on his face. I met him at the boat ramp, and we loaded up for a day of fishing. Mr. Claus enjoyed catching those fat crappie, and every time he caught a fish, he'd shout out, 'Ho, ho, ho.'
"Since the time was close to Christmas, I asked him this pertinent question, 'What's the best Christmas present one person can give someone?' Mr. Claus smiled and answered, 'A memory for a lifetime that can be created best not with presents under the tree but rather by spending time with people you love on a fishing or a hunting trip. Next year I plan to bring some of my elves from my workshop with me to fish with you at Lake Eufaula either just before or after Christmas.'
"I asked Mr. Claus if he'd mind staying a day or two and coming to my Marvin's store I managed to let children sit on his knee and tell him what they wanted for Christmas. In the meantime, I'd fillet the crappie we'd caught and possibly catch another mess or two of crappie, while he talked to the children. Then I could send him back to the North Pole with several bags of fresh, crappie fillets. Mr. Claus agreed.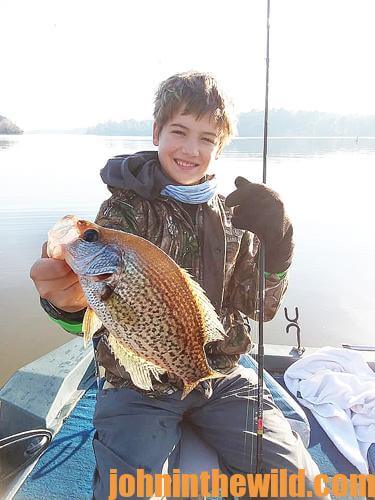 "So, while he visited with the children who came to the store, I went out and caught him several more messes of crappie, cleaned them and put them in Ziploc bags. Mr. Claus placed those fillets in a giant bag that he said he used to carry Christmas presents on Christmas Eve. 'Tony, I want to make this same trip next year before Christmas. If you have some folks you're taking crappie fishing then, either my elves or myself will go with them and make photos and videos while they're building a memory of a super crappie fishing trip.' Of course, I said that was a wonderful idea. I also asked if Mr. Claus if he could visit with the children who came to my Marvin's store next year and get their lists of presents they wanted on Christmas Day. Mr. Claus told me, 'Sure.'"
Tony took Mr. Claus back to Lakepoint Marina where he saw a big red sleigh and eight reindeer feeding on alfalfa hay. Because dark had fallen, Tony didn't know how Mr. Claus and his reindeer would get back to the North Pole. However, suddenly, the jolly old man and his team of reindeer, led by the strangest reindeer Tony ever had seen that had a red nose, disappeared. Tony heard a faint voice in the distance from up in the sky, saying, "Ho, ho, ho, merry Christmas to all and to all a good night."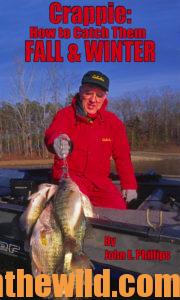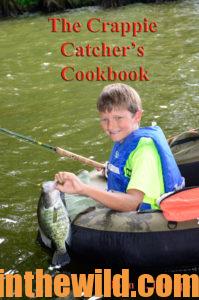 To learn how to catch Christmas crappie, check out John E. Phillips' Kindle and print book,  "Crappie: How to Catch Them Fall and Winter" at http://amzn.to/16AzIZi. For a free eBook, "The Crappie Catcher's Cookbook," go to https://www.emailmeform.com/builder/form/eb81136oQJ1g2fe9q6RNd73jh. To give a Christmas present that will last a lifetime, contact Tony Adams, the man who fishes with Santa Claus, at 334-688-7505 or tony.adams@marvins.com or go to his Facebook page at https://www.facebook.com/tony.adams.5477.
EXPLORE MORE: you'll love these stories from John too