Editor's Note: 54-year-old Billy Bishop grew up in the White Mountains of Surprise, Arizona, and today lives in Buckeye, Arizona. He's been an elk and mule deer guide since he was 19 and currently operates Blue Wilderness Guide Services (https://www.gohunt.com/outfitter/blue-wilderness-guide-services). His dad, Bill Bishop, was a construction worker during the spring and summer. When the weather wasn't good, Billy and his dad trapped when fur was still selling at good prices. Once fur prices plummeted, Bill Bishop began to guide to elk and mule deer, and his son Billy became his first employee. The Bishop family has trapped, hunted and guided together most of their lives. Both archery enthusiasts, Bill and Billy have used their bows to take elk, mule deer and Coues deer when not trapping or guiding. "Over the years, I've called in more than 30 serious bull elk that my clients and I have harvested," Billy Bishop, the son, reports. Billy Bishop hunts in the extreme backcountry and most often packs into wilderness areas on horseback, setting-up spike camps from where he and his clients can hunt during the season. Billy prefers to hunt what he calls "The Old Country," areas where many older Bull elk go to retire and dodge hunters. The terrain is very brushy there and, in many instances, very steep in these regions. He's not hunting private lands but rather Bureau of Land Management (BLM) lands (https://www.blm.gov/arizona), which is for the most part, public-hunting lands. To learn more about Billy Bishop you also can visit his Facebook page at https://www.facebook.com/BlueWildernessGuideServices/.
One time my dad, Bill, and I had packed in with four really-good bowhunters. These guys had hunted with us for several years and had become more like family than clients. Six days into our 14-day hunt, I left camp with two of the hunters before first light. As we rode our horses, I did what I call, "trolling for elk" – yelping one or two cow elk calls and letting out a little bugle. All of a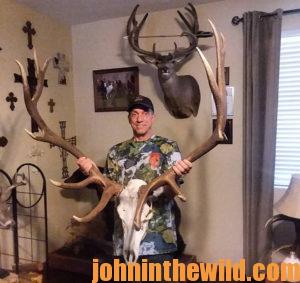 sudden, we heard two elk bugle, climbed off our horses, tied them up and went up to a little basin where a big bull was sneaking toward us. He was far enough away, so that we could set-up and get ready to take a shot at him. When he was 40-yards away from my hunter, I tried to call a few more times to pull the elk in closer, right in front of my hunter. The bull was soon quartering toward him. When my hunter made the shot, aiming for the brisket area of the bull, the arrow deflected and hit him elsewhere.
We waited about an hour before starting to go look for him. After 4 miles of tracking and following the bull's trail, we wished we had our horses. But then we realized that the route was too rugged for them. After about 6-1/2 miles, we noticed that the bull had made a big circle around the spot where my hunter had taken the shot. Next, we saw the bull come out of the canyon, go up the side of a hill and bed down. We decided to back out and circle behind the bull, hoping that if we spooked him up again, he might walk back toward the spot where he'd been shot. We could tell that he was really hurt and learned later that the arrow had cut one of the arteries behind his front shoulder.
Eventually, my hunter got close enough to hit the bull again. After the shot, the bull got up and ran another 80 yards before he went down for good. By the time we reached the bull, skinned him out, quartered him and put the meat in game bags to pull up into the trees, the time was well into the night. We got back to our spike camp at about 1:30 am the next morning.
Before we went to sleep, we talked about how weird it was to depend on the horses to find our spike camp in the dark. At times, it was so dark that we couldn't even see our hands, but knowing that these horses could travel across some of the roughest terrain in the world without slipping or falling gave me all the confidence I needed that those horses could get us back to camp safely. Fortunately, today, we have LED headlights that we can use after dark to help in those situations. Finally, we made it back to camp, and over dinner, shared the story with my dad and the other two hunters. The next morning, we led the horses back to the place where we'd hung the meat, loaded it into the panniers, carried the meat back to our truck, took it to a meat locker and put the meat into a cooler. That bull elk scored 363 inches.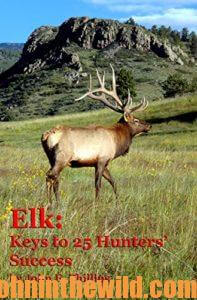 To learn more about hunting elk successfully, check out John E. Phillips' book, "Elk: Keys to 25 Hunters' Success," available in Kindle, print and Audible versions at https://amzn.to/2IDszQk.
Tomorrow: Billy Bishop's Worst Elk Hunt Ever