John's Note: Mississippi's marine biologist Jill Zednick holds three World Records. In the next few days, she's going to tell us about taking her three World Record saltwater fish, why she takes crab with a bow and how to eat them, and how to know when back bay and estuary areas are best for shooting.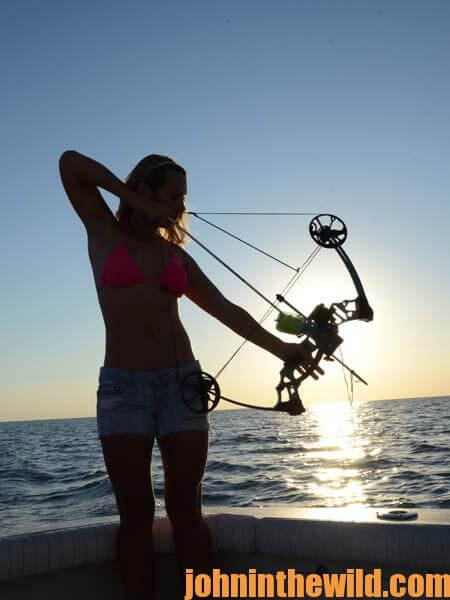 My second World Bowfishing Record was a 23.76 pound black drum I took from Fort Bayou in Ocean Springs, Mississippi, also in Jackson County. I took that fish on October 9, 2015. We had been seeing and taking some flounder and redfish on this night when I spotted four black drum right up against the bank. As soon as they saw the boat, they spooked. When I first saw the fish, I thought they were redfish. The fish swam away from the bank. I drew my Mathews Mission Craze II (https://www.mathewsinc.com/), aimed and took the shot. I pull about 35 pounds. When the arrow hit the fish, there was lots of splashing in the water as the big drum tried to get to deep water. I've learned that when you shoot black drum, they'll splash around for a little while but then are still, and you can net them.
With big, soft meat fish like redfish, black drum and flounder, we always try and net them. If you try to fight them and pull them into the boat with only the arrow, most often the fish can get off the arrow. If we can't get the fish netted quickly, we try to chase them down with the boat instead of dragging them in attached to an arrow. We've learned that caution and letting the fish tire itself out results in more fish coming into the boat than trying to pull them in quickly after we've arrowed them. We also shoot sheepshead, which will come up into the shallows, especially where there's pylons with barnacles. We often harvest ladyfish, but one of my favorite targets, because there's so many of them, are blue crabs that are delicious to eat.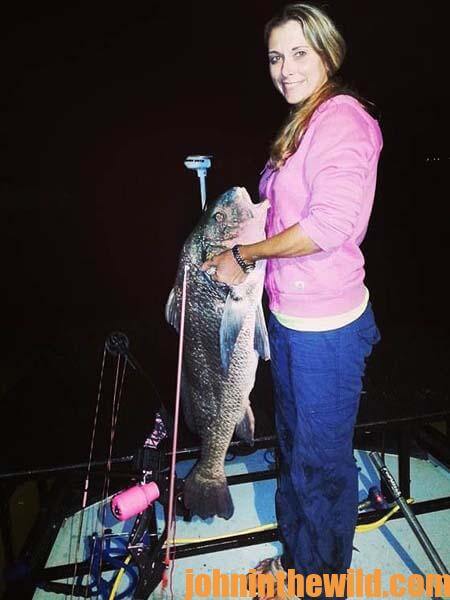 To learn more about saltwater fishing, check out "Alabama's Inshore Saltwater Fishing: A Year-Round Guide for Catching More Than 15 Species," "Alabama's Offshore Saltwater Fishing: A Year-Round Guide for Catching Over 15 Species of Fish," "Fishing Mississippi's Gulf Coast and Visitor's Guide," "How to Fish Mississippi's Gulf Coast in June" and "13 Saltwater Fish Recipes You Can't Live Without," available in Kindle eBooks and some print books.
Next: Bowfishing for Blue Crabs with Jill Zednick