Editor's Note: The fastest-growing segment of the outdoors industry is women. In the last 25 years, there have been numerous women who have blazed the trails for careers in the out of doors. This week and next week, I'll highlight 14 of these inspiring ladies from my newest book, "Outdoor Women's Hall of Fame – Premier Edition" available at http://amzn.to/2AlVYJE who have and are living their dreams as outdoor professionals. 
Vicki Ciancarulo – TV Host, Bowhunter and Businesswoman
An experienced bowhunter, nature photographer and one of the first women to be highly visible in the outdoors industry, Vicki Cianciarulo of Lanark, Illinois, co-hosts the award-winning "Archer's Choice" and "The Choice" TV shows with her husband, Ralph. She's taken the largest, white-tailed buck deer (203-5/8 inches) by a female on camera and taken black bears, caribou, moose, Dall sheep, mule deer, antelope, a Turkey Grand Slam and African species. Vicki has outfitted and guided for bear and deer, is a highly-desired seminar speaker and has served on several conservation boards. When I asked Vicki what her title with the "Archer's Choice" (www.archerschoicemedia.com) TV show was, she laughed and answered, "Queen of it all." She quickly followed with the words, "Just kidding." Vicki is one of the nicest, most-energetic and pleasant people to be around you'll ever meet. She appears to be a very girly girl, yet she's as hard core a hunter as you'll ever know.
Vicki's Life Before TV and at the Beginning of TV: 
Before I met Ralph Cianciarulo, I was a typesetter at a daily newspaper. I went to a community college and took a course in business management, but my mom always was involved in newspaper work. So, I took graphic design while I was in high school and in college. I'd always been a tomboy and had a pickup truck or a 4-wheel-drive vehicle. I had two sisters and was the middle child. My sisters played with dolls, and I wanted to play in the dirt. My first hunt was with a guy I was dating. He took me to Wisconsin to hunt grouse, and I fell in love with being in the outdoors. When I met Ralph, my husband, I had a boyfriend who shot a bow, so, naturally, I wanted to shoot a bow and started when I was about 18. I got tired of walking around at 3D archery tournaments, carrying my boyfriend's arrows. I went into an archery shop by the name of Archer's Choice, owned by Ralph Cianciarulo, and I bought my first bow there. Ralph fitted me for a bow, and no, he did not give me a discount. He claimed later that the reason he didn't give me a discount was because he knew I had a boyfriend. My boyfriend and I finally broke up. I kept going to Ralph's archery shop and competing in archery leagues. When I first started shooting my bow at Ralph's archery shop, he had a 20-yard range and a 30-yard range, and he had league shoots every Tuesday night. There was no league for women, because not that many women were shooting archery then. So, I just shot against the guys.
After I had known Ralph as a really-good friend for a couple of years, we decided to start dating. Ralph's bow shop, Archer's Choice, sponsored a women's-only deer camp, and I attended that when I was about 22-years old. On that hunt, Ralph and I got to be very good friends, and we had a great time together. He decided to film my hunt. About 1985, Ralph had started producing hunting videos and doing seminars on how to video your hunt. Ralph sold his archery shop in 1985, but retained the name of Archer's Choice. The hunting videos began to slowly evolve into DVDs.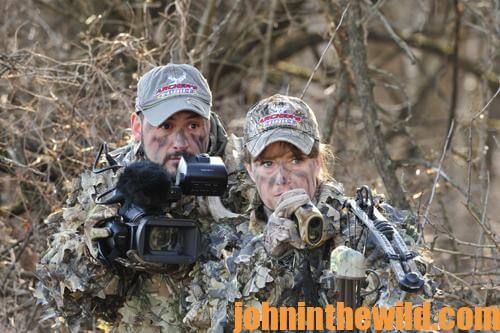 I started editing hunting videos for Ralph, since my expertise was with computers. Then I first filmed with Ralph in 1990. About that time, we were in a hunting camp, and a new channel had started coming on television called the Outdoor Channel. Some of our friends and some of our archery manufacturers began to tell us, "Y'all should consider doing a TV show on the Outdoor Channel." But that was a strange idea for us. We never had considered the possibility of being on TV. We had acquired some sponsors for the hunting videos and the DVDs, and we realized we probably could promote our sponsors better if we had a TV show. Until the Outdoor Channel (http://outdoorchannel.com) started, TNN was the only channel that carried any outdoor programming. We discussed our options and finally decided to send in a pilot show. The Outdoor Channel immediately wanted our show, "Archer's Choice" TV, and it aired for the first time in 1991. 2017 was our 12th year to have our second TV show, "The Choice," also on the Outdoor Channel.
When I first started hunting with Ralph on screen, some of the people in the outdoor industry told Ralph he was making a mistake by having me hunt with him. They said, "Hunting is a sport for guys." Ralph told them, "No, having Vicki hunting with me and on the TV show is another way we can help grow the sport of hunting. Right now, a lot of moms, sisters, girlfriends and wives are sitting at home, while their husbands are going hunting. Besides that, Vicki loves being in the outdoors, and she loves hunting. Everyone should have the chance to go hunting – whether she is a woman, a man or a child." At that time there weren't very-many women in outdoor television. Our lives have a weird way of working out. I met Ralph because I wanted to learn to shoot the bow. We became friends, got married and have been married since 1993.
Archer's Choice on the Road:
Ralph and I have traveled so much. I've hunted in at least 15 states and six foreign countries, including Canada, Mexico, Australia, New Zealand, South Africa and Kyrgyzstan. I can't tell you how many animals I've taken. I've taken two elk; three brown bears; eight Yukon bull moose; two musk ox; a Cape buffalo; a water buffalo; an American bison; and I don't know how many whitetails with my bow. The biggest whitetail I've taken with my bow was 203-5/8 inches in Colorado. I think that's pretty good, because no one in my family ever hunted.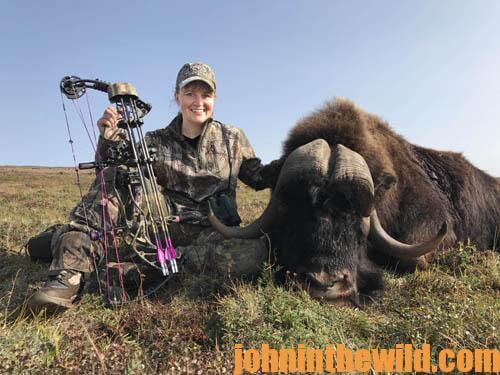 Vicki's Life Today:
Regardless of your occupation, life happens. Our son R.J. was born in January, 2001, and our "Archer's Choice" TV show began to air in April, 2001. So, my role changed dramatically. Instead of just being a TV host and a wife, I now had to be a mom and a teacher too. When my friends asked, "How do you handle it all?" I tell them, "Chaos is good when you can figure out how to handle some of it." Today I live in chaos, and I thrive on chaos. I worry about why stuff isn't going on when I think it should be.
Archer's Choice media has five employees besides Ralph and me. We have to run that business. We have to go on the road, shoot and produce TV shows. We also have to keep our family life going. At this writing, R.J. is a junior in high school, and he's driving. As his mom, his driving keeps me a nervous wreck. R.J. has hunted with us all over the world. He's traveled with us most everywhere we've gone. To be honest, I wouldn't give up anything of what I do. Sometimes there's a little too-much stress, but I've learned that things always seem to work out.
The Hunter Versus the Videographer:
Another question I'm often asked is, "Do you prefer to be the shooter or the videographer?" I love hunting, but my heart races just as fast when I'm about to push the Record button on our video camera, as it does when I'm about to touch the mechanical release on my bow. For example, when Ralph and I go on a Yukon moose hunt, which one of us shoots the bow, and which one shoots the camera doesn't matter. But when I go out with R.J., I had much rather be behind the camera than in front of the camera. I had much rather film R.J. than be filmed by him. I just think watching R.J. experience the excitement and joy that comes from hunting is so cool, rather than my experiencing that same thing.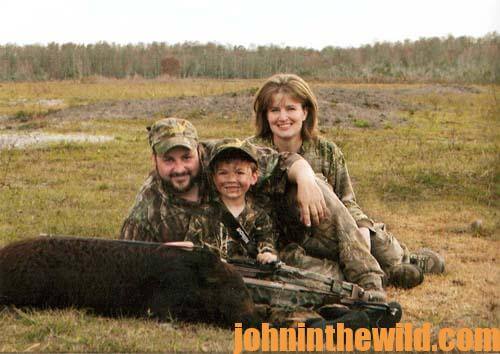 Advice for the Next Generation of Outdoor Women:
I think the most-important advice I can give a young woman who wants to come into the outdoor industry is to always be yourself. Don't try to be something you're not. Don't sell yourself short. Make sure that you're choosing a career in the outdoors for all the right reasons, and be certain that working in the outdoor industry is fun for you. Don't try to be an outdoor person just to get attention.
Right now, we're seeing some big changes in outdoor media. Magazines are still there, and the outdoor TV shows are still in place, but there's been a huge influx of internet content and internet TV shows that have cropped up. There's YouTube and outdoor TV apps that allow new consumers to watch TV programming for nothing or nearly nothing. I also think we're seeing a growth in digital TV. Ralph and I want to keep on doing what we're doing. We love our jobs. We love living in the outdoors, and we love being with outdoor people. Just like archery started off as our passion, shooting and producing really great video is also our passion, and we want to do it until we can't do it anymore.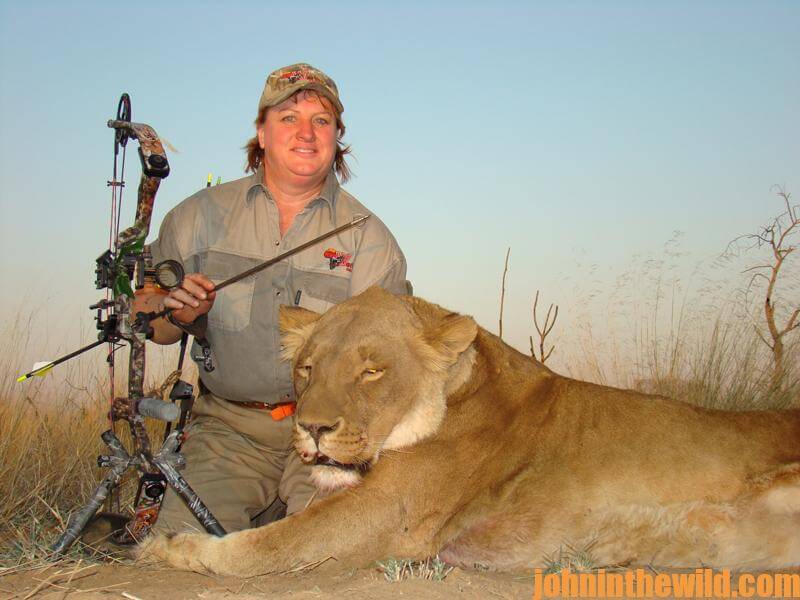 Joella Bates: Avid Bowhunter and Barebow Shooter
Joella Bates of Waverly, Tennessee, has been intimately involved in the outdoors all her life, as a hunter with her family and later as a wildlife and fisheries biologist for the State of Tennessee. A well-known winning archery shooter who's also been hunting with a gun all her life and with a bow for 28 years, with too-many accolades and awards to list, today Joella is: the assistant archery coach at Bethel University; the coordinator of special events and public relations for Global Archery; the founder of JOCAMPS that provides mobile archery boot camps for both adults and children; a certified instructor for USA Archery and Shooting for Women Alliances (SFWA) in archery and handguns; an outdoor writer and has taken more than 80 species of animals with her bow.
Enjoying Outdoors' Experiences:
When I was a freshman in high school, I was introduced to shooting the bow at 4-H camp. I learned that the boy and the girl who shot the best at camp would win a free trip to the 4-H Roundup in Knoxville, Tenn. So, I thought I'd go home, learn how to shoot my dad's bow and win that tournament. But I learned real quickly that I was wrong. Dad's bow was way too heavy for me to pull, and it wasn't the proper draw length. Every time I shot it, I got a new bruise on my forearm. I became very frustrated with trying to learn to shoot the bow, because I couldn't find anybody near where I lived to teach me how. With my forearm black and blue, I decided that shooting the bow wasn't very much fun, so I gave it up. I shot high-school competitions and earned a college scholarship as a competitive rifle shooter to the University of Tennessee at Martin. I was an avid deer hunter too with a rifle. Through the years, I tried archery several times, but could never seem to get a bow for myself that fit correctly.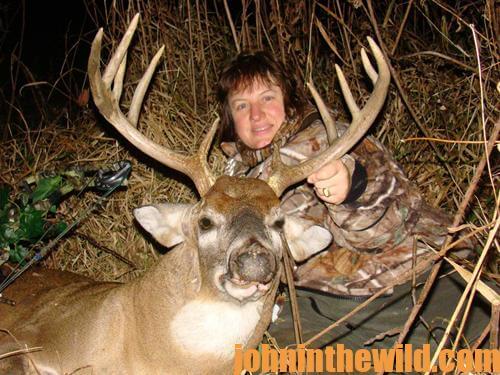 In 1989, I was working for law enforcement in the Tennessee Wildlife Resource Agency. I'd obtained a degree in wildlife management from the University of Tennessee/Martin. Later, I went to Tennessee Tech and worked on a master's degree in fisheries management. Then afterward, I moved into the Fisheries Section of the Tennessee Wildlife Agency, but I kept my law-enforcement commission, because Tennessee Wildlife started using me in covert wildlife operations. I was an undercover agent for the Law Enforcement Division at the same time that I was working for the Fisheries Section.
Learning to Shoot a Bow:
Steve Nifong, a law-enforcement training officer for the Tennessee Wildlife Resources Agency I worked with, told me, "If you'll buy a bow and learn how to shoot it, I will take you bowhunting for deer with me." Nifong's college roommate, Odell Braswell, owned a sporting goods store in Cookeville, Tenn., where I was going to graduate school.  Nifong suggested that I go to the store, meet Odell and tell him I wanted to buy a bow and learn how to shoot it. Braswell measured my draw length first, suggested a compound bow that had a 26-inch draw and outfitted the bow with a rest and a pendulum sight. Braswell took me, my new bow and the arrows I had bought out to the back of his shop and taught me how to shoot a compound bow with a release aid and how to sight in the bow and then gave me 45 minutes of instruction. So, when you bring someone new into the sport of target archery and/or bowhunting, make sure they have the right equipment, and help them become successful when they first start shooting their bows. To accomplish these two goals, help a newcomer choose a bow that fits him or her perfectly, and a bow that allows him to become successful quickly.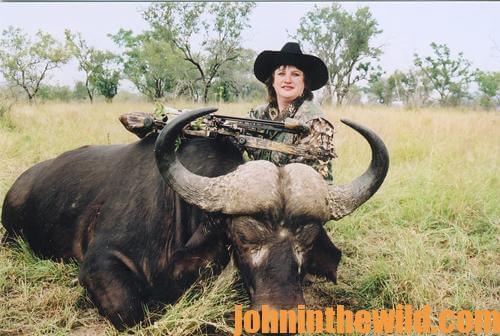 Understanding More about Bowhunting:
At age 28, I now thought I could hit anything I shot at, but after learning to shoot the bow, I missed the first five deer I shot at that first fall. I started shooting my bow a lot more and changed from a pendulum sight to a pin sight. I also purchased a range finder. I'd guess at a distance to a bush or tree. Then I'd use my range finder to determine how accurately I'd guessed. Slowly, I learned to judge distance much better, and I still had my range finder to give me exact distances that I was from a target. I finally took a nice 7-point buck with my bow.
Learning 3D Archery:
I left the Tennessee Wildlife Agency to take a job with the Tennessee Valley Authority (TVA) and made sure that the place where I lived had a backyard big enough for me to shoot my bow and practice. I found a bow shop in Chattanooga, Tenn., not far from where I lived then. That's where I was introduced to 3D archery competitions. The shop had a tournament where the competitors would shoot at 50-different targets at unknown distances. However, I had no clue of how to compete in 3D archery. My range finder was so good that I hadn't really spent much time at all learning to judge distance without a range finder. But I learned that being able to judge unknown distances is one of the most-important ingredients to being a successful 3D archer. I was also asked to shoot animal targets that I'd never seen previously. So, I finished dead last in my first 3D archery tournament.
I bought a couple of 3D targets and shot those targets every day after work. Continuing to go to 3D archery shoots, I realized I was getting better and better at shooting these types of competitions, and I became even more competitive. Then I participated in IBO and ASA championships. I also had the opportunity to work with the coach of the U.S. Olympic Archery Team. In 1993, I won the Women's Division of the World IBO Archery Tournament Series, competing against 168 other women. Another new tournament circuit began in 1993 called the Archery Shooters Association (ASA) (https://www.asaarchery.com/), and I competed.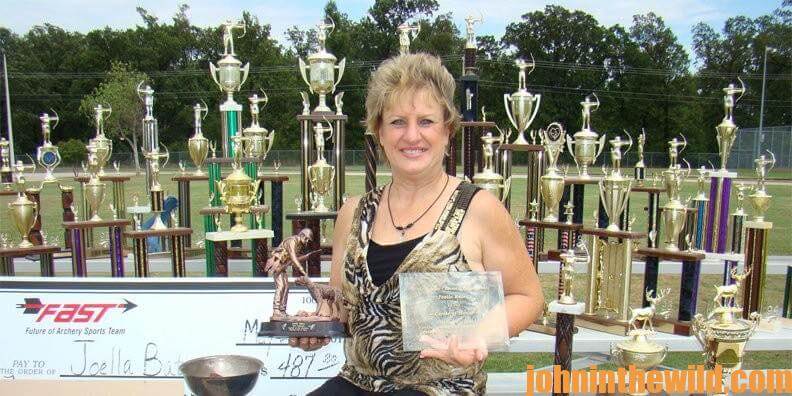 In 1995, I resigned my position with TVA and decided to become a full-time archery pro. I started shooting archery every day. I worked really hard to become a better shooter and to try to earn a living shooting 3D archery tournaments. In 1995, I won $35,000 shooting my bow. That year I won the ASA World Championship and the IBO Indoor World Championship, and I was a member of the IBO World Championship Team. I also won the title of ASA Shooter of the Year. But even so, my tournament winnings were just a little bit more than half of what I'd made the previous year working for TVA. But if you count the benefits that I got for working for TVA, my winnings were way less than half as much. Luckily, I got picked-up by some companies with sponsorships, and I picked-up even more sponsors in 1995. In 1996, the level of sponsorship went up again. After I won three World Championships in 1995, I gained a tremendous amount of confidence, and I thought I could earn a living as a fulltime archery pro and outdoor writer.
In 1998, I earned more money, because I was so consistent – $42,000. I continued to shoot archery tournaments, write magazine articles and teach archery. In 2001, I became the first lady to take a Cape buffalo in Africa with a compound bow. I had the opportunity in 2009 to take an elephant in Africa, as well as a lion, a leopard, another Cape buffalo and a rhinoceros. In 2016, I won four World Championships – the IBO Indoor World Championship, the Traditional Archery Society World Championship, the IBO Traditional World Championship and the IBO Women's Traditional World Championship. In 2017, I qualified for the World Archery 3D Championship in Robion, France, and was a member of the USA Women's Barebow Team, shooting recurve bows without a sight or a stabilizer.
Learning about Joella's Future:
Currently, I'm a freelance writer and an assistant archery coach at Bethel University in Tennessee. I train archery instructors and work as a sales person for Global Archery (http://globalarchery.com/). I still shoot competition archery. Several years ago, I started holding archery camps with the name JoCamps Archery Boot Camp. JoCamps are different, because the students don't have to come to where I am and pay for motel, food and other expenses. This mobile boot camp allows me to go where the students are. I love participating in all aspects of the outdoors and can't imagine living my life in any other way.
To learn more about the book, "Outdoor Women's Hall of Fame – Premier Edition" that contains the amazing stories of how 14 women captured their outdoor dream jobs, and you can too, go to http://amzn.to/2AlVYJE for information on ordering the Kindle eBook and the print book.
EXPLORE MORE: you'll love these stories from John too