Editor's Note: Brenda Valentine, the "First Lady of Hunting" TM – from Puryear, Tennessee, is an avid hunter who has been a Mossy Oak Pro Staff member for years. Brenda's bowhunted for deer and in 1986, started shooting tournament archery. She's been a fulltime professional hunter and outdoors woman since 1996.
On this hunt, we were filming a late-season hunt, north of Gillette, Wyoming. I was hunting with my rifle. Although the weather was extremely cold, there was no snow. The land we were hunting was private land, with a lot of gas wells on it. Jerry Martin, another hunter, was also hunting this private land. He went with a ranch hand and two cameramen to hunt for a really-big buck that the ranch hand had seen.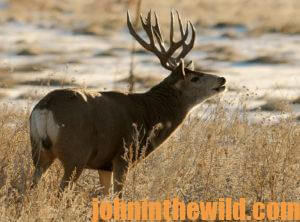 I had brought two cameramen with me. I took them and a guide with me to another part of the ranch. One of my cameramen was not a hunter. He had been a news cameraman for a TV station in Missouri and he had filmed news stories for most of his career. The other cameraman was my husband Barney. Our guide was a young boy about 15- or 16-years old. But because he had grown up on the land, he knew all the ranch roads and high points where we could look for mule deer. We would stop every now and then, get out of the truck and go to high points and look for mule-deer bucks. As soon as I got out of the truck the first time, I realized I had gotten into something that I had never seen before – bad, sticky, thick mud. The dirt had thawed a little bit that day in the little protected places that we were walking through, and it had become sticky mud. Although I have hunted in mud in Alabama, Mississippi and Louisiana, this mud in Wyoming was nothing like the mud I'd ever hunted in before.
About two hours before dark, the ranch hand said he saw a really-big buck on the horizon several miles away. He asked, "Do ya'll want to go after him? He's a really-good buck." We had seen some bucks that morning, but they weren't big enough to make you want to pick up your binoculars and check them out. So, I said, "Let's go."
We had gotten a phone call at noon from Jerry Martin. He said, "I've taken my buck. What's taking you so long?" They were all laughing, eating and having a good time, while we were trudging through the mud, trying to find a buck to go after. We knew we couldn't drive to the spot where this young man said he saw, "That really-good buck." I was beginning to wonder if this young fellow really had seen a shooter buck, or if he just wanted to be on a TV show. We didn't have any other options. So, we decided to go after the deer that our guide said he saw.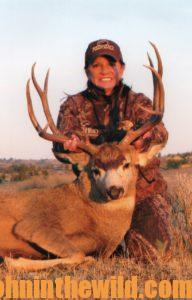 On this hunt, I was shooting a .25-06 rifle. I chose that gun because I wanted a flat-shooting, long-range rifle. We took off after this buck, knowing that if we couldn't get to that buck before dark, we'd have to come back to the truck in the dark with the deer. We'd go down one mountain, walk across a valley and walk up another mountain, hoping we'd see the deer. Every step we took I kept getting taller and taller as that gumbo-type mud kept building-up on my boots. The mud would get 4-5 inches thick, and I couldn't hardly pick up my feet. I'd stumble and fall down, and I'd look for a stick to get the mud off my boots, so I could keep on going. When we came to some rocks, I'd slip, slide and fall down because of the mud on my boots, and my cameramen weren't doing much better.
Another problem was this young man who was guiding us must have had legs 18-feet long. He was tall and skinny, and he was outstriding us with those long legs. I told him, "Listen, we can't keep up with you, because you're not carrying anything but binoculars, and we have rifles and camera gear. Go to the next mountain, and look for the buck, and we'll catch up to you. I know we're going to have to race to get to the buck before dark." Using this system required 2 hours to reach a spot where we even could see a deer. Finally, on the last ridge, when we caught up to the guide, he was on his belly in the sage. He motioned to us to come to where he was and stay down low, so we wouldn't be silhouetted on the crest of the hill. When I reached the guide he whispered, "There's five bucks, and they're all feeding in the sage down in the valley. One of those bucks is a real trophy."
Although the bucks were moving in and out of thick brush, my cameramen were able to get the cameras rolling. I saw the big mule-deer buck with lots of sticker points and all kinds of brush in his rack. I could tell he was a really-nice buck. I whispered to the cameraman who had been filming car wrecks and houses burning for the TV station, "Are you ready?" He whispered back, "Yes, this is really great." He was excited and was ready for me to take the shot. Barney had his camera on my trigger finger, and the TV guy had his camera on the b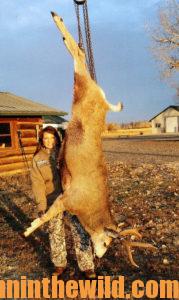 uck. Even though the sun was going down, I was thinking all the hard work we've put in was about to pay off.
We reached the spot where I could take the shot just before we lost the light we needed to film the hunt. I told the cameramen, "Okay, I'm going to shoot," and I did. The mule deer made a big jump and went down in the brush, but we couldn't see him. I was pretty sure I had hit that buck. My TV cameraman said, "I don't think you hit him. I'm still on him." He insisted, "I'm still on the buck." I said, "What buck is that?" Then I realized he was filming a completely-different mule-deer buck from the deer I had shot. He never saw the buck I had shot. When I realized what had happened, my TV cameraman was feeling very sheepish and very dejected, and I was trying to console him without biting my tongue.
I knew this was a long shot of about 300 yards. So, we packed up all our stuff. Before we went down in the valley, I said, "We've got to have a reference point that we can see in low light." We left the young, tall guide up on the hill with everything we didn't need, wearing a large, silk, orange scarf. I said, "You stay here and wave that orange scarf over your head. Darkness is about to fall, and we need to know how to get back up to the top of this hill. You'll be our reference point."
The sage was so high that all we could see were tunnels through the sage where the mule deer had walked. The guide on the hill would hand signal us where he thought the deer should be. Finally, we found blood and followed it only a short distance, before we found the buck. When we located the deer, we knew we had to make a long haul to get that deer to a road. But luckily when night fell, Jerry Martin and his crew got in trucks and started driving ranch roads to look for us. Finally, we saw headlights and got to a road where we could wave them down. They carried us back to our vehicle. We drove as close as we could to the buck. Luckily the ground had frozen, and we drug the buck much easier over the frozen ground than we would have been able to drag him in the mud.
We returned to the ranch and saw the big buck Jerry and his crew had taken. But our mule-deer buck was bigger – the biggest deer ever taken on the ranch. The ranch hands didn't have any clue from where this buck had come. We took a lot of pictures and put a TV show together, even though the TV cameraman had filmed the wrong deer.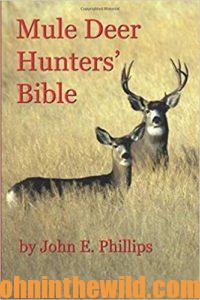 To learn more about mule-deer hunting, check out John E. Phillips' book, "Mule Deer Hunter's Bible," available in Kindle, print and Audible  at https://amzn.to/2Kg62w5, or copy and paste this click into your browser.
Tomorrow: A Montana Mule Deer Hunt During the 9/11 Disaster