Editor's Note: Brenda Valentine, the "First Lady of Hunting" TM – from Puryear, Tennessee, is an avid hunter has been a Mossy Oak Pro Staff member for years. Brenda's bowhunted for deer and in 1986, started shooting tournament archery. She's been a fulltime professional hunter and outdoors woman since 1996.
The really-difficult aspect of hunting late-season mule deer is just getting around to find mule deer to hunt. Often they live in mountainous terrain, and during the late season, depending on where you hunt, you may encounter snow up to waist-high. Last but not any less important is dealing with the wind and the cold. I've found that on the mule-deer hunts I've taken in the late season, dealing with the wind and the cold are often the toughest parts of the hunt. Since most of my late-season hunting has been when I'm filming TV shows, that cold weather and snow often gives my cameraman and his equipment problems.
One of the toughest late-season mule deer hunts I've ever had was in Montana. We were filming a TV show for Bass Pro Shops, and I had two cameramen with me. The temperature was around zero, and the snow was made up of snow, layers of ice, snow, layers of ice and more snow with layers of ice under it, and you couldn't see the surface of the road. When I took a step into the snow,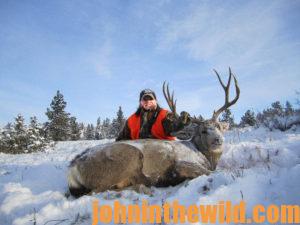 the snow would come up over my knees. Even though I had on snow gaiters and a lot of layers of clothing, the weather was still cold and brutal. I started off nearly freezing to death. But when I'd walked 10 or 12 steps, I'd be hot and sweaty.
I had hunted this area before and knew that there was a good population of mule deer there. But if the weather was severe enough, I also realized the mule deer would bed down and hold up under trees. On this hunt, we weren't using horses, trucks or ATVs, and back then the cameramen had to carry those big, heavy cameras.
Typically, I hunt with my bow or my muzzleloader, but on this hunt, I was hunting with a modern rifle. We'd walk up one hill and down another, trying to spot a mule-deer buck. We'd crawl up on a point and glass for an hour or two. Then we'd move to another point and glass. In that kind of weather, the deer would hold up under an outcropping of rock or under a tree.  I guess they had more sense than we did, because they weren't moving around like they usually would. Then to complicate the hunt even more, as the snow continued to come down, the snow would cover up almost all of the mule deer's body. Since mule deer have white antlers, trying to see those antlers in the snow was quite difficult. The glare off the snow mixed with the wind almost would blister your eyeballs.
We finally spotted a few bucks, but they were too far away for a shot. Even if I shot, the wind was blowing so hard it could push the bullet around and cause me to miss. We tried to circle around to get close enough to take a shot. But we took half a day to get to where we needed to be to try and take a buck, so we didn't get on those deer. However, when you're filming a TV show, you have to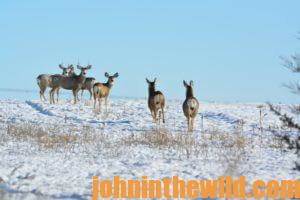 do everything you can to take a buck, regardless of the weather and the terrain. Maybe a part of being required to find and take a buck in bad weather is pride. But I've never liked going home without taking a deer and having a TV show done.
Another problem with hunting late season mule deer is the mature bucks won't tolerate a lot of hunting pressure. Mule deer use their eyesight more effectively than whitetails do. So, when they see three hunters, one with a rifle and two with camera gear and tripods, they tend to try and leave the county – especially in the late season.
We got on a high point and more or less buried-up in the snow. Finally we spotted a big mature buck with a few does and couple of smaller bucks, walking across the face of a mountain. We thought, if we could move quickly, stay out of sight and get ahead of those deer, I might be able to get a shot. We didn't have a guide who knew the country. So, we had to more or less figure out where we thought the mule deer would go. We were hoping to outguess the deer as to the direction of travel they were going to take. Luckily, on this hunt, we did guess right. We could see a gap in the ridge, and that's where we thought they probably would travel. So, we got up to the gap ahead of the herd and took cover in some scrubby pines. We sat there for awhile and began to think that we had guessed wrong. But just as we were about to get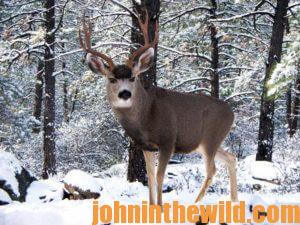 ready to leave, I looked down the mountain and saw antlers coming through the pines. I could see the mule-deer buck at about 100 yards. I got my rifle on my knee and prepared to make the shot. When I took the shot, the buck went down. As we walked down the mountain, in some places, the snow would be up to my backend. Other places we'd sit down and more or less slide down the hill. When we finally got to the buck, we saw that someone had shot him through the ear earlier, and that hole had healed over.
The good news from this hunt was that we could slide the buck downhill rather than having to drag him down the mountain. Luckily I had two, big, stout guys with me to help me drag the deer. We didn't go far before we started shedding some of our clothes. Two people would drag, and one person would carry the gun, the clothing we were taking off and part of the camera gear, until we were finally able to get the buck as close to a road as we possibly could. On the ranch that we were hunting, the landowner had big flatbed trucks that were used to carry feed to the cattle. We left the deer and all the gear we had carried at the bottom of the hill. Then we trudged back up the mountain to get the rest of the gear we had left behind. Once we had the deer and all our gear off the mountain, we took the rifle and two cameras and hiked back to where we had left our little rental car. Back then, we didn't have cell phones. We drove back to the ranch house and told the landowner that we had gotten our buck.
The land we were hunting on belonged to Frank Borman – one of the astronauts who had gone to the moon. His son had invited me and our camera crew to come to the ranch to hunt. One of the ranch hands went with us to help us load up the mule deer and bring him back to the ranch. If you're going to take a late-season mule deer, I've learned that you've got to be committed to hunt – regardless of how bad the weather is, and it can really get rough.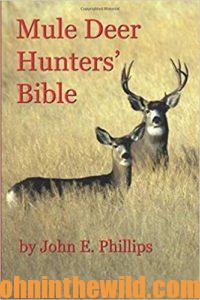 To learn more about mule-deer hunting, check out John E. Phillips' book, "Mule Deer Hunter's Bible," available in Kindle, print and Audible  at https://amzn.to/2Kg62w5, or copy and paste this click into your browser.
Tomorrow: Brenda Valentine's Biggest Mule Deer Ever