Editor's Note: Brenda Valentine, the "First Lady of Hunting" TM – from Puryear, Tennessee, is an avid hunter has been a Mossy Oak Pro Staff member for years. Brenda's bowhunted for deer and in 1986, started shooting tournament archery. She's been a fulltime professional hunter and outdoors woman since 1996.
The biggest mule deer I've ever taken weighed about 400 pounds. The cowboys on the ranch had seen this buck for about 7 years. We knew he was a really-old buck. I first spotted this buck on day two of the hunt, about 200 yards away. I dropped down to my knees, aimed my Browning .300 WSM rifle (www.browning.com) and fired downhill at the buck. I had shot this gun for years, and I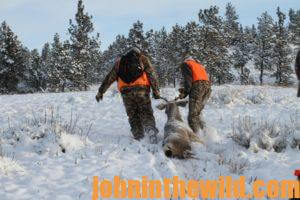 knew it to be deadly accurate. I was pretty sure I'd hit him, because he hollowed his back and took off over the mountain. I gave my cameramen a thumbs-up and said, "I know I got him." But when we reached the spot where I had shot the buck, there was no blood. All I found was a small scrap of hair about as big as my thumb. When we replayed the video, the cameraman said, "I think you shot high."
We hunted for three or four more days and saw plenty of mule deer, but I really wanted to take that buck that I had shot at on the second day of the hunt. Although he didn't have many points, he had huge bases on his antlers. His body was so big he looked like a horse. One of the last days of the hunt, we spotted this buck again with some does. I got on my knees to take the shot, but the buck stayed right in the middle of the does. I knew there was no way I could shoot the buck without hitting a doe. So, I didn't take the shot. We decided to wait him out. We had a favorable wind, and we were hidden well enough that the buck didn't see or smell us. Later the buck separated himself from the does, and I took the shot. When we finally got to the downed buck, I looked at his back, and I saw that the first shot had grazed his back and taken out some hair and just a little bit of the surface of the skin. When I took that first shot, I felt like I had as solid a shot as I'd ever made. However, sometimes when hunting at altitudes, I knew my rifle would shoot a little high. But to be really honest, I never figured out why I missed that buck, and I didn't have any excuse. Although we had snow on this hunt, the snow wasn't as deep as it had been a few years earlier
We went back to the ranch house and told the cowboys what we had shot. They decided to use a hay hauler to go back and get the buck. When we got the buck back to the ranch house, all the cowboys came out to look at him. Several said, "We're so glad that you took Ole Romeo. That ole buck has been around here for years. No one would shoot him, because his antlers didn't fork on one side, and the other hunters didn't feel like Ole Romeo was a true trophy. He's been kind of the breeder buck for the entire ranch. We'd all been gunning for this buck this year, because we wanted to take him out of the herd. We saw him on just about every side of the ranch and every time we saw him he'd be with a harem of does. Wherever the girls were – that's where Ole Romeo would be. He would go from one band of does to another band of does. This is why we nicknamed him Ole Romeo, because he was such a ladies' man."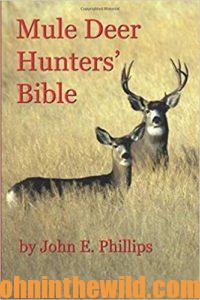 To learn more about mule-deer hunting, check out John E. Phillips' book, "Mule Deer Hunter's Bible," available in Kindle, print and Audible  at https://amzn.to/2Kg62w5, or copy and paste this click into your browser.
Tomorrow: Brenda Valentine Takes a Mule Deer with Her Muzzleloader