Editor's Note: Brenda Valentine, the "First Lady of Hunting" TM – from Puryear, Tennessee, is an avid hunter who has been a Mossy Oak Pro Staff member for years. Brenda's bowhunted for deer and in 1986, started shooting tournament archery. She's been a fulltime professional hunter and outdoors woman since 1996.
On this hunt on December 12, 2018, I was hunting in Nebraska. A friend had called me and said, "We have a late-season Nebraska muzzleloader hunt, and you can hunt whitetails or mule deer." So, my husband Barney and I drove out there. The place we were hunting was near the South Dakota border.
There had been about an 8-inch snow before we arrived. So, the snow was crusty and dry, and it was cold and windy. Barney really wanted to take a mule deer. Although he had been around a mule deer, he never was fortunate enough to take a buck. My tag was for a whitetail or mule deer, and I really di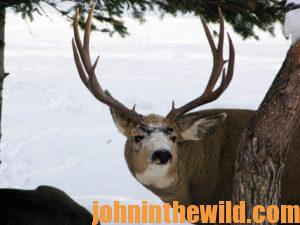 dn't care which one I took. We weren't filming on this hunt. This was just a fun hunt for the two of us, and we only had a couple of days we could hunt. I designated Barney to shoot first, because I felt like we'd get into some really-good mule-deer bucks on this hunt. The terrain wasn't as tough as most places where I'd hunted mule deer, but it had a lot of open county. We were hunting a farm where they combined corn and cut hay for the cattle during the winter. Some of the property was in Conservation Reserve Program (CRP) land where there were a lot of pheasants, and there were quite a few cedar trees used for wind breaks to stop erosion.
We could drive our vehicle up the steep points, get out and glass for deer. Using our binoculars and spotting scopes, we saw quite a few mule deer lying down in places where the farmer had stacked up hay to feed his cattle through the winter. We also spotted quite a few mule deer bedded down in the snow anywhere there was an irregularity in the terrain. Sometimes we'd find them in the tree lines that had been created as wind breaks.
On the second morning of the hunt, Barney went ahead and took a nice white-tailed buck. We had seen a herd of mule deer earlier that morning through our spotting scopes, but they were miles away. The landowner had told us that there were some ridges that you could see for 10 miles from them. After a day or two of hunting, I totally believed he was right.
We went out the next day, and I spotted some does' heads popping up over some freshly-planted cedar trees. These trees were shrub size, and they had been planted in rows to help stop erosion. As I kept watching, I saw a few small bucks standing up in those cedar trees. Finally, I spotted an antler just above those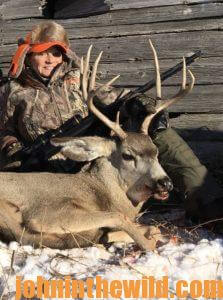 short cedar trees. We had one of the men from the ranch with us. I told him where I was looking, and he put his spotting scope on those short cedars. Then he said, "I see the buck, and he's a shooter."
I was hunting with a muzzleloader, so we knew we had to get closer for me to be able to make a lethal shot. We used an old field road to close the distance in a truck. Then we got out and started to make a stalk on this buck. We tried to use the terrain to stay out of sight of the buck, but finally we ran out of cover. We came over a hill, and three or four does hopped-up and started looking around themselves. I was hoping that the does would run in the opposite direction of the buck, but they didn't. They ran right into the herd where the buck and a bunch of does were bedded.
We knew we had two choices. We could stay with this herd and hope to get a shot at the buck or go back to the truck and look for another buck to hunt. We decided to stay with the herd and see what would happen. We stayed low and kept moving to where we had spotted the buck. When we got to the place where we thought we could see his herd, the does that we had spooked had alerted the herd, and all the mule deer were  on their feet walking away from us. I saw the buck, and his antlers looked tall. The ranch hand said, "Yonder is your buck." I quickly dropped down, got my rifle on my knee and decided to take the shot, even though the buck was 250 yards. I knew this was stretching the effective range of my muzzleloader. However, I had shot this gun quite a bit and felt confident that I could down the buck at that distance.
When I squeezed the trigger, I looked through the smoke coming out of the end of the barrel and saw the buck jump like I had hit him. Barney and our ranch hand said, "You hit him." But then,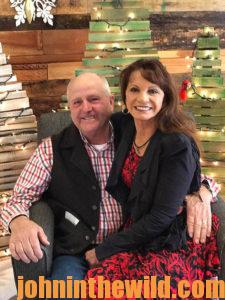 the buck went over a hill and out of sight. When he came up on the other hill, Barney said, "No. It looks like you missed him.  Yonder he goes. He doesn't act like he's hit. He's not limping. He's running at the front of the herd." I told Barney, "No, I know I hit that buck." "He's not lagging back or acting like he's hurt," Barney explained. I wanted to go see the spot where I had shot the buck. I wanted to see if there wasn't some blood, hair or some indication that I had hit the buck, because I just knew I'd hit that deer. So, we walked down to the spot where the buck had been standing, and my buck was stone-cold dead – right where I had shot him.
Apparently, there had been another buck in the herd, and that was the buck that Barney and our farmer friend had seen running with the does. The buck I shot was not nearly as big as the buck I had intended to shoot. We saw the buck and does at a distance. Through my binoculars, the buck's rack that was running with the does looked like it was wide as a truck bed and really, really tall. He was a huge trophy buck. Although the buck I shot was a nice buck, he wasn't nearly as good as the buck running away.
I've learned over the years to follow-up my shot. There's a lot of information on the ground at the spot where the deer has been standing when you've taken the shot. If you don't go to the site, you won't be able to get that information. In this case, if I hadn't gone to the place where the deer was standing when I shot, if I had instead listened to Barney and our farmer friend, I would have walked off and left a nice buck on the ground. So, whether you're hunting mule deer or whitetail, even if you think you've missed, always go to the spot where the deer was standing when you took the shot.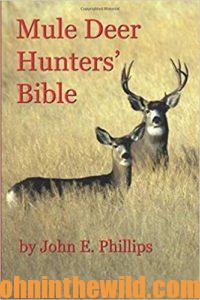 To learn more about mule-deer hunting, check out John E. Phillips' book, "Mule Deer Hunter's Bible," available in Kindle, print and Audible  at https://amzn.to/2Kg62w5, or copy and paste this click into your browser.
Tomorrow: A Wyoming Mule Deer for Brenda Valentine