Editor's Note: The fastest-growing segment of the outdoors industry is women. In the last 25 years, there have been numerous women who have blazed the trails for careers in the out of doors. This week and next week, I'll highlight 14 of these inspiring ladies from my newest book, "Outdoor Women's Hall of Fame – Premier Edition," available at http://amzn.to/2AlVYJE ,who have and are living their dreams as outdoor professionals. 
Brenda Valentine, the "First Lady of Hunting" ™ – from Puryear, Tennessee, is an avid hunter, angler and conservationist. She represents women in the outdoors for the (NWTF) National Wild Turkey Federation (http://www.nwtf.org) and co-hosts Bass Pro Shops (http://outdoorchannel.com/bass-pro-shops-100-real-hunting) outdoor TV shows on the Outdoor Channel and the Sportsman Channel. She's been a member of Bass Pro Shops National RedHead Pro Hunting team for 17 years, a Mossy Oak Pro Staff member (http://www.mossyoak.com/prostaff), a pro staffer for Hunter Safety Systems (www.huntersafetysystem.com) and Orca coolers (http://orcacoolers.com) and a past national archery champion. She's also one of the most-feminine and fascinating women I know.
I enjoyed bowhunting for deer in Tennessee for years. Then in 1986, I started shooting tournament archery. Since 1992, I've earned a portion of my living as a professional hunter, TV host and spokeswoman for several organizations. Then in 1996, I sold my hair salon and became a fulltime professional hunter and outdoors woman. The folks at Bass Pro Shops wanted a woman to complete their men's TV outdoor hunting team. They said, "We thought we'd have to find a woman and teach her how to shoot a rifle and a bow. But you know how to hunt, fish, skin critters and cook them." So, we've been together for many years.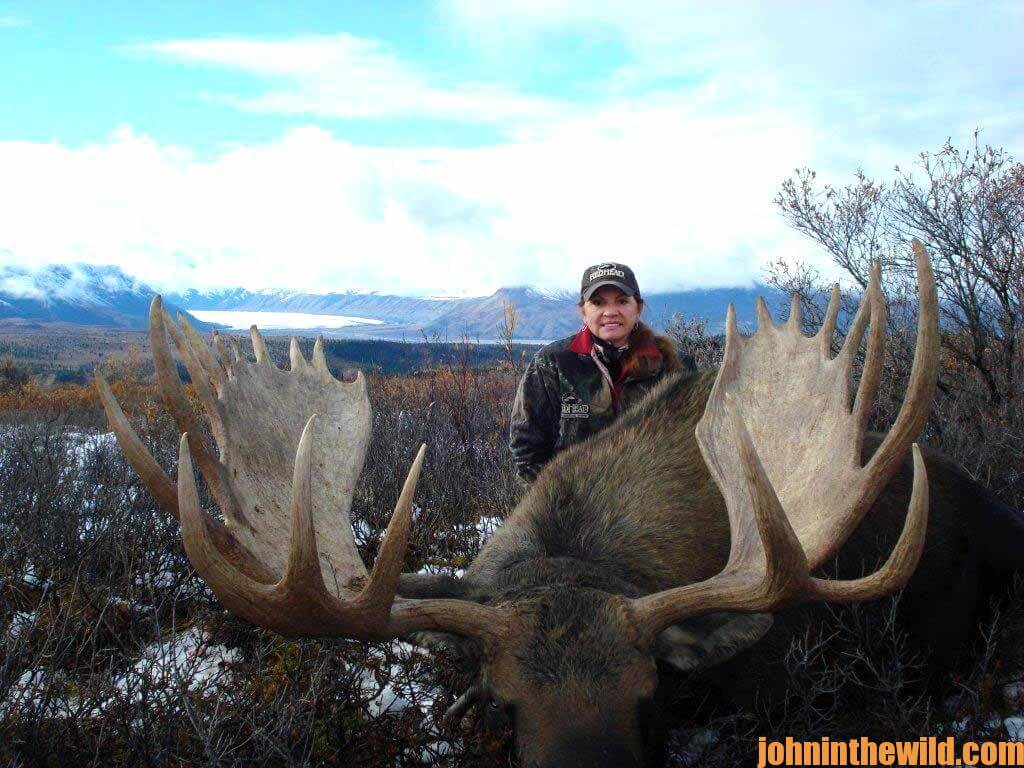 I've had a great life and lived a bigger dream than I ever can have imagined, because of the friends I've made, and the opportunities I've had as an outdoor professional. The list of places I haven't hunted is shorter than the list of places I have hunted. I've hunted in most of the states in the United States, including Alaska and Hawaii, nearly every province in Canada, Mexico and Africa eight times. I've hunted in the Yucatan Peninsula. I've been to Europe where I represented the hunting industry there and in Asia on the Outdoor Legends Tour.
Why Brenda Hunts:
When I've been asked why I hunt, I have to look inside myself to try and answer that question. Perhaps my reasons for hunting have changed over the years, however, as long as I can remember, hunting has been my passion. In the beginning, I hunted for the meat of the game animals I took. My family and I still eat and prepare a lot of wild meat.  But I also hunt because I'm a conservationist. I've seen the money that comes from the sale of hunting licenses, the taxes on hunting equipment and the efforts of state departments of conservation, the U.S. Fish and Wildlife Service and conservation organizations like the NWTF that have helped to bring turkeys, deer, elk and other wildlife species back from near extinction. So, today I hunt to continue the growth of wildlife populations across the U.S. I love the sport of hunting and enjoy introducing other people to that sport. Another reason I hunt is because I bought a farm several years ago that had been fallow since the 1930s, and that I've intensively managed for wildlife. I get an altogether different feeling when I take a deer or a turkey on the farm I own, since I know I've provided the food and the habitat to allow those animals to grow to maturity on my land.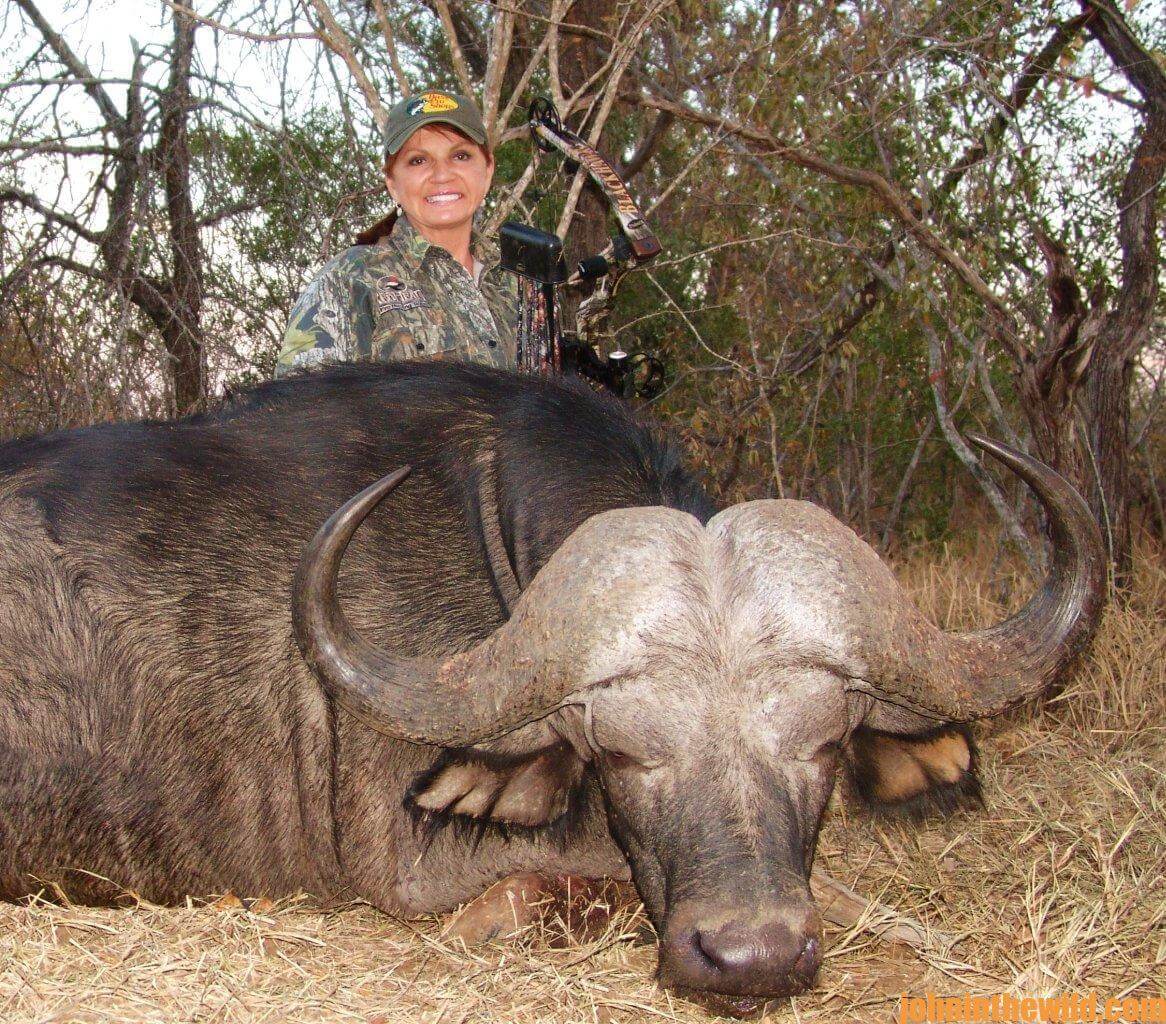 I also enjoy taking other people like friends and family hunting on my land and watching them enjoy the sport and having opportunities to harvest the animals I've grown on my property. Hunting always has been a part of my life, and I feel a deep responsibility to not only work with conservation organizations but to teach others and pass along the hunting heritage my family and I have enjoyed for many years. Too, I believe that I was born with the hunting gene. Just like some dogs hunt, and some don't, I'm convinced I was born with that instinctive need to go out in the woods and find and harvest game.
The traditions in my family also made me a hunter. Before I could walk good, my daddy would put me in his hunting coat and take me coon hunting. I shot my first squirrel by the time I was 4 or 5. When I was growing up, my family was dependent on the meat to eat that we took while hunting. Hunting was our recreation too. Back when houses didn't have TVs or Internet, one of my favorite things to do at night was to go out and listen to a pack of coon hounds chasing a ringtail up a high mountain. When we had family events, we'd all get together and go squirrel hunting. My family made our living from hunting too, since we trained hunting dogs for other people and sold those dogs. We also trapped and sold hides from the critters we took in our traps. When I was growing up, that's how folks where I lived got by.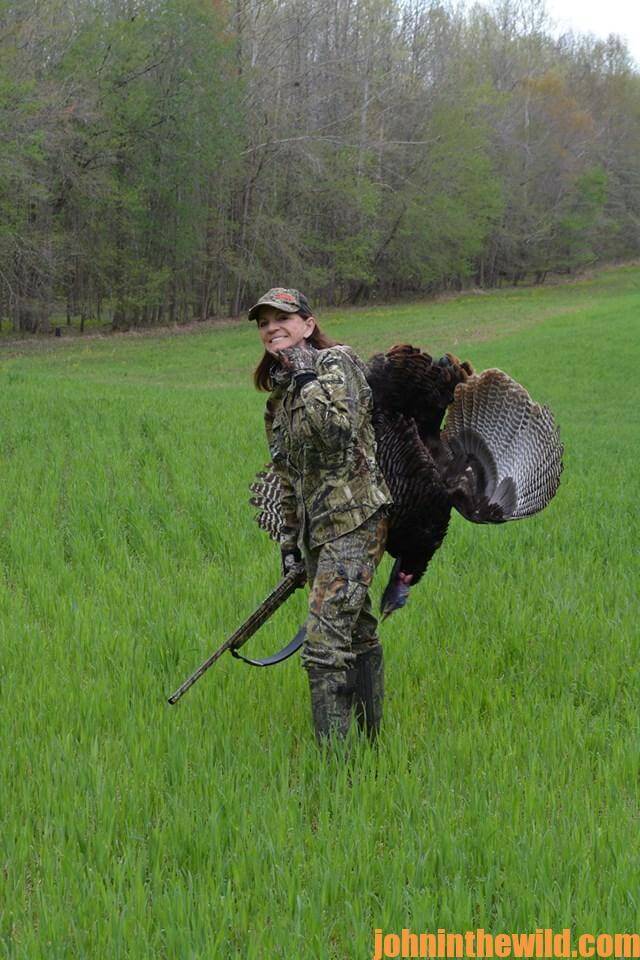 What Brenda Has Learned About How People View Women in the Outdoor Industry:
Thirty years ago I didn't know any women who were part of the outdoor hunting industry. However, I loved to hunt and had hunted all my life. I'd shot my bow and arrow for many years. But I guess the first time I ever saw other women involved in the outdoors was when I started shooting 3D archery. Today the outdoor industry has embraced women, and I think that the industry has been shocked that women can climb trees, put up their own tree stands, scout and find their own critters to hunt and take them with bows and/or guns.
I got the feeling years ago that most people in the hunting industry thought women were tagalong hunters, and that it would be cute if we actually shot something. I'm not sure that the outdoor industry ever thought that women could become the hunters they are today. These folks forgot what we women always knew while living in the country that, "If you want the mice killed out of the barn, you put a Momma cat in there." In many of the predatory species, the females are the hunters. My friend Vicki Cianciarulo has been a pioneer in the outdoors, particularly television. For a long time, Vicki's done a great job helping to open doors for women in the outdoor industry and has been a great role model.
When I first went to hunting camps that consisted of all men hunters, I even had men leave camp who announced that, "Hunting camp is no place for a woman." At other camps, men were offering to help me find a place to hunt, put up my tree stand or drag out and butcher my deer. They were being very nice, however, I think they really didn't believe a woman could do all those things. But attitudes in hunting camps definitely have changed now. I think many women in the out-of-doors have proven that they are as proficient at hunting, as their male counterparts. If you watch outdoor shows on TV, you'll see numbers of accomplished outdoor women who take all kinds of critters with bows, blackpowder guns and modern rifles. When I go to hunting camps today, I'm treated much more as an equal than I was back when I was the only woman most men hunters ever had seen in a hunting camp.
How Brenda Recommends Women Break into the Outdoor Industry:
Don't pattern or mold yourself to be like any other female on TV or in the outdoor industry. Be true to yourself. Don't color your hair, or act like the women you see on TV. Be who you are, and what you are. If you talk country like I do, talk country. Be proud of where you've come from, because you're unique. People in the outdoors are looking for people who are real and comfortable in their own skins. Don't expect to make a lot of money in the outdoor industry. But you will get to do what you enjoy and get paid to do it. Of course, there are a lot of demands on your time. All the travel can really wear you and your family down.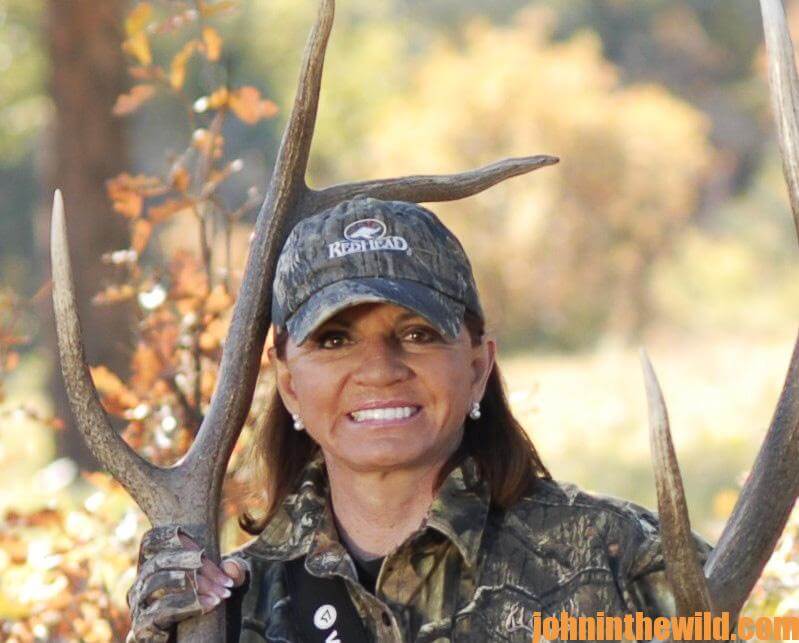 When you become an outdoor professional, you have to remember to make time for your home, your family and your pets. I've been in the outdoor industry for 20 years, but I treasure the time that I'm home and get to go hunting on my own little farm. All the travel, all the hunting and all the fishing can put a strain on a marriage. Fortunately I've been married forever. You have to have an understanding spouse and have a wonderful relationship with your husband or wife for a career in the outdoors and a marriage to survive.
Why Brenda Loves Developing Her Home Farm Most:
In recent years, I've become a Mossy Oak Gamekeeper (http://www.gamekeepersclub.com) and enjoy hunting the game that I'm responsible for providing food and habitat. I've got fields on my lands planted in a wide array of Mossy Oak BioLogic (www.plantbiologic.com) plantings, and I've planted numbers of fruit and trees from Mossy Oak's Nativ Nurseries (www.nativnurseries.com). Today my whole heart is in the 300-acre farm we've bought and use strictly for raising wildlife. I enjoy getting out on my farm, riding my tractor, mowing, plowing, planting and improving the habitat. I'm constantly rotating my crops for wildlife, doing timber management, improving habitat and planting trees. When I'm moving through my orchard, I may swipe an apple to eat. However, the fruit and the nuts my land provides is really for the wildlife that lives there. This farm has been one of the most-fulfilling projects I've ever done. I cleaned up this property. When I go over to that land and see flocks of wild turkeys in my milo, or when I take young people over there and let them hunt deer, I really have a good time. I've also been able to take people in wheelchairs to my farm and let them turkey hunt. I've got land set aside to take special people on special hunts. When we need to harvest a certain number of deer from that land, we take the deer over to the local jail where the inmates process the deer and give the meat to the needy. I get such a good feeling when we harvest does, and I know those does are going to help people to have meat who don't have any to eat. So, my reason for hunting has changed over the years. I often get more satisfaction watching other people take the game I raise than harvesting those birds and animals myself.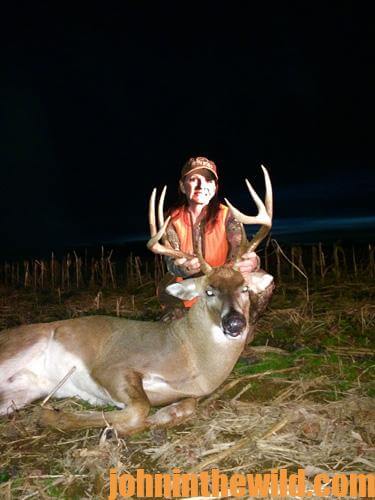 What Brenda Recommends for You to Start Hunting:
When beginning to shoot the bow, I suggest you go to a bow shop and let a bow technician help you find the bow that's the best fit for you. Buying a bow is much like buying a pair of shoes. The most-important aspect is purchasing a bow or a pair of shoes that fits you correctly. Don't buy a bow that's too difficult for you to pull all the way back. Purchase a bow that you can push with your bow hand and pull with your other hand straight back to your face. Make sure you get a bow that fits your draw length, and the bow is comfortable for you to pull and enjoyable for you to shoot.
Many of the same ingredients that you need to consider when buying a bow, you also must consider when you're buying a shotgun or a rifle. If you buy a rifle that has too much recoil, you'll feel like the fillings in your teeth are coming loose. You won't shoot it very often, and you won't have very much fun with it. So, consider a caliber that's comfortable for you to shoot. I like a 7mm-08 caliber, if I'm hunting whitetails or antelopes. Once again, make sure the rifle fits you. Be certain the stock fits the trigger pull the way you want it. I put muzzle breaks on all my guns to reduce the recoil. I usually shorten the stocks and lighten the trigger pull. I do the things required to help me and the rifle shoot as accurately as possible and to make the rifle fun for me to shoot. If you're concerned about the recoil of the rifle or the shotgun, you'll flinch or jerk the trigger, and you won't be able to shoot as accurately as you could.
The length of the gun's barrel is important. You'll carry that gun on your shoulder much more than you'll shoot the gun. You don't want a long-barreled gun that's awkward, unwieldy and so tall that you can't duck under a tree or a bush. If your gun is too long, too heavy or too aggravating to carry around in the woods, you'll leave it at home. As I mentioned earlier, I've lived a bigger dream than I ever can have imagined.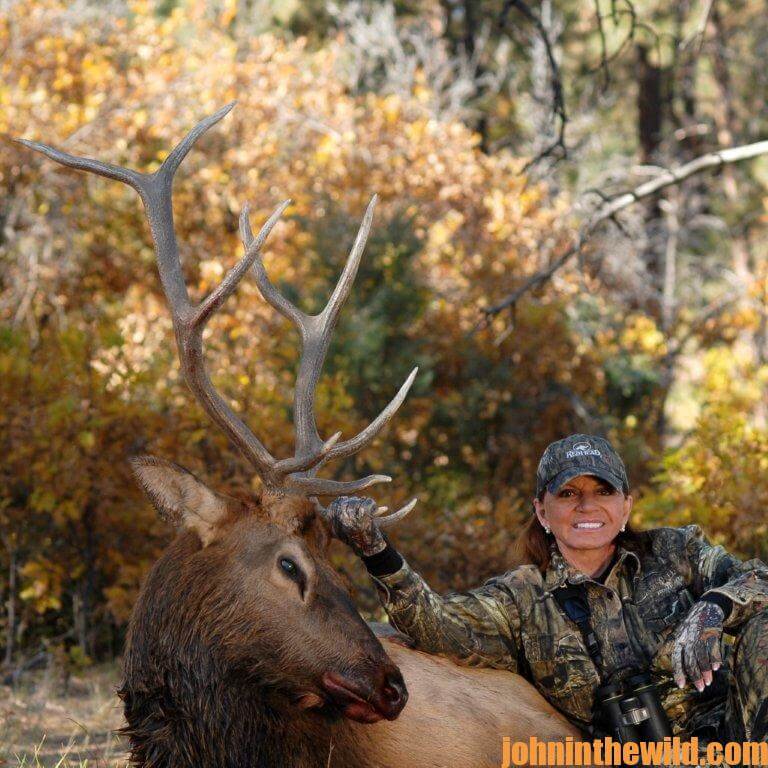 Check out Brenda Valentine at http://www.brendavalentine.com, or on Facebook at https://www.facebook.com/BrendaValentineFirstLadyOfHunting/info.
To learn more about the book, "Outdoor Women's Hall of Fame – Premier Edition" that contains the amazing stories of how 14 women captured their outdoor dream jobs, and you can too, go to http://amzn.to/2AlVYJE for information on ordering the Kindle eBook and the print book.
Tomorrow: Stephanie Mallory Realizes Her Outdoor Dream of Writing and Doing PR