John's Note: Forty-nine-year old Brian Barton of Muscle Shoals, Alabama, has been catfishing for 35 years and guiding anglers for 3-1/2-years on the Tennessee River, one of the premier catfishing waterways in the nation. It's very fertile, it has mussel beds, it has an abundance of shad, and it has hydroelectric power plants all along the river. Every spring and summer catfishermen from around the nation come to the Tennessee River to catch blue, channel and flathead catfish, expecting to catch 100 pounds of cats per day. I've asked Barton to tell us five different ways he catches cats on the Tennessee River that you can use where you catfish. This week we've also included videos of Phil King of Corinth, Mississippi – one of the world's fastest catfish cleaners.
Mainly, I fish Pickwick and Wilson lakes on the Tennessee River in north Alabama.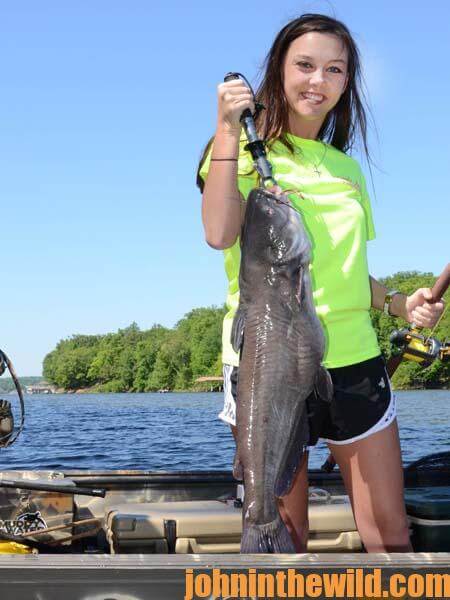 Occasionally, I fish Wheeler Lake, also in north Alabama. Every day I guide I have to produce catfish for my clients. When we catch 100 pounds of cats, I consider that a great day of catfishing. The easiest way to produce that 100 pounds of cats is what I call fishing the seams. During the summer months, hydroelectric companies at Wheeler Dam Wilson Dam and Pickwick Dam generate current in the lake as a byproduct of producing electricity. That current is discharged from different turbines along the faces of the dams. These turbine discharges are side-by-side. So, when the current comes out of each discharge area, the currents collide with each other. The place where the two currents collide, I call the seam, a slack-water area with little or no current. Often, there is a reverse current that causes the water to flow back toward the dam. Baitfish congregate in the slack-water regions in the swift water, and catfish hold and feed on the baitfish there.
I like to use the 7-1/2-foot B'n'M Magnum catfish rod. I prefer 80-pound-test braided line as my main line, and I'll attach 2 to 3 feet of 40- to 50-pound-test monofilament leader to the end of the braided line. Depending on the speed of the current, I'll use a 2–5-ounce bank sinker. Then, I'll fish with a No.7/0 or a No. 10/0 Daiichi circle hook.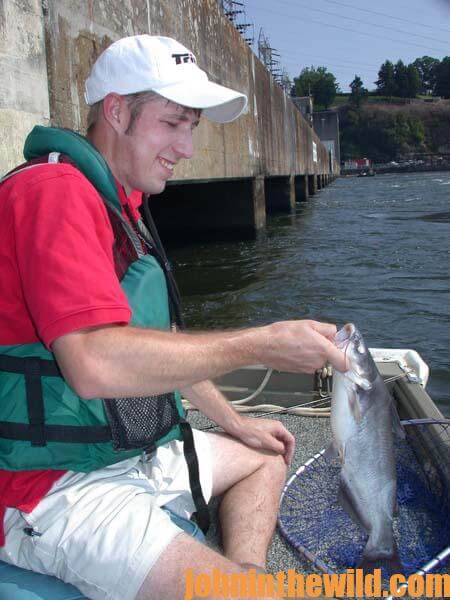 When I'm fishing the seam, I'm always anchored. If I'm fishing under the boat, I use what I call a Santee Cooper rig – a three-way swivel rig. I tie my main line to one eye of the three-way swivel. Off the second eye, I tie 8 inches of leader line. I attach my weight to that leader on the third eye, and I tie on about 12 inches of monofilament line. I fish this rig right under the boat.
If I use a walking rig, I'll stand on the back of the boat and lift the rod tip to pull my sinker off the bottom. I free spool my line until the sinker hits the bottom again. This technique allows me to walk my bait down the seam. For this rig, I tie my main line to a barrel swivel. Through the same eye where I've tied my main line, I'll tie about a 2- to 3-inch piece of monofilament leader, and I'll tie my bank sinker to the leader line. Coming off the bottom end of the swivel, I'll tie 20 to 24 inches of monofilament leader and attach my circle hook and then my bait.
If I'm fishing for big cats, I may tie another piece of leader onto the bend of the first hook and attach a second hook 4 inches behind the first hook. With this double-hook rig, I'll use a pretty large piece of cut bait and hook both hooks into the bait.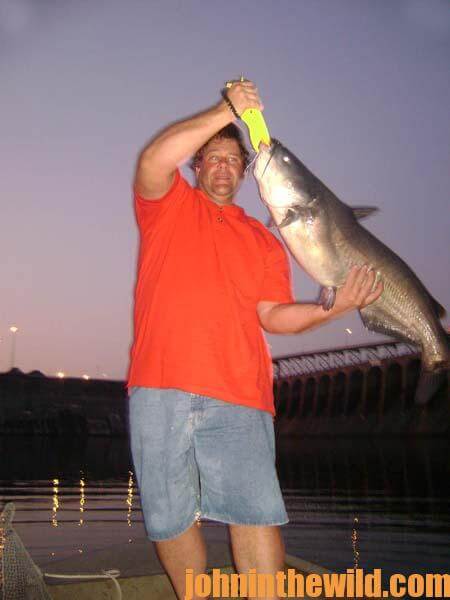 If I'm fishing for smaller catfish, I may put smaller pieces of bait on each hook. When I'm fishing in the current like this, I'll use cut shad, cut hickory shad (skip jacks), cut gizzards or maybe a piece of large shrimp or squid. Of course I know that shrimp and squid don't live in fresh water. But I had a good friend who brought me squid and shrimp from the Gulf of Mexico a couple of years ago. I found that in warm water, catfish love both these baits, perhaps because these two baits give off a different scent than my cut baits. Eating-size catfish (catfish that weigh from 1-5 pounds) love squid and shrimp. I especially like squid, because it's a tough bait that stays on the hook really well. Often, we've caught as many as 5 or 6 catfish off the same piece of squid. Other baits don't seem to stay on the hook as well as squid does.
I think the shrimp, like the squid, is like a treat to the catfish. It's something different that they love to eat. One trick I do with my shrimp is that I peel them. I put them in the refrigerator overnight in a bowl with unsweetened cherry Kool-Aid. I put just enough water on my shrimp to make the Kool-Aid stick to the peeled shrimp. The Kool-Aid turns the shrimp red, causing them to look like bloody pieces of bait. When I anchor my boat, I'll usually be 50 to 100 feet from the dam.
Bonus Videos with Phil King:
To contact Brian Barton you can reach him at
brianbartonoutdoors@aol.com
; you can go to his website at
www.brianbartonoutdoors.com
. Or, you can visit him on
Facebook
. On his Facebook page, you can look at more photos of the type and number of fish he's been catching.
For John E. Phillips' Kindle eBook "Catfish Like a Pro," click here. You also can download free recipes here – "The Catfish Catcher's Cookbook."
Next: Slow Trolling Ledges for Catfish with Brian Barton