In the distance, as the morning sky began to brighten long before the sun came up, I could see wave after wave of snow geese migrating.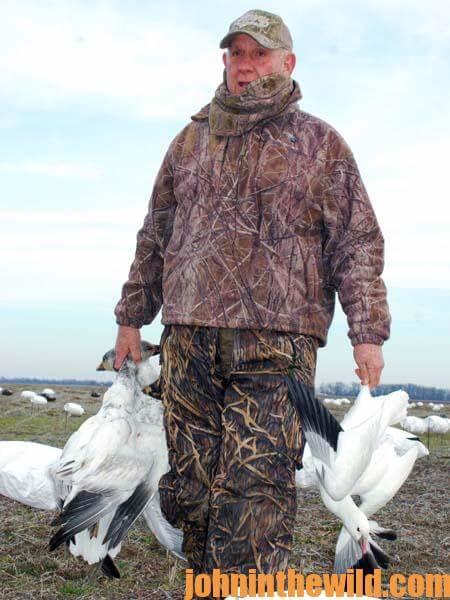 The geese were so high that I was fairly confident that our decoy spread and the loud calling of our electronic caller wouldn't be able to pull these high-flying birds down to the ground within shooting range. But as the day wore on, and more and more flights of snow geese became visible, I learned how wrong I could be. "I saw something I had never seen before," my long time friend and master waterfowl hunter, Tommy Akin from Tennessee, told me. "I would've bet any amount of money that there was no way we could pull those migrating geese down to the field we were hunting. Gordo sure proved to me that not only could he break off a group of geese flying with a flock of migrators and bring them into our spread, but he did it time-after-time to produce a great snow goose hunt."
Gordo is John Gordon from Hernando, Mississippi, who owns and operates Mid-South Goose Hunts. As a full-time duck guide at Beaver Dam Hunting Services in Tunica, Mississippi, Gordon also guides snow goose hunters at the end of the waterfowling season. The Mississippi Conservation Snow Goose Season begins January 26, 2015, and ends March 31, 2015.
Gordon has been hunting snow geese most of his life. "When I was 12-years old, my family moved from Mississippi to Houston, Texas. Until that time, I never had seen a snow goose or a specklebelly (white-fronted goose). When I discovered how much fun snow goose hunting could be, a high school buddy and I became addicted to hunting snow geese. In the mid 1990s when I was about 20 years old, I started guiding hunters to snow geese. At that time, southwest of Houston was a major snow goose hunting area – Eagle Lake, Katy Prairie and El Campo – and they were known nationwide as the Snow Goose Capital of the U.S. The mid-south lesser Canada snow geese wintered over in these areas. These birds came down the central flyway, stayed there below Houston and then migrated back up north at the onset of spring.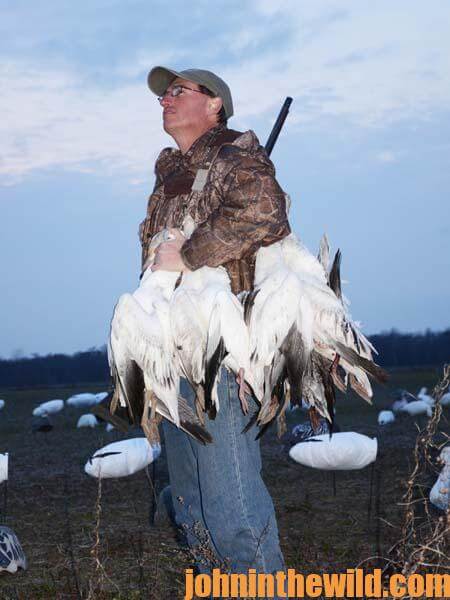 One of the main reasons that snow geese chose this area of the country to winter over was that these areas in Texas were where you found huge rice farms, providing plenty of rice and grain for the snow geese. However over time, Arkansas and Mississippi began to increase their rice production, and the Texas farmers started planting less rice. Then the snow geese changed their flight patterns about 20 years ago and moved farther to the east where they could find more rice and grain than they had available in Texas. Today, we have a large migration of snow geese hitting the rice fields, soybean fields and corn fields in the Mississippi Delta. Right now, more than a million acres of rice are being produced in Arkansas, and the farmers along the Mississippi Delta drastically have increased their rice production. The geese have followed the rice. According to Gordon, "From the end of duck season to mid-March, we usually have a big push of snow geese coming through the Mississippi Delta, headed back up north."
Mississippi snow goose hunting is not like the traditional snow goose hunting that I've done before in Texas. Back during the glory days, thousands of snow geese would descend on rice fields, corn fields and soybean fields to feed. Usually when hunters set-up in a field where the geese were feeding, you could limit-out on snow geese by 9:00 am. However, the snow geese that we hunted last week in Mississippi were migratory geese and didn't come into our decoy spread to feed in large bunches. They had their sights set on their nesting grounds in Canada and were flying high and fast. As many goose hunters know, calling and decoying usually won't bring geese into your decoy spread, when the geese have migrating on their minds. However, because Gordon has hunted snow geese intensively for the last 20 years, he's learned some tactics to pull those high-flyers down to earth.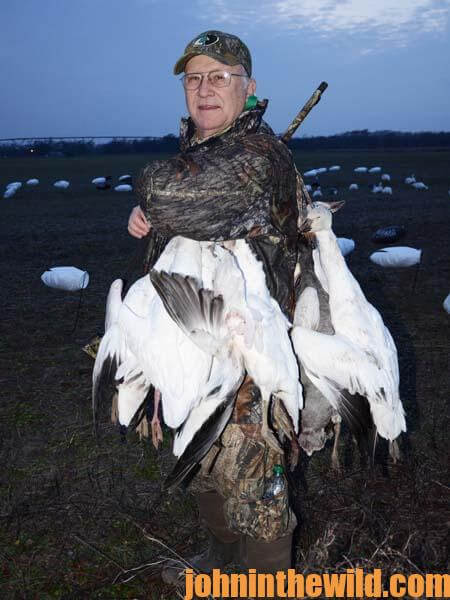 To learn more about Mississippi Delta snow goose hunting with John Gordon from now until mid-March during the Federal Conservation Snow Goose Season, go to www.midsouthgoosehunts.com, or call him at 901-606-7878.
For more information on the outdoors, click here to get John E. Phillips' print and Kindle eBooks.