John's Note: Captain Phillip Criss of Scottsboro, Alabama, has been a more than two decade fishing buddy of mine for both bass and crappie – first at Miller's Ferry and now at Lake Guntersville (www.guntersvilleal.org) on the Tennessee River in north Alabama. Anglers across the South know of Criss's bass fishing expertise, and since he retired from his day job to Guntersville to guide and fish, I've wanted to go fishing with him. In mid-July, I finally had the chance.
I've been asked to describe a day of bass fishing on Lake Guntersville in August and September.
Just at daylight, I'll start fishing a buzzbait or a fluke. I'll fish those baits around isolated patches of grass that you can see on the surface. I'll also have a rubber frog tied on a third rod. If I see a big mat of grass, I'll cast that frog out to the backside of the mat and hop it up on the mat. Then, I'll either hop or drag the frog along the top of the matted grass.
When the sun comes up on a clear day, I move out to the deep ledges, drop-offs, springs and ditches. I'll fish the Zoom Magnum Trick Worm (www.zoombait.com), and I'll fish a big crankbait. I'll fish these areas for about an hour, until the sun is really bright and causes the bass to move into the grass to find some shade. Then I'll use a slip sinker that weighs about 1 ounce or 1-1/4 ounces, peg it to the head of my hook, punch through the grass with the big worm or use a flipping jig to punch through the grass and catch the bass holding under the grass.
I'll fish a pointed head jig that can punch through the grass and drop my lure right in front of the bass's nose.
If the grass is scattered, I may pitch a jig and then swim it through the grass. When I'm fishing the grass, I get the same kind of bite I do when I'm fishing the ledges and ditches. Usually, the bite will be a light peck, or I'll see my line move off to the side. But most of the time, I'll just feel added weight to the line.
In August and September, I like a jig that's 1 ounce or even 1-1/2 ounces. I want a heavy jig, because I want it to go through the grass in a hurry to keep the bass from getting a good look at the worm or the jig when it falls. I'm trying to trigger a reaction strike. Most of the time, I'll be flipping or pitching in grass coming up off a 6  or 8-foot bottom. So, if I see my line stop after the jig has only fallen about 2 feet, I'll set the hook, because I know the bass has got it.
I fish this grass pattern from 10:00 am until 2:00 or 4:00 pm.
If I'm really catching a lot of bass using this technique, I'll continue to fish until the bite slows up. Late in the afternoon,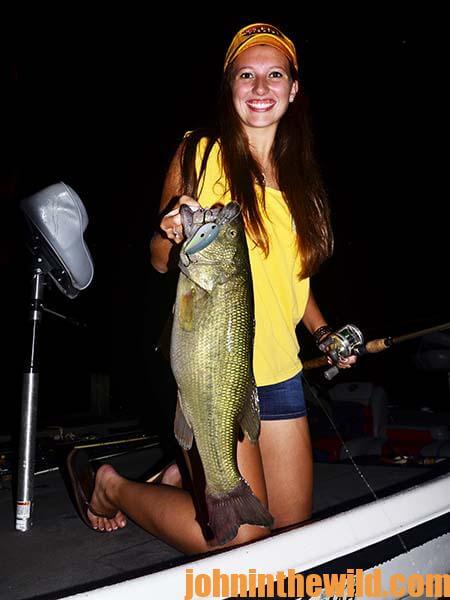 I'll move out on the ledges where the bass generally will start schooling. I'll have a Zara Spook tied onto one rod, a big fluke tied onto another rod, a large swimbait tied on another rod and a big shaky head worm – the Zoom Magnum Trick Worm – on a football head sinker. I've found that the best color jigs for Guntersville are black-and-blue or green pumpkin. We spike the tails of our worms and the ends of our jig skirts with chartreuse dye.
Recently, a new lure has come to Lake Guntersville that seems to be red hot – a big swimbait called the Bull Shad (http://www.bullshad.com/). The Bull Shad is a wooden or a plastic bait that's jointed in the middle. The 9-inch Bull Shad sells for $75 or $80 each. When bass start schooling, we'll see bass that weigh 6 to 10 pounds plus eating hickory shad that'll often weigh 1/2 to 3/4 pound. This is one of the reasons that the Bull Shad is selling so well at this time of the year. I definitely believe that size matters, when bass are schooling on the surface. A big bass wants to eat a big bait, so, he doesn't have to expend as much energy chasing little bait fish around and eating them until he becomes full. The biggest bass I've ever caught in Lake Guntersville weighed 10.86 pounds. But I've seen a lot of 10- to 13-plus pound bass weighed in at tournaments here at Guntersville.
I'm often asked, "On an average to a good day with two people besides yourself fishing, how many bass do you expect to produce for that day?" If my two clients are fairly good fishermen, in a day of fishing, if our five biggest bass total 20 pounds, I'll feel like we had a good day of fishing. During that day, we should have caught 25 to 30 bass, including our five biggest ones. We have caught and released as many as 100 bass in a day. On the days when we've caught and released 100 bass in a day, all the bass have weighed better than 3 pounds. On my best day with two customers, our five biggest bass totaled 35 pounds, and we caught and released another 35 or 40 bass.
I'm sometimes asked, "What's the advantage of fishing with a guide at Guntersville?"
At Guntersville, most of the guides will be on the lake fishing 5 to 6 days per week. The guides I work with work together. If one of the guides is having a bad day, and I'm having a great day, I'll call that guide to come over and fish where we're fishing. The other guides treat me the same way. Our job is to help our fishermen catch the most and the biggest bass they've ever caught in their lives.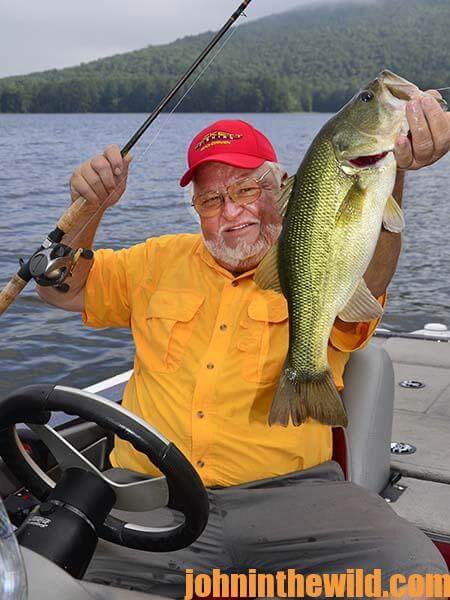 To contact Captain Phillip Criss about fishing Lake Guntersville, call him at 205-461-5549, or email him at pdcriss@hotmail.com.
To learn more about bass fishing, get John E. Phillips' Kindle eBooks and print books, "How to Bass Fish Like a Pro," "How to Win a Bass Tournament," "Catch the Most and Biggest Bass in Any Lake: 18 Pro Fishermen's Best Tactics, "Hot Weather Bass Tactics" and "How to Become A Tournament Bass Fisherman." Click here to get these books.
About the Author
John Phillips, winner of the 2012 Homer Circle Fishing Award for outstanding fishing writer by the American Sportfishing Association (ASA) and the Professional Outdoor Media Association (POMA), the 2008 Crossbow Communicator of the year and the 2007 Legendary Communicator chosen for induction into the National Fresh Water Hall of Fame, is a freelance writer (over 6,000 magazine articles for about 100 magazines and several thousand newspaper columns published), magazine editor, photographer for print media as well as industry catalogues (over 25,000 photos published), lecturer, outdoor consultant, marketing consultant, book author and daily internet content provider with an overview of the outdoors.