John's Note: Sonny Schindler and the other captains who work for (www.shorethingcharters.com, 228-342-2206) have developed some of the most-successful summer tactics for catching speckled trout and redfish on the Upper Gulf of Mexico coast. These captains fish out of Bay St. Louis, Mississippi, and guide in both Mississippi and Louisiana waters. We've asked Schindler to give his best tactics and techniques for catching speckled trout, redfish and other species in warm weather.
Question: Captain Sonny, when you're fishing during the spring and summer, what time do you leave to take a party fishing for speckled trout and redfish?
"A good fisherman never goes fishing with just one lure." ~ Captain Sonny

Captain Sonny: We like to leave as soon as we possibly can, when there's enough safe light to navigate. We also try to fill up our live wells with live shrimp, croakers, pogeys, and/or finger – mullet – whether we have to buy the bait or get up early and net the live bait ourselves. Although we don't always need live bait, when the speckled trout and redfish are feeding over the tops of oyster reefs, some days they only want big live shrimp. Other days, you get the best bite on live croakers, perhaps they prefer pogeys, some days finger mullet and at other times artificial lures.
A good fisherman never goes fishing with just one lure. We've found that to consistently catch speckled trout and redfish we need several different types of lures and live bait. Most days when you find the trout, they'll take almost any bait you cast to them. But some days, they can be finicky and prefer one kind of either live or artificial bait. By having a wide variety of both live and artificial baits with us, we quickly and easily can hone-in to the bait that the fish want on that day, at that time, at that place.
Question: Captain Sonny, why do you carry so much live bait?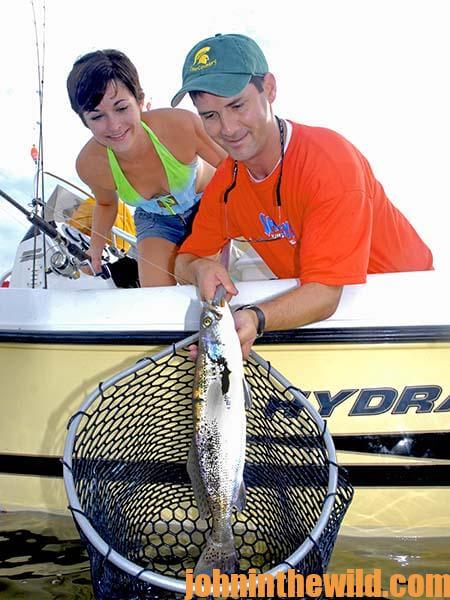 Captain Sonny: When we get to a reef, our first objective is to find the fish. Once we start catching the fish, then we try to switch the fish over to artificial baits. You can catch more specks and reds faster, if you don't have to go back to the live well, catch live bait, put the live bait on your hook and then walk back to the spot where you're casting.
When you're fishing an artificial lure, and you catch a trout or a redfish, all you have to do is unhook the fish and make the next cast. Many times, that first 45 minutes or 1 hour can be when we catch the most and biggest fish of the entire day. So, the sooner we locate the fish, and the faster we catch those fish in the first hour or two, when they're the most active, the better trip we'll have.
When we first arrive at the reef, we usually have our lines rigged-up to fish live bait on Carolina rigs:
using either a 1/2-ounce or 3/8-ounce slip sinker;
tying a barrel swivel below the sinker and using 16 inches of green monofilament line, because most days our water on Mississippi's Gulf Coast has a green tint to it;
tying on a size 1, 2 or 3 Kahle hook to the end of the line, depending on the size of live bait we're fishing;
baiting up with live bait; and
using bigger hooks, so the bait can sit in the bend of the hook. You don't want to use a big hook with small bait, because more than likely, the hook will kill the bait.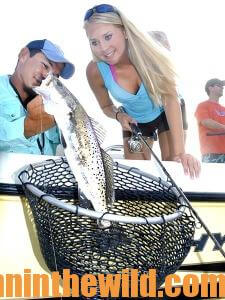 If we have experienced anglers who know how to cast accurately, then once we locate the schools of fish, we'll suggest that they start casting top-water lures like the Zara Spook, the Zara Puppy, Top Dogs, She Dogs and Skitter Walks over shallow bars and points that only may be 2-feet deep. We like to fish top-water lures above oyster shells on the bottom. If the water is moving, and the bait is holding on that bank, anglers can have a very-good time working those top-water baits in that shallow water.
We'll catch speckled trout big enough to hang on the wall and some speckled trout that'll be too short to keep. But what I like about top-water fishing over oyster shells is you really don't know how big the trout is that blows up on the bait, until you set the hook, and the drag starts screaming.
Most of the time when we're fishing top-water lures for specks, we're using the walk-the-dog type retrieve. Most of the lures we use have rattles in them. As you work the lure back and forth, the rattle inside the lure starts to click and attract the trout. Other times, you can use the walk-the-dog retrieve with a top-water bait, kill the bait and let it sit still on the water, which is when a big trout will attack. So far, I haven't caught a trout that weighs over 5 pounds while fishing a top-water lure, at first light. However, using this technique, some of the guides at Shore Thing Charters have caught trout weighing 6+ pounds.
We don't have the opportunity to fish top-water lures very often. Most top-water lures have three sets of treble hooks – nine hooks per lure, which is a lot of hooks flying around in the air, particularly with novice fishermen.
Check out this video for more information from Captain Sonny Schindler:
To learn more, get John and Denise Phillips' eBooks and print books: "The Best Wild Game & Seafood Cookbook Ever: 350 Southern Recipes for Deer, Turkey, Fish, Seafood, Small Game and Birds" and "Fishing Mississippi's Gulf Coast and Visitor's Guide." Click here to get these books!
About the Author
John Phillips, winner of the 2012 Homer Circle Fishing Award for outstanding fishing writer by the American Sportfishing Association (ASA) and the Professional Outdoor Media Association (POMA), the 2008 Crossbow Communicator of the year and the 2007 Legendary Communicator chosen for induction into the National Fresh Water Hall of Fame, is a freelance writer (over 6,000 magazine articles for about 100 magazines and several thousand newspaper columns published), magazine editor, photographer for print media as well as industry catalogues (over 25,000 photos published), lecturer, outdoor consultant, marketing consultant, book author and daily internet content provider with an overview of the outdoors.