Editor's Note: During the spring of the year, high water and cool weather are often a nightmare for fishermen. However, if you're like me, you have to fish when you have a chance to fish. You can't change the fishing conditions. So, you need to learn to fish in bad weather and bad water conditions. In 3 days this spring, Center Hill Reservoir in central Tennessee had risen 16 feet. My friend, outdoor writer and guide, Jim Duckworth, had invited me to bass and crappie fish at Center Hill. My favorite tool I learned about there was a StowMaster (https://www.norsemenoutdoors.com/product-category/stowmaster/) Tournament Series foldable dip net that I've really enjoyed using. We were staying at Edgar Evins State Park (http://tnstateparks.com/parks/about/edgar-evins) – a beautiful resort overlooking the lake. The weather had been in the 70s. So, I only had packed one pair of blue jeans. The rest of my wardrobe consisted of shorts and t-shirts. I sure was glad I'd packed my Browning (www.browning.com) Gore-Tex lightweight rain suit. It kept me dry and warm. The anglers you're most likely to see on any lake during April and May are bass fishermen and crappie fishermen. So, I wanted to learn how to catch crappie when a lake was rising, and the temperature dropping. The next morning (See Days 1 and 2) I fished with Chris Duraji of  Lebanon, Tenn., who's been fishing for 42 years.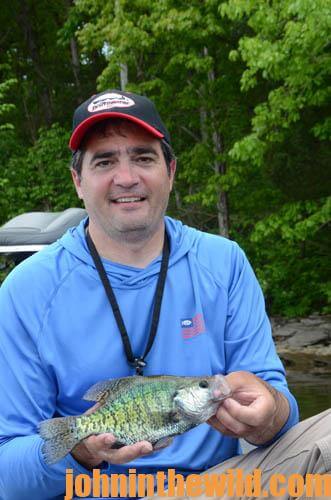 Old Hickory Lake on the Kentucky/Tennessee border is much more stained than Center Hill Reservoir. For this reason, the crappie seem to hold in much-more-shallow water during the spring and summer at Old Hickory than the crappie on Center Hill. Dale Hollow Lake is much clearer than Center Hill or Old Hickory.
"When I fish at Dale Hollow, I catch my crappie at between 20-50-feet deep, and I've never seen anybody else fishing that deep when I fish at Dale Hollow," Duraji reports. "I just stumbled on to this technique of fishing deep for crappie when I was fishing deep for bass. I was fishing a shaky head worm, and I started catching crappie instead of bass. I was using a fluorescent pearl shaky head jig and a 4-inch Berkley PowerBait Power Worm (http://www.berkley-fishing.com/berkley-bait-soft-bait-berkley-powerbait/powerbait-power-worms/1317177.html). I was catching the crappie in 25-30 foot deep water. When I fish at Dale Hollow, I pay close attention to my depth finder, and I found this hump out in the middle of the lake. On the backside of the hump, there was a really-sharp, deep drop-off. I thought if I could get that shaky head to come down that hump and jump off that ledge I could catch some bass. But to my surprise, I started catching 3-pound crappie."
The month of December is Duraj's favorite time to fish Dale Hollow for big crappie. He rarely fishes Dale Hollow in the summer, because there's so much boat traffic. During the winter months, when most fishermen aren't fishing, he goes to Dale Hollow and catches some big slabs. "Since I've been fishing Dale Hollow and Center Hill, I've learned a lot more about how to fish deep for crappie," Duraji reports.
Some of the advantages that Duraji has when he fishes deep for crappie are:
* Very little if any competition is present for the deepwater crappie;
* The crappie he catches seem to be the older, bigger fish;
* Most crappie fishermen never will find the spots where Duraji fishes; and
* He's also learned to fish brush piles in 25-35 foot deep water. He says, "When you find a brush pile at that depth, most of the time, crappie will be holding on it during the summer months."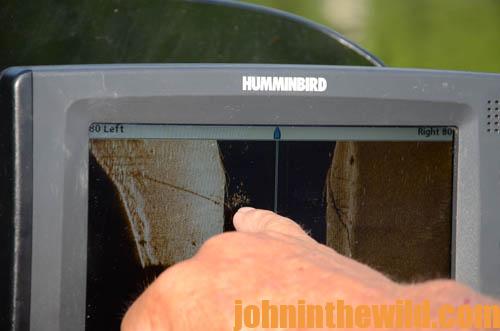 By fishing with a 1/8-ounce crappie jig and 4-pound-test line, Duraji knows that his bait is falling about 1 foot per second. So, if he counts his bait down, when he gets to the number 35, he knows that jig is in about 35 feet of water. Then he starts swimming it by the brush and back to the boat. "When we had those cold fronts at the end of April and the first of May in 2017, I backed my jig size down to 1/32 ounce," Duraji says. When I asked Duraji, "How do you fish a 1/32-ounce jig 25-35 feet deep?" he explained, "When I'm using a jig that small, I can't fish it if there's any wind at all on the lake. The wind will catch my line and not let that little jig fall vertically."
To learn more about crappie fishing on Tennessee lakes, call Chris Duraji at 615- 519-5904, or email him at fishingrx@aol.com.
Video:
How to Fish for Deep Crappie in Winter Months – https://youtu.be/W3MnMu24Los
To learn much more about crappie fishing, get John E. Phillips' Kindle eBooks, and print and Audible books by going to http://johninthewild.com/books/#crappie or to www.barnesandnoble.com. To receive and download for free "The Crappie Catchers' Cookbook," by John and Denise Phillips, go to http://johninthewild.com/free-books.
Tomorrow: Understand the Mississippi Crappie Connection to Tennessee Crappie