John's Note: When the bass aren't biting, the bluegills have lockjaw, and the trout are smarter than you are, why not catch some of America's ugly fish? They don't win beauty contests, but they're a lot of fun to catch, and they're tasty too. 
 "We used to eat suckers all the time when I was a little, boy," a North Carolinian once told me.
"You ate suckers?" I asked. "You must have been starving." "No, we weren't," he answered. "Have you ever eaten a sucker?" I had to admit that I had not. "Well, they are delicious if they are cooked properly," he told me. "When we were boys, we went down to the creek and caught suckers on doughballs. In the spring, when the suckers came upstream to spawn on gravel beds, you could see the fish you were trying to catch. With a doughball on the bottom, sooner or later a sucker inhaled it, and we would set the hook. A small hook, light line, and a small leader was all you needed.
"Once we had a mess of suckers, we would take them home, clean them and cut them into chunks. We would leave all of the bones in and pack the chunks in Mason jars. Then we'd pour in hot water and put in a teaspoon of salt. Mama would seal the jars and boil the whole thing to can them, just as she did with peas, beans, turnip greens and corn. In the wintertime, she would take the meat out of a jar, make fish patties, and fry them. They tasted like salmon croquettes. We didn't have any salmon in North Carolina except in cans at the store, but the fried sucker patties were just as delicious." You have to be very careful about contamination when you preserve fish in Mason jars. Follow the directions in a good canning manual to prevent any spoilage.
Some years later I was on Missouri's Current River with my friend Alex Rutledge, a nationally-known hunter and outdoorsman from Birch Tree, Mo. when Alex's friends began talking about gigging suckers. When sucker-gigging season begins in September, the Current River looks like the Las Vegas strip due to the large numbers of giggers in "sucker boats" with bright halogen lights out gigging for suckers. "On opening weekend, there usually will be 1,500 or more sucker boats on the river," Donald Black, one of Alex's friends, reports. The Current River is crystal clear. Clear water and plenty of shallow water are critical ingredients for being able to gig suckers because before you can gig a sucker, you have to see that sucker. Once you spot a sucker you have to have the skill of a medieval spear chunker and the finesse of a world-champion frog gigger to deliver the blow that results in a sucker dinner. That's right, suckers are good to eat. Don't turn your nose up at the thought of eating a sucker as I did, if you never have tried one. As a one-night veteran sucker gigger, I can tell you that my opinion of sucker gigging and my firm belief that suckers aren't good to eat have been drastically changed. Lest you think that the Current River is only inhabited by these bottom feeders that many consider trash fish, you need to know that the Current River has a great population of smallmouth bass. An angler may catch and release 20-30 smallmouth weighing 1/2-pound to 5-pounds in the river. (Go to Night Hawk upload #170 to learn more about sucker-gigging equipment and the styles of sucker gigging).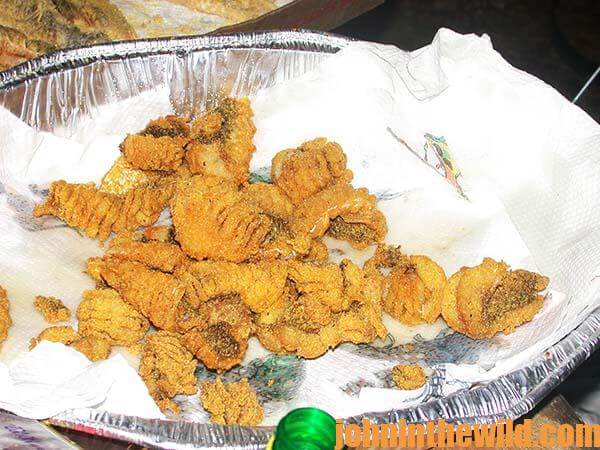 Sucker Patties:
Ingredients:
2 cups canned sucker meat
1 cup cracker crumbs (finely crushed)
1 tablespoon chopped parsley
1 tablespoon lemon juice
2 eggs
4 tablespoons milk
Pepper and paprika to taste
White Sauce Ingredients:
4 tablespoons butter
1/2-teaspoon salt
4 tablespoons flour
1 cup milk
Preparation for White Sauce:
Melt butter, adding salt and flour to make paste. Stir until there are no lumps. Add milk, and cook until thick.
Preparation for Sucker Patties:
Mix fish, parsley, pepper, paprika, lemon juice and white sauce until well-blended. Chill mixture. Beat eggs in milk. Make one-inch patties. Dip patties in milk/egg mixture, and roll in cracker crumbs. Fry patties in hot oil at about 375 degrees until golden brown. Drain on paper towels or brown paper.
To get "The Best Wild Game & Seafood Cookbook Ever: 350 Southern Recipes for Deer, Turkey, Fish, Seafood, Small Game and Birds," click here.
About the Author
John Phillips, winner of the 2012 Homer Circle Fishing Award for outstanding fishing writer by the American Sportfishing Association (AMA) and the Professional Outdoor Media Association (POMA), the 2008 Crossbow Communicator of the year and the 2007 Legendary Communicator chosen for induction into the National Fresh Water Hall of Fame, is a freelance writer (over 6,000 magazine articles for about 100 magazines and several thousand newspaper columns published), magazine editor, photographer for print media as well as industry catalogues (over 25,000 photos published), lecturer, outdoor consultant, marketing consultant, book author and daily internet content provider with an overview of the outdoors. Click here for more information and a list of all the books available from John E. Phillips.