John's Note: Captain Sonny Schindler was born and raised fishing on the Mississippi Gulf Coast. After graduating from college, Schindler worked on tugs and private boats before moving to Venice, Louisiana, in 2002, where he fished blue water full time for tuna, marlin, dolphin, wahoo, snapper, grouper, cobia and more. For the last few years, Schindler, who fishes every day, has been a captain with Shore Thing Charters in Bay St. Louis, Miss. You can contact him at sonnyschindler@yahoo.com or 228-342-2295.
As Captain Schindler motored his boat at about three-fourths speed, we raced by a line of tall poles, about 1 to 2 inches in diameter.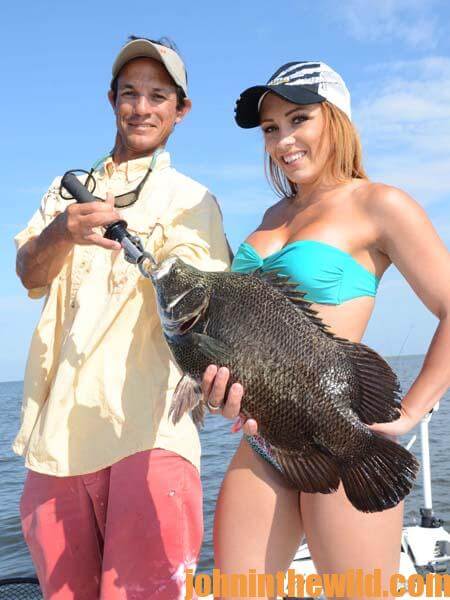 As we ran by the poles, we all looked hard in the water for a silvery or a black shadow. Just as I spotted one of those black shadows behind a pole, I heard Schindler say, "There 'he' is. The "he" Schindler was referring to was a Florida tripletail – often called a black fish or a tripletail. These fish that are found throughout the Gulf of Mexico and other temperate waters of the world, can weigh more than 30 pounds. The world record tripletail weighed 42 pounds, 5 ounces and was caught in Zululand, Africa, in 1989. The tripletail is one of the most-delicious fish that swims in salt water and often is referred to as the saltwater bream, due to its shape and the sweetness of its meat.
Schindler kept his boat on plane as we passed the tripletail, continued on for about 50 yards and made a half circle. Using his trolling motor, he got the boat to within 15 yards of the pole where the tripletail was holding. Using a clear bobber about 18-20 inches above his hook, Schindler baited with a live shrimp, cast upcurrent and a little past the pole and reeled his cork and bait, so that it would drift within about 3 inches of the pole. Once the cork was right beside the pole, the tripletail ate the bait, and the battle started.
Anglers Meaghan Buntin and Allie Verde took turns reeling in the big tripletail. When the large, flat-sided black fish rolled up on its side next to Schindler's boat, Schindler netted the fish and announced, "He's a keeper. I was hoping we could catch a tripletail too small to keep, so we could tag him, but you will enjoy eating this fish." And, that night at The Blind Tiger Restaurant in Bay St. Louis, Chef Aimee Anglin blackened some delicious-tasting tripletail we'd caught. We gobbled the meat down.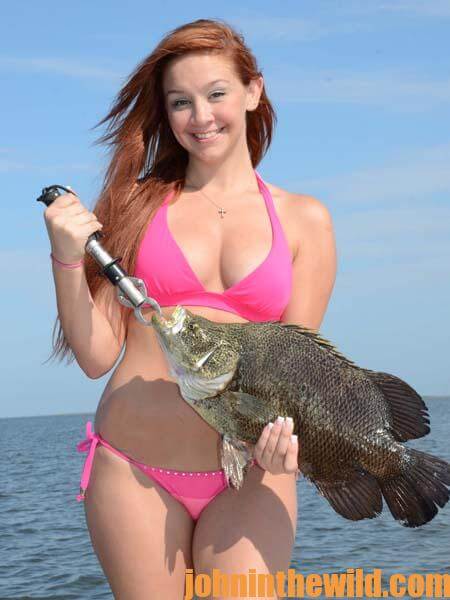 After we boated the big tripletail, we continued motoring down the line of poles, each one about 30 – 40 yards apart and used to mark rebuilt oysteries. After the oysters have been removed, oyster shells are repurposed by taking the shells back out into the bay and putting those shells on the bottom to form new reefs. Once again, as we motored down the poles, Schindler said, "There 'he' is," and my fishing buddy Mike Jones of Jackson, Mississippi, got on the rod. After four or five casts, Jones hooked a tripletail and brought it to the boat. Schindler smiled and said, "That's the one we're looking for, because he's too little to keep. We can tag him."
Why Captain Schindler and His Crew Tag and Release Tripletail:
"The Gulf Coast Research Center in Ocean Springs, Miss., is researching Florida tripletails," Captain Schindler explains. "They want to know where the fish go, how fast they grow, and whether they're migratory or residential. We use a yellow tag for the tripletails that we call a spaghetti tag, because it looks like a small piece of spaghetti. The tag has a phone number on it and an account number – which is that individual tripletail's personal number. When someone catches a tagged tripletail, he can call the phone number on the tag and report the fish's account number. Then Read Hendon or Jim Franks, who head up the tripletail research, will determine when and where the tripletail has been tagged originally, its weight, its length and the angler who's caught it and where. Also, they'll determine where the fish was tagged with the GPS coordinates. And, when a tripletail is recaptured, the person who has first tagged the fish gets a certificate that tells all the information about the tripletail."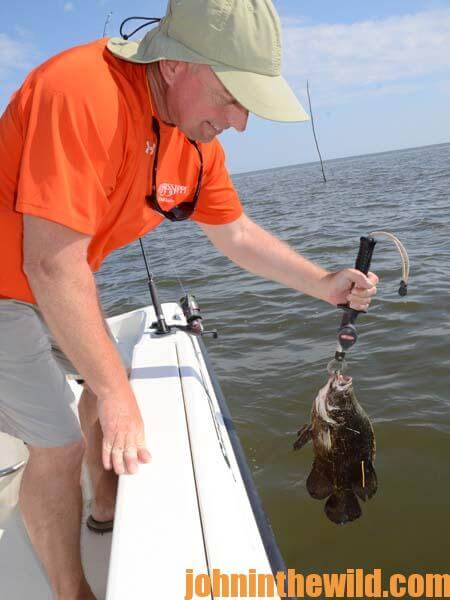 Two Tripletail Tagging Stories:
"William Gueiss from Ocean Springs, Miss., caught a small tripletail, and we tagged it," Captain Schindler mentions. "Two months later his youngest son Nathan caught the same tripletail. In that 2-month period, the fish had grown a couple of inches and added 2 more pounds to its weight. Later, we tagged another tripletail 2 or 3 miles out from Bayou Caddy. That fall the fish was caught and retagged outside of Red Pass on the west side of the Mississippi River. That fish had traveled over 100 miles in several months."
To learn more about the tripletail tagging program contact Jim Franks or Read Hendon at the Gulf Coast Research Laboratory, 228-872-4202, or email jimfranks@usm.edu.
To get more information and to see more pictures of fishing trips and cooking seafood at Bay St Louis, go to www.shorethingcharters.com. Also, check-out www.visitmississippi.org.
For more information about fishing Mississippi's Gulf Coast and to get John's eBooks and print books "Fishing Mississippi's Gulf Coast and Visitor's Guide," "The Best Wild Game & Seafood Cookbook Ever: 350 Southern Recipes for Deer, Turkey, Fish, Seafood, Small Game and Birds" and "13 Saltwater fish Recipes You Can't Live Without," click here.
Next: Catching Redfish and Sharks at Mississippi's Gulf Coast