John's Note: When the bass aren't biting, the bluegills have lockjaw, and the trout are smarter than you are, why not catch some of America's ugly fish? They don't win beauty contests, but they're a lot of fun to catch, and they're tasty too.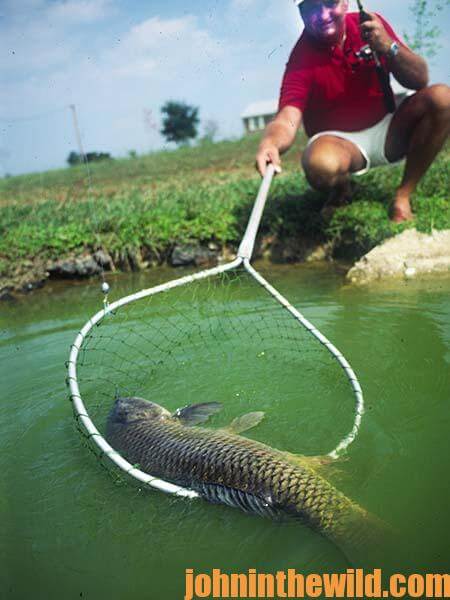 Carp muddy-up the water, disturb the shoreline and drive-out native fish.
Although they are fun to catch and good to eat and are especially popular as game fish in Europe and Japan, carp are largely ignored by American anglers. If U. S. sportsmen had been aware of the carp's harmful habits, perhaps the U. S. Fish Commission would not have brought carp to this country from Germany in 1876. There are, however, some dedicated carp fishermen in this country. The late Jerry Rhyne was an outstanding professional bass fisherman, but he loved to fish for carp. Rhyne made a lot of money when he was a high-school student by catching carp in carp tournaments. "When I was a small boy," Rhyne told me almost three decades ago, "My grandmother made carp soup with tomatoes and fried carp meat. After stirring the mixture together in a big saucepan, she boiled it on the stove. I don't know what else she put in that soup, but all of us kids really loved it." Rhyne enjoyed taking children carp fishing. "Because kids like to have something pulling on their lines right away, carp fishing is the perfect sport for them," Rhyne said. "I'll bait-up a hole to attract the fish, make-up some doughballs and sit kids on the bank with their poles. Then they can fight 5- to 10-pound carp all day long."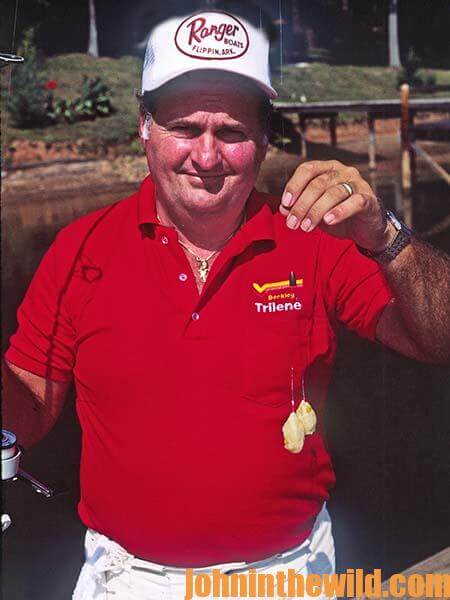 Rhyne would bait a hole by first scattering rice on the bottom. Next, he made a gooey dough by cooking pineapple juice, cream-style corn, plain flour and cornmeal together. He put some of the dough into a burlap bag and sunk the bag where he wanted to fish. He pinched-off small, round wads of dough and scattered them around the sunken sack. After the chum remained on the bottom for a day or two, Rhyne made doughballs with the same ingredients for bait. A doughball on a hook was held on the bottom with a small split shot.
"The carp root around in the mud, eating the rice and wads of dough, which attract them to the dough in the sack," Rhyne told me. "Sooner or later, they will find the bait lying on the bottom. Then, I set the hook and hang on to my rod. Taking 10 to 20 carp in one afternoon is a lot of fun, and you will probably catch a few catfish too. Carp put up a good fight. They are easy to bait-up and fun to wear-down."
Carp Parmigiana: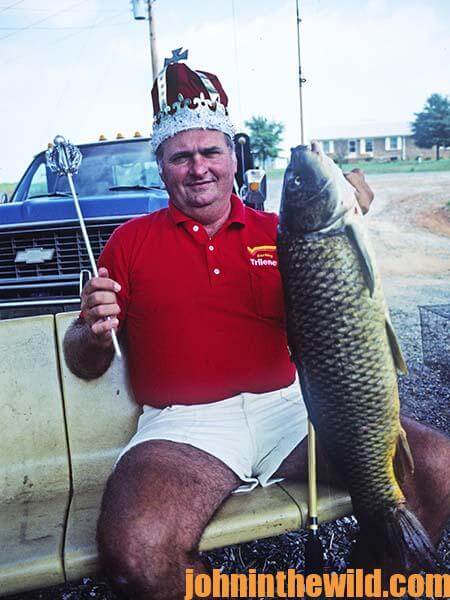 Ingredients:
1-1/2-pounds carp fillets
4 or 5 strips of bacon
2 tablespoons melted butter
1/4-cup bread crumbs
1/4-cup Parmesan cheese, grated
2 or 3 tablespoons lemon juice
Salt, pepper and chopped parsley
Preparation:
Brush carp fillets with melted butter, and dust with salt and pepper. Mix Parmesan cheese and bread crumbs; coat fillets with mixture. Place fillets on bacon strips in baking dish, and sprinkle them with lemon juice. Bake uncovered at 350 degrees for 20 minutes. Then remove dish from oven, and sprinkle fillets with chopped parsley. Return the dish to the oven, and continue baking until done – about 10 minutes.
Baked Carp:
Ingredients:
2 pounds carp fillets
Juice of 1 lemon
1/4-cup butter
1/2-cup chopped onion
2 pressed garlic cloves
1-1/2 to 2 teaspoons paprika
2 green peppers, sliced
2 tomatoes, peeled and diced
1 tablespoon fresh dill or dill seed
Preparation:
Cut red meat from fillets, and discard. Sprinkle fillets with lemon juice. Let them sit for 20 to 30 minutes, and then drain and pat dry. Melt butter, and sauté onions and garlic. Sprinkle in paprika. Add green peppers, tomatoes and dill, and bring mixture to a boil. Place fillets in buttered baking dish, and spoon sauce over the top. Bake uncovered at 350 degrees for 30 to 40 minutes. Serve fillets with sauce spooned on top.
To get "The Best Wild Game & Seafood Cookbook Ever: 350 Southern Recipes for Deer, Turkey, Fish, Seafood, Small Game and Birds," click here.
About the Author
John Phillips, winner of the 2012 Homer Circle Fishing Award for outstanding fishing writer by the American Sportfishing Association (AMA) and the Professional Outdoor Media Association (POMA), the 2008 Crossbow Communicator of the year and the 2007 Legendary Communicator chosen for induction into the National Fresh Water Hall of Fame, is a freelance writer (over 6,000 magazine articles for about 100 magazines and several thousand newspaper columns published), magazine editor, photographer for print media as well as industry catalogues (over 25,000 photos published), lecturer, outdoor consultant, marketing consultant, book author and daily internet content provider with an overview of the outdoors. Click here for more information and a list of all the books available from John E. Phillips.