Editor's Note: If you fish visible cover with a pole, sooner or later, you will become a jig pole fisherman. What do you do if you are fishing for crappie with minnows, and you run out of minnows? Do you go home with the fish that you've caught and leave the crappie biting? Or, do you continue to fish with nothing but a jig on the end of your line? For many crappie anglers, once they've tried jig pole fishing, they've become addicted. Even when they're using minnows, when they find the crappie schooled-up, they will switch to jig pole fishing. Jig pole fishing: allows you to fish your jig vertically through various water depths in even the thickest cover; lets you work the cover more thoroughly than when using a cast-and-retrieve method of fishing; and spooks fewer crappie because you pull the crappie straight up out of the cover instead of dragging that slab through the cover.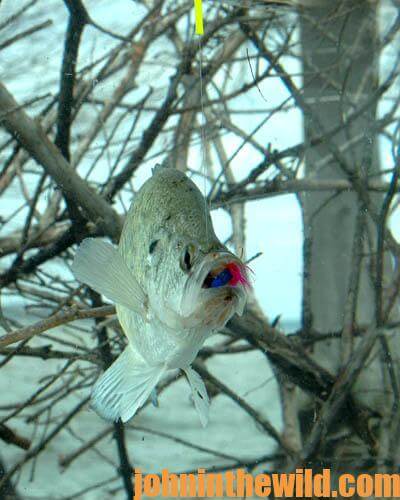 The late David Clark of Lincolnton, North Carolina, was a longtime jig pole fisherman who taught me about jig poling. "I believe I catch more fish using a jig pole than I do on minnows," Clark told me. "Also I eliminate the worry of having to keep the minnows alive. I probably can catch 50 to 100 crappie on one jig without breaking the jig off. So, by using the jig pole, I can take more crappie on fewer jigs. However, if I'm fishing in very-heavy cover, I only may catch three or four fish per jig before the jig breaks off."
If Clark was fishing isolated cover, he'd cast the jig out next to the cover and count the jig down to locate the water depth at which the fish were feeding. "I use a 1/32-ounce jig and line no larger than 4-pound test on my jig pole," Clark explained. "I have a spinning reel on my B'n'M jig pole (https://www.bnmpoles.com/). Using this jig-and-line combination, I know my jig falls approximately 1 foot per second. If the crappie are holding in 1 foot of water, when the jig hits the water, I say, '1,001,' and start reeling. If the fish are holding in 3 feet of water, I count to three and start my retrieve."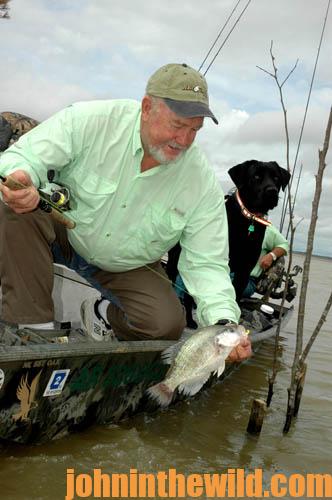 Clark used his pole like a long rod. Although the most-common way to fish a jig pole was to swim the jig close to or in the cover, Clark also utilized a form of jig poling to fish bridge pilings. "I pitch the jig out and let it fall on a slack line," Clark explained. "I watch the fish on my depth finder to learn at what depth the fish are holding. As the jig falls, I count it down. Each time a coil of line comes off my reel, I let the line barely touch my index finger, which causes the jig to jump slightly and sends off a vibration that I believe triggers the crappie to strike. If the fish are in 40-50 feet of water, I'll put a piece of No. 3 split shot 10-12 inches up my line. Then my jig can get down to the depth the fish are holding at easier and quicker, and I can start my retrieve."
Most crappie anglers understand that color is a critical factor causing crappie to bite.  Clark believed that using the right color on his jig pole was one reason he caught about 2,000 crappie a year from his home waters at lake, Lake Norman. "I like the Color C-Lector by Spike It (https://www.ispikeit.com/category/8/color-c-lector) to determine what jig color I should be using to eliminate guesswork in my color selection."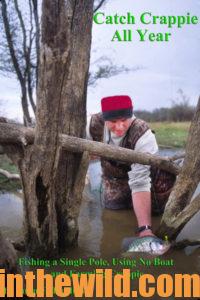 For more tips and information on catching crappie, check out John E. Phillips' Kindle and print book, "Catch Crappie All Year: Fishing a Single Pole, Using No Boat and Farming Crappie" (https://www.amazon.com/Catch-Crappie-All-Year-Fishing-ebook/dp/B00VO0DZTI), or, go to https://www.audible.com/pd/B07NZYMV88/?source_code=AUDFPWS0223189MWT-BK-ACX0-143494&ref=acx_bty_BK_ACX0_143494_rh_us. Or, go to http://www.amazon.com/John-E.-Phillips/e/B001HP7K6O to see all of John's books. To receive and download for free "The Crappie Catchers' Cookbook," by John and Denise Phillips, go to https://www.dropbox.com/sh/1tvp5nmxp8jycjf/AAAiOTM6vHolzGV44kO2oEnKa?dl=0.
Tomorrow: How to Catch Crappie on Jig Poles
EXPLORE MORE: you'll love these stories from John too