Editor's Note: Nighttime crappie fishing is one of the most-addictive forms of fishing I know. Crappie fishing at night in the summer is cool, relaxing, rewarding and an ideal way to spend quality time with friends and family away from the rest of the world. Also, crappie fishing at night doesn't interfere with any of my daytime activities. I can fish in the afternoons after work, fish all night Friday and Saturday and still have Sunday after church to recover.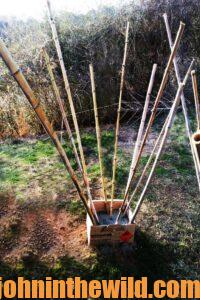 You can build crappie attractors quickly and inexpensively and with little effort that will concentrate crappie in the daytime and at night.  You can plan ahead for nighttime crappie fishing in the summer months by building and deploying fish attractors in cold weather. Most rivers and lakes will go through a draw-down during the fall or the wintertime. Often stumps, brush piles, rocks and other structure that are usually under the water will be on dry ground.
You can use any type of brush, dead trees, wooden slats and/or other kinds of structure to enhance or build new crappie hot spots that will pay off for you at night during the summer months when most lakes are at full pool.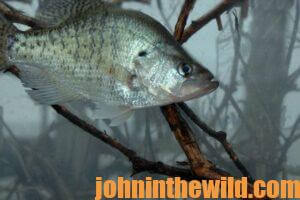 Be sure to get a GPS reading with your hand-held GPS receiver, and mark the spots you've built as waypoints to pinpoint them once the water rises to fish them at night in the summer. You also can sink crappie attractors when the lake is at full pool and note their locations on the GPS on your depth finder. Here are some ideas.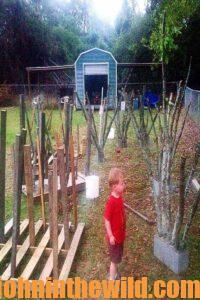 Build stake beds – Often no more than wooden pallets you've gotten for free with long wooden slats nailed onto the pallet, all the stake bed structure is vertical and gives the crappie a place to relate to and hold. Using a concrete block or a 5-gallon bucket filled with cement, you can sink these stake beds on the edges of creek and river channels, or where those contour lines intersect.
Use a small cardboard box or a 5-gallon bucket, pour concrete in it, and put river cane into the concrete before it hardens. Support the cane while the concrete dries by attaching a string or a rope around the cane and tying it to overhead structure. The rope keeps the cane in place, and then you can load up several of these cane and concrete boxes on your boat to sink in places where crappie will congregate after dark, like bridges, river ledges, creek ledges and bridge pilings.
Sink Christmas trees or cut hardwood brush to build nighttime crappie-fishing places that will attract crappie.
Find dock lights that remain on all night. Many lakeside residents have boat houses and docks with lights on them. The crappie and bait fish will congregate around these lights at night. Often you can see the crappie you're hoping to catch in the water before you ever start fishing. Also, some lake dwellers place underwater lights around boat docks, and they'll attract bait and crappie and provide a productive place to find and catch papermouths after dark.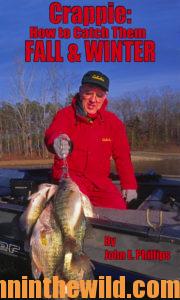 To learn more about crappie fishing in the fall and winter, check out John E. Phillips' book, "Crappie: How to Catch Them Fall & Winter," available in Kindle, print and Audible at https://www.amazon.com/gp/product/B00GDP0W2C/ref=dbs_a_def_rwt_hsch_vapi_taft_p1_i3.
You may have to copy and paste this link into your browser. (When you click on the book, notice on the left where Amazon says you can read and hear 10% of the book for free). On the right side of the page and below the offer for a free Audible trial, you can click on Buy the Audible book.
EXPLORE MORE: you'll love these stories from John too