John's Note: Captain Sonny Schindler was born and raised fishing on the Mississippi Gulf Coast. After graduating from college, Schindler worked on tugs and private boats before moving to Venice, Louisiana, in 2002, where he fished blue water full time for tuna, marlin, dolphin, wahoo, snapper, grouper, cobia and more. For the last few years, Schindler, who fishes every day, has been a captain with Shore Thing Charters in Bay St. Louis, Miss. You can contact him at sonnyschindler@yahoo.com or 228-342-2295.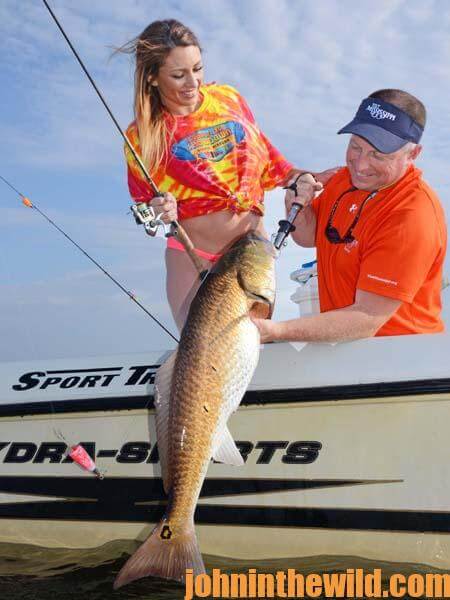 Redfish:
When Chef Paul Prudhomme first put some Cajun seasoning on a redfish fillet, got his iron skillet really hot, dropped the fillet on that hot skillet, let it cook for about 45 seconds, turned it over for about another 45 seconds and took that fillet out of the skillet, he created a dish called blackened redfish that caused the red drum to be in extremely high demand. There's nothing better than blackened redfish, except maybe redfish on the half shell. Redfish on the half shell is a fillet of redfish with the scales and skin still attached to the fillet. The redfish fillet is laid on a charcoal grill scale side down. Then, you can squeeze some lemon juice on the fillet, pour Italian salad dressing on it, let the fillet cook until the meat turns white, put that fillet on a platter, scale-side down and eat the meat that you've just cooked out of the shell (the scale side that's down on a plate). A redfish is a hard-fighting as well as a delicious-eating fish. Most people prefer to catch redfish that are less than 28-inches long, but you can keep one to three bull reds. Bull reds are the bigger redfish, usually weighing from 15 to 20 pounds.
"Redfish like to hold anywhere there's an eddy area that breaks the current," Captain Schindler explains. "They'll move out into the current to feed on crabs and baitfish, hold off the current and wait on the baitfish to come to them. They tend to fight harder than the black drum. They'll stretch your line and cause your drag to squeal. After we catch our limit of trout, we usually try to take our anglers to a place where they can catch their limit of redfish."
By leaving from Bayou Caddy or Bay St Louis, Shore Thing Charters has the option of fishing Bay St. Louis, Cat Island, one of the Barrier Islands off the Mississippi Gulf Coast, or going to the east side of the Louisiana Marsh that's made up of shallow islands and grass beds – an estuary area full of shrimp, crabs and small baitfish. Because the marsh is bordered by the Gulf of Mexico, large numbers of big bull redfish often will hold on the outer edges of the marsh. Slot reds (reds that you can keep) usually will be found inside the marsh in little ponds and pockets. So, unless there's a storm, you almost always can find protected waters there to fish, regardless of the weather.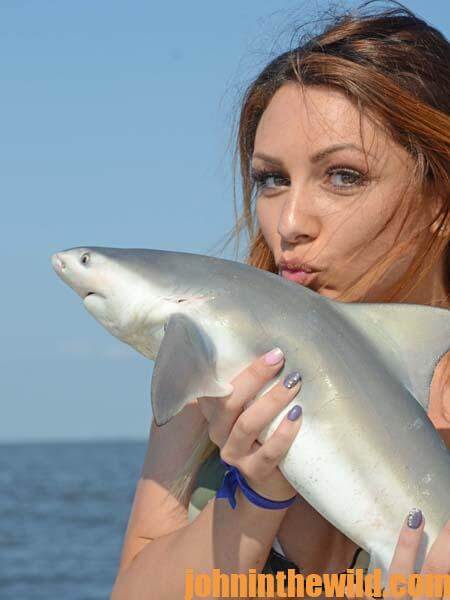 Sharks:
We were fishing the outer edge of the Louisiana Marsh where the Gulf of Mexico waters came around a small point of land. After landing one bull redfish, Schindler set out four rods hoping to catch another bull red. When the clicker on one reel began to sing a tune, Schindler shouted to angler Meaghan Buntin, "Get him." Buntin picked up the rod and started fighting the fish. When the fish was halfway to the boat, Schindler announced, "That looks like a small bull shark." Buntin screamed with joy, and said "Catching a shark was on my bucket list." When the shark was brought alongside the boat, Schindler propped up the shark and put a Bogagrip in its mouth to enable Meaghan to hold the shark up and have her picture made with the shark. Allie Verde also enjoyed having several pictures made before the shark was released. "All my life I've wanted to catch a shark," Buntin said. "Now I've finally done it. I'm going to text this picture to all my friends. They won't believe I caught a shark!"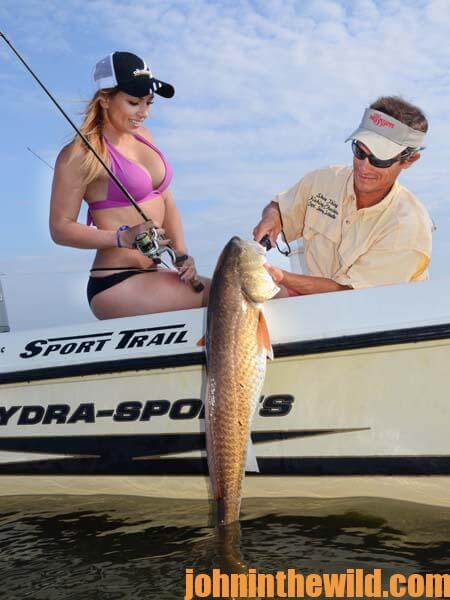 Bay St. Louis Homes Fantastic Inshore Fishing:
Because the Louisiana Marsh, Cat Island and Bay St. Louis are estuary areas, they hold large numbers of speckled trout, redfish and flounder. On an outgoing tide, you'll often find flounder in the mouths of small creeks and eddies that drain the marsh. Redfish and speckled trout also will hold in these regions. All these sport fish also concentrate on the many oyster reefs at all three locations. Often, you'll locate sheepshead on these reefs also. But the redfish is a prized target for parties that fish with Shore Thing Charters. Most anglers like to catch and release the big bull reds. When you fish with Shore Thing Charters, you can fish in Mississippi and Louisiana waters. If you're fishing in the Louisiana Marsh, you'll have to buy a 3-day license that costs about $3. But if you're planning to fish Cat Island or Bay St. Louis, the charter boat must have a license that covers you for fishing in Mississippi waters.
The good news is that you often can catch all the fish that we've mentioned this week on any one trip. According to Schindler, "We usually try to catch our limit of speckled trout first. Next, we try to catch our limit of redfish. As we drive back-and-forth from spot-to-spot, we're looking at channel makers, buoys, oyster reefs, poles and any other structure we see in the water that may hold tripletail. When we're fishing the oyster reefs for trout and redfish, we'll often catch sheepshead, flounder and black drum. Our parties generally will have a really-nice mixed bag of fish fillets to take home and/or to take to The Blind Tiger Restaurant and have a fresh catch of fish they've caught that day prepared in several different ways for dinner."
To get more information and to see more pictures of fishing trips and cooking seafood at Bay St Louis, go to www.shorethingcharters.com. Also, check-out www.visitmississippi.org.
For more information about fishing Mississippi's Gulf Coast and to get John's eBooks and print books "Fishing Mississippi's Gulf Coast and Visitor's Guide," "The Best Wild Game & Seafood Cookbook Ever: 350 Southern Recipes for Deer, Turkey, Fish, Seafood, Small Game and Birds" and "13 Saltwater fish Recipes You Can't Live Without," click here.
Next: Visit The Blind Tiger Restaurant for Freshly Caught Fish at Mississippi's Gulf Coast
EXPLORE MORE: you'll love these stories from John too