John's Note: Luck plays a major role in any type of successful fishing – whether you're angling for catfish on a Saturday morning with two children or fishing for a bass to win a $100,000 bass-fishing tournament. However, with both luck and knowledge, you'll generally have a successful fishing trip.
I remember years ago when the day had been long and nearly had worn out my young fishing partners at that time.
"Daddy, can you help us catch some fish," my daughter Kate asked. "John-John and I have been fishing all morning long and only have caught a few small bream and one or two suckers. We want to catch some eating fish, Daddy." Being an all-knowing father is a weighty responsibility, but disappointing a child who believes in you is unforgivable. So, I said, "Come, on, Kate. Let's see if we can't try and catch a mess of catfish." While Kate and I walked down to the creek, I listened as my daughter hollered out to her younger brother, "John-John, Daddy is going to help us catch a bunch of fish." I was praying that luck would be on my side that day.
I noticed a big boulder just off the bank toward the middle of the creek that was breaking the current and had a deep eddy hole behind it. Since I knew that the catfish was basically a loafer that would rather stay in slack water than fight the current, and this was about the only eddy hole I could spot when looking down the small stream, I figured that my chances were best for taking a catfish, any catfish, at this eddy hole. "You children bait your hooks up and cast right behind that big rock out there," I instructed.
"I'm sure there's a big ole catfish waiting in here to be caught." "How big is he, Daddy?" John-John chirped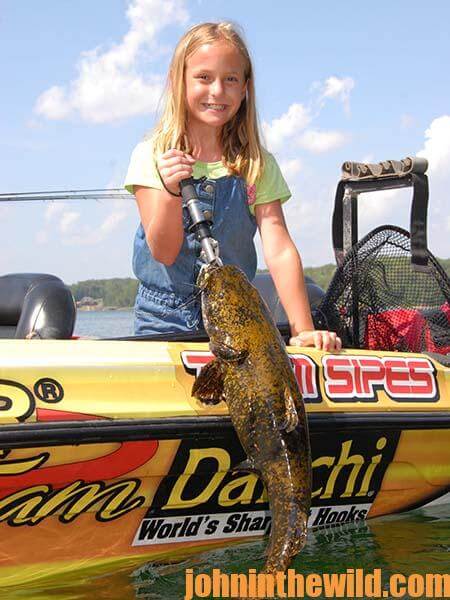 . "Oh, he is a good 'un, son," I answered. "He will bend your rod up and even may break your line." And I thought to myself, "Please, Lord, let there be a fish there, so my children won't be disappointed, and their daddy can be a hero in their eyes."
Their reels hummed as their lines were cast out. Before the baits could sink to the bottom, the rods curled like question marks, and the children's eyes danced and sparkled. "I got him, Daddy, I got him," Kate sang out. "I caught one, too, Daddy," John-John squealed, "and mine is the biggest one." The battles went on for a few minutes before finally both children brought their mostly 1/2-pound-sized catfish to the shore. "These sure are good ones, Daddy," John-John said as he baited-up and cast again. Before the morning was over, the two children had caught 14 catfish from behind that one large rock and with comments like, "Daddy, you sure did know where those fish were," my head was swelling as I thanked the good Lord for the mess of catfish that preserved my fatherly wisdom in the eyes of my children that day.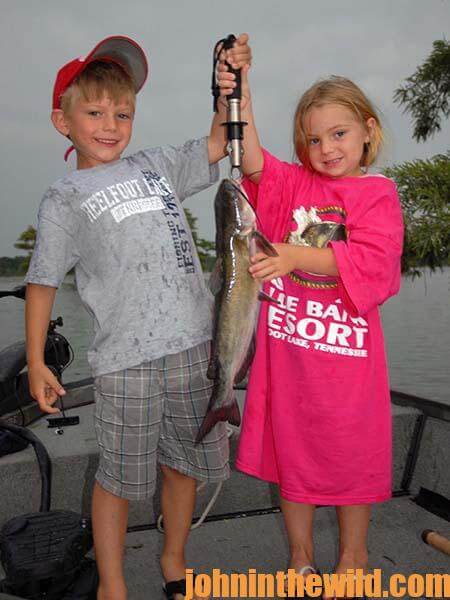 To get "13 Freshwater Fish Recipes You Can't Live Without," "Catfish Like a Pro," "The Best Wild Game & Seafood Cookbook Ever: 350 Southern Recipes for Deer, Turkey, Fish, Seafood, Small Game and Birds," click here to get these books.
About the Author
John Phillips, winner of the 2012 Homer Circle Fishing Award for outstanding fishing writer by the American Sportfishing Association (AMA) and the Professional Outdoor Media Association (POMA), the 2008 Crossbow Communicator of the year and the 2007 Legendary Communicator chosen for induction into the National Fresh Water Hall of Fame, is a freelance writer (over 6,000 magazine articles for about 100 magazines and several thousand newspaper columns published), magazine editor, photographer for print media as well as industry catalogues (over 25,000 photos published), lecturer, outdoor consultant, marketing consultant, book author and daily internet content provider with an overview of the outdoors. Click here for more information and a list of all the books available from John E. Phillips.
EXPLORE MORE: you'll love these stories from John too