John's Note: All children enjoy catching fish, and by preparing their catches, you extend their enjoyment of every fishing trip. Because fish is low in calories and cholesterol, it's an ideal main course for heart-conscious, calorie-conscious people concerned about their health. Only 1/4-pound of lean fish supplies a person with 1/2 of their daily protein needs. Fish also contains nine essential amino acids required by man, numerous vitamins and minerals and is easily digestible.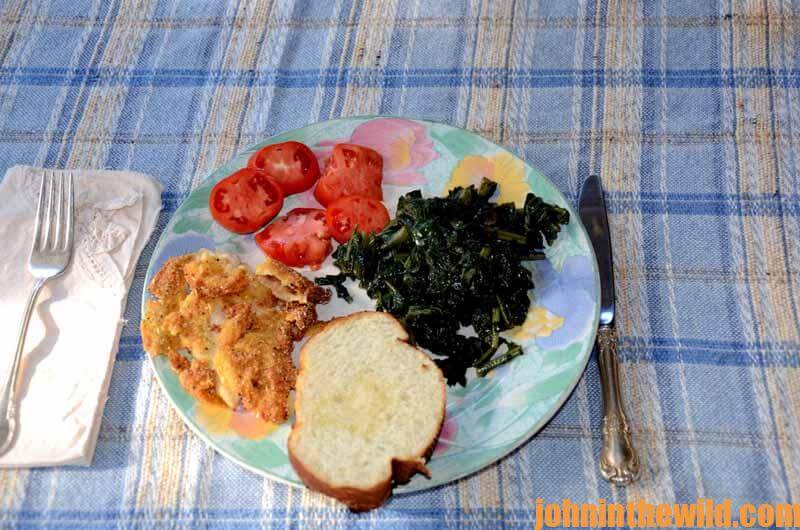 Texas Pete Fried Catfish
A friend gave us this recipe recently, and it is absolutely the best catfish recipe ever. We know you'll agree once you prepare it.
Ingredients:
4 cups whole buttermilk
4 tablespoons Texas Pete hot sauce
8 catfish fillets
3-1/2-cups stone-ground yellow cornmeal
1 cup all-purpose flour
1-1/2-tablespoons kosher salt
1 tablespoon ground black pepper
1/2-teaspoon ground red pepper
2 cups oil, for frying
Preparation:
In a medium bowl, stir together buttermilk and hot sauce. Add catfish to buttermilk mixture; refrigerate 4 hours or overnight. In another medium bowl, stir together cornmeal, flour, salt and peppers. Heat a 10-inch cast-iron skillet over medium heat. Add oil. Heat until a deep-fry thermometer temperature registers 350 degrees. Dredge catfish in cornmeal mixture. Cook in batches, 1 to 2 minutes per side, maintaining temperature. Let drain on paper towels. Yield: 4-8 servings.
Honey-Pecan Catfish with Orange Marmalade
Our family enjoyed this yummy catfish dish recently and ranked it right at the top of our favorite catfish recipes ever.
Ingredients:
1 cup extra-virgin olive oil
1/2-cup honey
2 tablespoons apple cider vinegar
1/2-cup chopped pecans
1 clove garlic, chopped
1 teaspoon crushed red pepper
1 teaspoon ground cinnamon
1 teaspoon ground allspice
1 teaspoon ground anise
1/2-teaspoon ground cloves
1/2-teaspoon ground mace
Salt and ground black pepper, to taste
4 catfish fillets, 7 to 9 ounces each
4 tablespoons orange marmalade (We use sugar-free, and it works fine)
Preparation:
Preheat oven to 425 degrees. In a large bowl, whisk together olive oil, honey, vinegar, pecans, garlic, red pepper, cinnamon, allspice, anise, cloves and mace. Add salt and black pepper to mixture. Add fish, turning to coat well. Cover with plastic wrap, and refrigerate overnight. Spray a rimmed baking sheet with nonstick cooking spray. Place fish on prepared pan, and spoon several teaspoonfuls of marinade over fish, if desired. Discard remaining marinade. Bake until fish flakes in center, 25 to 35 minutes. Carefully spread 1 tablespoon orange marmalade on each fillet. Cover loosely with aluminum foil during last 15 minutes of baking to prevent excess browning. Serve immediately. Yield: 4 servings.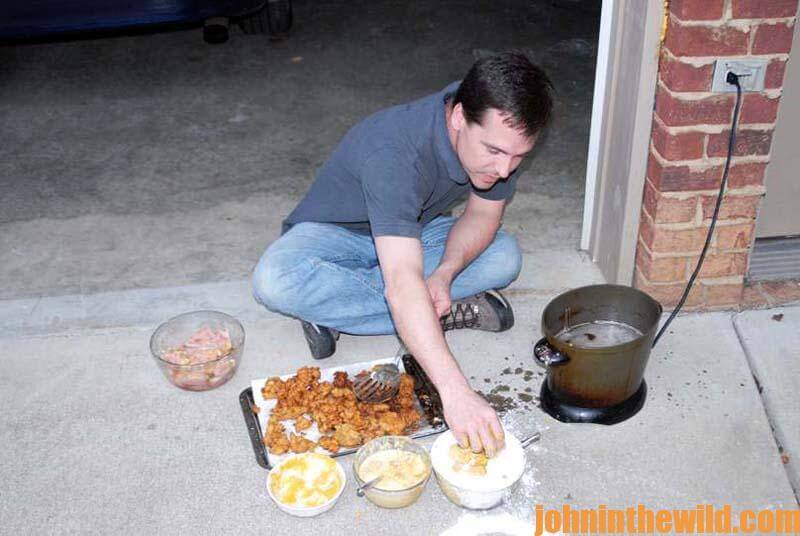 Crappie Italian Style
Ingredients:
Oil
Crappie fillets
Salt and pepper
Italian bread crumbs
1 lemon
Worcestershire Sauce
Preparation:
Coat the crappie fillets well with salt, pepper and Worcestershire Sauce, and then squeeze a lemon over them. Roll the fillets in Italian bread crumbs. Heat the oil (about 2-3 inches deep) in a heavy-duty skillet, and once the oil reaches 375 degrees, fry the fillets a couple at a time. Keep the fillets on paper toweling in a pan to drain, and place aluminum foil over the top of the pan with the fillets in it to keep them warm, while finishing frying the other fillets. Yield: number of servings depends on how many fillets you prepare.
Batter Fried Crappie for a Big Group
If your hunting club is having a meeting or a get-together, every member will find this fried fish recipe reminds them of spring and good times fishing.
Ingredients:
8 pounds of fish fillets, preferably crappie, but any fish with white meat will work
1-1/2-tablespoons lemon juice
2 tablespoons salt
1 quart flour
1/4-cup paprika
3 cans non-alcoholic beer
1/2-cup water
Oil for frying
Preparation:
Cut fillets into serving-size portions. Sprinkle fish with lemon juice and 1/2-tablespoon of salt. Combine, and mix remaining salt and flour. Add beer and water to dry ingredients gradually; beat until batter is thin and smooth. Dip fish in batter; drain slightly; and fry in deep hot oil (350 degrees) for 3 to 4 minutes, or until the fish is brown and flakes easily when tested with a fork. Drain on absorbent paper. Serves 25.
Red Pepper and Parmesan Catfish or Crappie
This dish is a tasty way to bake fish fillets.
Ingredients:
1/4-cup egg substitute
1/2-cup grated Parmesan cheese
1 teaspoon Italian seasoning
1/2-to 1 teaspoon crushed red pepper flakes
1/2-teaspoon pepper
4 catfish or crappie fillets (6-ounces each)
Preparation:
Place egg substitute in a shallow bowl. In another shallow bowl, combine the cheese, Italian seasoning, pepper flakes and pepper. Dip fillets in egg substitute and then cheese mixture. Place the fillets in a 15-inch x 10-inch x 1-inch baking pan sprayed with PAM. Bake at 425 degrees for 10 – 15 minutes, or until fish flakes easily with a fork. Serves 4.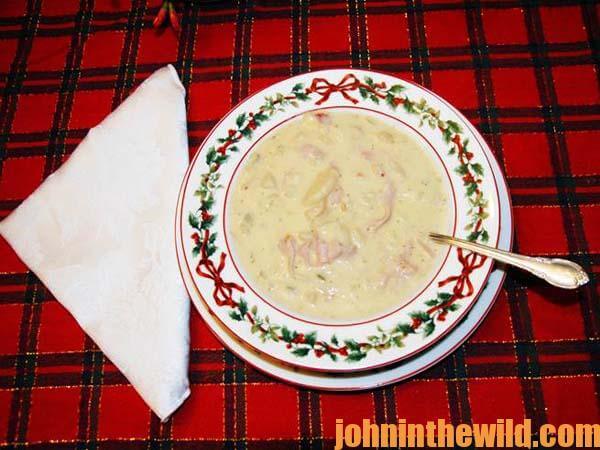 Crappie Bisque
This is another recipe that our kids always have liked, since they enjoy various soups.
Ingredients:
2 carrots, diced
3 stalks of celery, diced
1 bell pepper, diced
1/2-onion, diced
6 tablespoons butter
1/8-cup flour
1 teaspoon Worcestershire sauce
4 cups milk
1/4-teaspoon pepper
1/2-teaspoon salt
1 quart crappie fillets, cut into small chunks
Preparation:
Cook diced vegetables in 2 tablespoons butter until tender. Add two tablespoons butter, flour, 1/4-teaspoon salt and 1/8-teaspoon pepper. Cook to bubbling. Slowly add milk, and heat to just below boiling. In separate pan, melt two tablespoons butter, and add fish. Sprinkle the remaining salt and pepper on the fillets, and add Worcestershire sauce. Cook until fish is done. Add fish to milk and vegetable mixture. Simmer for 5 minutes, and serve. Yield: 3 – 4 servings.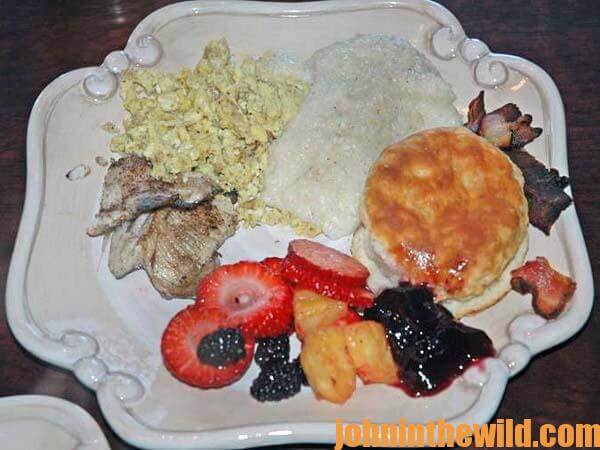 Honey Fried Rainbow Trout
Unfortunately we live in a state with no trout, just put-and-take rainbows, but we enjoy catching them. We also like to travel to other parts of the South and the West to catch rainbows. This recipe has long been a favorite of our family's when we visit the Great Smoky Mountains in Tennessee and cook our trout catch on the riverbank for breakfast.
Ingredients:
2 rainbow trout de-headed, gutted, washed, butterflied and scored on each side about 1-inch apart
1/2-cup flour
1/2-cup seasoned crumbs
1 teaspoon salt
1 teaspoon pepper
1 teaspoon paprika
1/2-stick butter
1/2-cup or so of honey
Preparation:
Place fish in bag with the mixture of flour, seasoned crumbs, salt, pepper, paprika and shake well. Melt butter in iron skillet. Pour a small amount of honey in the skillet – 1/4-cup or so – into the melted butter. Place the battered trout in the skillet, cooking about 10 minutes on each side, until each is golden brown. Drain on paper toweling.
Neptune's Delight with Hot Mustard Sauce
Although most people serve Neptune's Delight as a main course, if I've caught numbers of fish, I'll fillet them and cut them into bite-size pieces. Then I'll eat them like popcorn, while I watch a brilliant sunset from the beach house deck. People generally rave about this fish dish.
Ingredients:
1 pound white saltwater fish fillets (or can substitute freshwater fillets like crappie or catfish)
1/3-cup water
3/4-teaspoon salt
1/4-cup cornmeal
1 egg
3 teaspoons sesame seeds
1/3-cup flour
1 teaspoon cayenne pepper
Preparation:
Heat the oil in a skillet to about 350 or 375 degrees. Mix water, salt, cornmeal, egg, sesame seeds and flour. Dip the fish fillets into the mixture, and drop several pieces of the fish into the oil at a time. Allow the fish to brown, turning once and then draining on paper towels. Serve with mustard sauce.
Mustard Sauce:
Ingredients:
1 cup mayonnaise, preferably Hellmann's
1/2-cup prepared mustard
1/2-teaspoon sugar
1/4-teaspoon salt
1/4-teaspoon paprika
1/2- to 1-teaspoon cayenne pepper
Preparation:
Mix the ingredients together in a small bowl with a fork until well blended. This recipe makes enough sauce for dipping approximately 3 pounds of fried fish fillets and serves four adults as a main dish or a dozen adults as an appetizer. This recipe doubles, triples and quadruples well without any let-up of flavor. You can make this recipe hotter by adding more cayenne pepper to the sauce. You can keep this tasty sauce refrigerated for a week, and our family uses it on hamburgers, chicken, etc.
Camp-Out Style Fish Packets
Our oldest grandson is a Boy Scout and is working on his cooking badge. This recipe is one campers and people grilling out will enjoy.
Ingredients:
4 speckled trout or redfish boneless fish fillets (6-ounces each) (delicious with other types of white-meat fish such as catfish and crappie too)
2 cups sliced or diced fresh or frozen (thawed) vegetables such as broccoli, carrots, zucchini
2 tablespoons extra virgin olive oil
1 teaspoon lemon-pepper seasoning
4 sheets foil, about 15-inches long
4 pats of butter (about 2 teaspoons each)
4 garlic cloves, crushed or pressed
4 lemon slices
Preparation:
In a bowl, combine the vegetable oil and lemon-pepper, mix well. Divide the vegetables among the pieces of foil. Place a fish fillet on top of the vegetables. Sprinkle with lemon-pepper mixture as desired. Place a pat of butter atop each fillet. Top with 1 crushed garlic clove per fillet, and finish with a slice of lemon per fillet. Bring the sides and the edges of the foil together and roll, making a tent out of the foil. Make sure to leave room for steam inside the tent. Grill over medium heat/flames 10 to 20 minutes, depending on the thickness of the fish and the heat of your grill. Serve in the packets, being mindful of the hot steam. You also may bake these in a 375-degree oven for 15 to 25 minutes. Yield: 4 servings.
To learn more about cooking your fish, you can get John E. and Denise Phillips' cookbooks, "The Best Wild Game and Seafood Cookbook Ever," "13 Freshwater Fish Recipes You Can't Live Without" and "13 Saltwater Fish Recipes You Can't Live Without." Click here to get these books. We also have a "Fish & Fixings" print cookbook that contains more than 100 fish recipes and 100 accompanying dishes that's available directly from Night Hawk Publications for $15.50 by sending a check or a money order to 4112 Camp Horner Rd., Vestavia, AL 35243, or buy through PayPal – nighthawkpub@mindspring.com. Email nighthawkpub@mindspring.com for more info.
EXPLORE MORE: you'll love these stories from John too