John's Note: Mark Davis of Mount Ida, Arkansas, long-time professional bass fisherman, is one of the quiet giants of professional bass fishing. Davis has won the BASS Angler-of-the-Year title three times and has combined earnings from the BASS and the FLW circuits of almost $2 million. He's also the only angler to win BASS Angler of the Year and the Bassmaster Classic in the same year (1995). This week, Davis will tell us how he catches bass in really-hot weather, one of his specialties.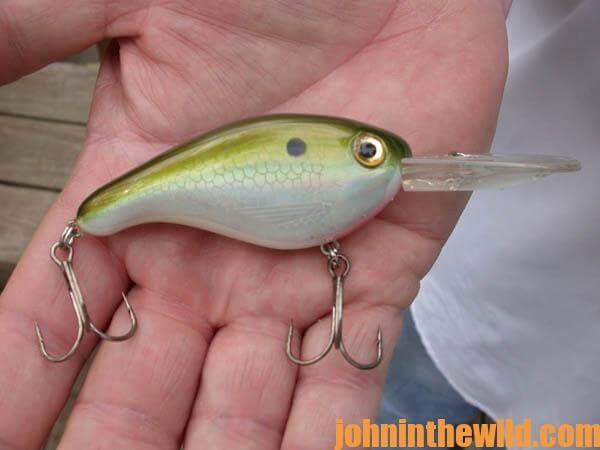 Question: Mark, what's another hot-weather technique you use to catch bass?
Davis: I'll catch a lot of bass on crankbaits in the summertime, and surprisingly, I'll catch 'em by both deep and shallow cranking. When I find bass holding on ledges, I'll fish the Strike King
(http://www.strikeking.com/) Series 5 crankbait. I'll look for ledges 5- to 6-feet deep that drop-off into 10- to 15-foot-deep water. I prefer ledges with stumps on them. Right now, I'll be catching bass on my home lake, Lake Ouachita, with shad-colored baits, like the Sexy Shad. However, the Tennessee shad is my favorite color. If the water's stained, I may use Chartreuse Sexy Shad.
Question: How do you run the crankbait?
Davis: That's a good question. The speed of the retrieve you use in the summertime is critical to getting bites. Most people give a crankbait a medium retrieve, wind it and stop it. Or, they retrieve it slowly, thinking that because the bass's metabolism has slowed-down due to the hot weather, the fish will prefer to have the bait on a slow retrieve. I've found that just the opposite is true. I'll catch more bass using a fast retrieve than a slow retrieve, especially as the weather gets hotter. However, running the crankbait fast doesn't mean you don't use a stop-and-go retrieve. I'll run the crankbait very fast and pause it and then run it very fast and pause it again. I'm not really stopping the crankbait. Instead, I'm giving it more of a pause (almost stopped, but not quite). Many times during the summer months, the bass don't really want to bite. So, run the crankbait past them fast to try to get a reaction strike. This is also true in successful wintertime bassing.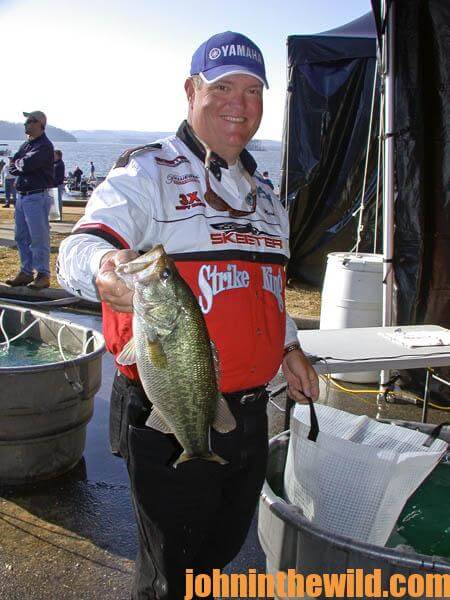 Generally, in the winter, most anglers believe they need to run a crankbait slowly because the bass's body metabolism has slowed down. But I've learned the opposite is true. Most times when you think the water's too cold to run a crankbait fast, if you'll run it fast, you'll get a reaction bite out of those bass. So, during the summer and the winter, I burn that crankbait as fast as I can reel it, next stop it or pause it, and then burn it fast again. Once I get that bass to bite and determine how the bass want that crankbait, that's the type of retrieve I'll use. In bass fishing, there are no absolutes. I always start running the crankbait fast and pause it in the summer months, and I've caught the most bass with that technique. However, I've also caught bass running that crankbait slowly. But most times the bass want the crankbait fast.
Question: What pound-test line do you use when you're cranking?
Davis: I'll usually be fishing 12-pound-test Stren (http://www.stren.com) monofilament line, and I like a 5:1 gear-ratio reel and a medium-action cranking rod.
Question: What type of knot do you use to tie-on your crankbait?
Davis: I prefer a Palomar knot. I'll use the Palomar knot for almost every lure I tie-on to my line because it's strong, easy to tie and works well on some fluorocarbon and on all monofilament.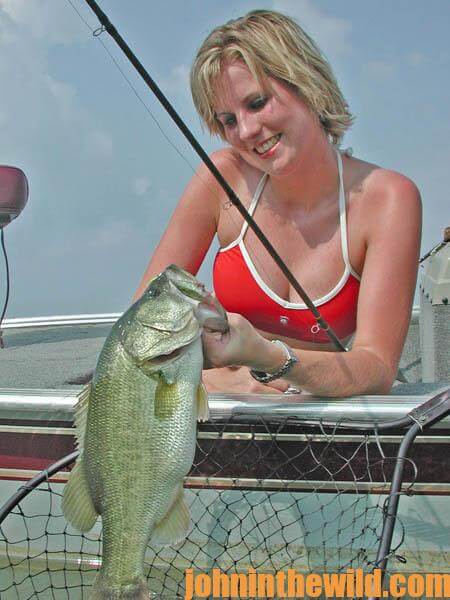 Question: Mark, what do you do to stop the bass from jumping when you hook them up on the crankbaits?
Davis: That's a really-good question, and I'd like for somebody to answer that for me. I've lost many bass when the bass have been hooked-up on crankbaits. I'll try to keep that bass from jumping. I'll put my rod tip in the water and attempt to pull that bass sideways when it starts coming up. I'll wind hard and use a lot of force to try to keep the bass from jumping. But they'll still jump. There's no way to keep the bass from jumping. They're bass, and bass jump. When the bass jump, they'll shake their heads and sometimes throw those crankbaits. You'll lose some bass if you use a crankbait, no matter who makes the crankbait. But it's far better to lose a bass than not to get the bite at all. At this time of year, the crankbait will get bites. So, I'll fish the crankbait, knowing that I won't put every bass that bites my crankbait into the boat.
To learn more about bass fishing, get John E. Phillips' Kindle eBooks and print books on bass fishing, "How to Win a Bass Tournament," "Catch the Most and Biggest Bass in Any Lake: 18 Pro Fishermen's Best Tactics, "Hot Weather Bass Tactics" and "How to Become A Tournament Bass Fisherman" go to www.amazon.com/author/johnephillips or at www.barnesandnoble.com; or an audiobook on "How to Bass Fish Like a Pro" at http://amzn.to/YpoJvD.
Next: Use Crankbaits and Coffee Tubes for Hot Weather Bass with Mark Davis