Editor's Note: The turkeys had gone, vanished. All the fine turkeys I'd seen the previous fall and looked forward to hunting that spring now lived on my neighbor's property. I knew, because I could hear them gobbling their heads off the first morning of spring turkey season. I've learned that besides providing food for turkeys, you need better turkey brood habitat.
During deer season, like you, I've sometime seen as many as 100 turkeys in a flock, feeding on acorns throughout a hardwood bottom, while I've waited on a big buck to show-up.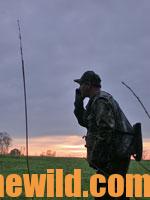 The toms' long beards will sweep the forest floor as the gobblers pick-up acorns and eat other mast crops. In my mind, I'll think, "I'll limit out for sure the first week of turkey season." However, when spring arrives, the turkeys I've thought I'll find in this same area seem to have taken a bus or a fast train out of the country.
To learn more about why the turkeys we spot in the fall on our hunting clubs and leases seem to vanish in the spring, I've talked with Dr. Dan Speake, a retired cooperative research unit leader at Auburn University in Auburn, Alabama. When I asked Speake, who has specialized in studying wild turkeys the past four decades, what's happened to all the turkeys from the fall, and why I can't locate them in the same places in the spring, he explained, "In our early research, I learned that a turkey's home range wasn't as small as that of deer and other animals. Turkeys would migrate some distance to find the habitat requirements they needed at specific times of the year. For instance, on three of the areas that my research group studied, we found that turkeys moved 6 or 7 miles from the places they lived in the fall and the winter to find suitable spring nesting and brood-rearing sites.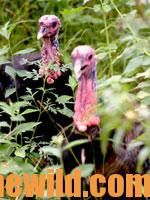 "Once we learned about the turkeys' seasonal migrations to discover appropriate habitat, then we could explain why a region would have numbers of turkeys in the fall during deer season and very few, if any, turkeys in the spring. When the hens migrated from their fall and winter ranges to their nesting and brooding sites, they took the gobblers with them. This information also helped us advise landowners and hunting clubs to create more wildlife openings for nesting and brood-rearing sites if they wanted to keep and maintain plentiful turkey populations on their properties year-round."
Many hunters plant green fields for hunting season, including clover fields, which make productive plantings for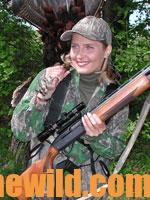 both deer and turkey. But your hunting lease needs to consider other aspects of turkey management besides planting green fields. As your club studies how to have more turkeys on its hunting property, don't overlook the importance of brood habitat. Your club needs to include some type of umbrella plants in or near the feeding area to protect turkey poults from the sun and avian predators in the air. Ragweed and other weeds allowed to grow on the edges of green fields, food plots and briar patches all provide the brood habitat – shelter and cover – that nesting hens and young turkeys need.
You'll learn many ideas for hunting turkeys in the Kindle eBook, "Turkey Hunting Tactics" by John E. Phillips. "Click here to get these books'.
About the Author
John Phillips, winner of the 2012 Homer Circle Fishing Award for outstanding fishing writer by the American Sportfishing Association (AMA) and the Professional Outdoor Media Association (POMA), the 2008 Crossbow Communicator of the year and the 2007 Legendary Communicator chosen for induction into the National Fresh Water Hall of Fame, is a freelance writer (over 6,000 magazine articles for about 100 magazines and several thousand newspaper columns published), magazine editor, photographer for print media as well as industry catalogues (over 25,000 photos published), lecturer, outdoor consultant, marketing consultant, book author and daily internet content provider with an overview of the outdoors. Click here for more information and a list of all the books available from John E. Phillips.
Next: Hunt or Trap Predators to Have More Turkeys on your Hunting