Editor's Note: How long has it been since you've enjoyed delicious-tasting fresh crappie? Are you sore from sitting in a tree stand from dawn until after dark chasing deer? Consider the possibility of taking your fishing boat to your hunting club this weekend and catching a mess of crappie in the middle of the day from 9:00 am to 2:00 pm. To find out why you should crappie fish at this time of year while everyone else is deer hunting, we talked with Jonathan Phillips of Team Phillips Guide Service (334-391-9735; jphillips10442@yahoo.com; https://www.facebook.com/jonathan.phillips.1675), who guides on the Alabama River, the Coosa River and Lake Jordan in central Alabama, but competitively fishes for crappie all across the South.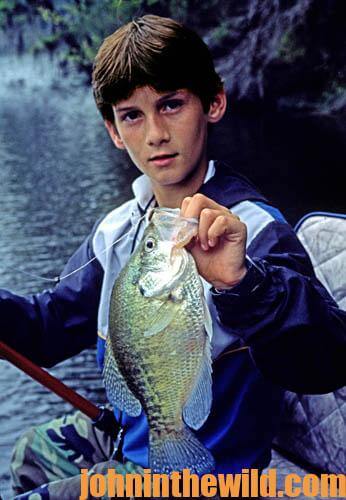 In central Alabama where I live, often warm and cold fronts come through regularly. In the winter, don't let a severe cold front scare you off the body of water you're fishing. The weather may be windy and cold for you, but I've found that in the winter, the nastier the weather, the more crappie I catch. I don't understand why that happens, but I know for certain it does. Even if the weather's not ideal for me, it often is just right for catching crappie.
I usually don't worry about a warm front or a cold front that's only in the area for 1-2 days. You've got to remember how big the body of water is that you're fishing. Most rivers and lakes require several days of either cold or warm weather to actually change the temperature of the water. For the first couple of days of either a warm front or a cold front, the number of crappie I find and catch doesn't seem to change. Prolonged temperature changes will make the crappie switch where and when they're feeding. In the winter months, 1-2 weeks of warm weather are required to make the crappie move or change their feeding pattern. A prolonged warm front during the winter often will cause the crappie to move closer to the surface or into more-shallow water than where they've been holding when the weather's cold.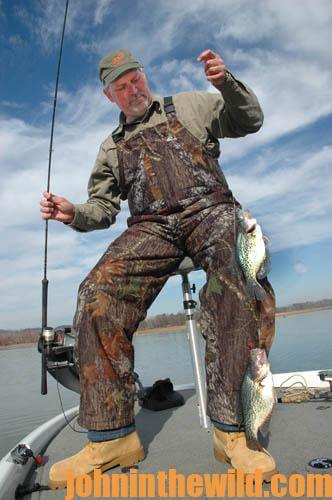 Muddy water is another condition that often scares crappie fishermen off a lake. I know that bass fishermen hate cold, muddy water. But I like those conditions. If you're fishing in water that's normally slightly stained, like the Alabama River is, heavy, muddy water doesn't really affect the crappie fishing as much as you may think. However, if I'm fishing on Lake Jordan, which is relatively clear, and that body of water gets muddied-up, the crappie fishing can be tough. So, the most-important factor to understand when you get muddy water is how much stain the water had before it turned muddy.
On a clear lake like Lake Jordan, I'll go to the places that tend to clear-up the quickest, typically on the upper end of the lake, or in sloughs and creeks where that muddy water gets pulled out by the current coming down the river. On the Alabama River, I've caught crappie when the water was so muddy, you'd think you could stand up and walk across it. Muddy water tends to bring crappie close to the surface, because they're light sensitive. Therefore the muddier the water is, the shallower I'll catch the crappie.
Once on the Coosa River, the air temperature was 23 degrees, and I was catching crappie in 8-10 foot deep water. That's not typical, but it does happen. On Lake Jordan, the crappie prefer to remain 20-30 feet deep during the winter months. But when the water gets muddy, I usually catch them at 15-18 feet.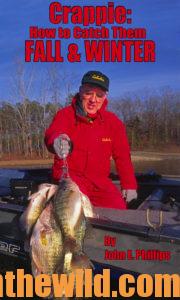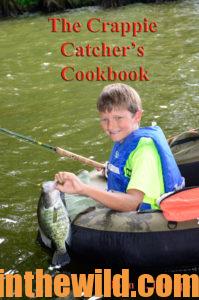 To learn more about crappie fishing, check out John E. Phillips' book, "Crappie: How to Catch Them Fall and Winter," available in Kindle and paperback at http://amzn.to/16AzIZi. For a free eBook, "The Crappie Catcher's Cookbook," go to https://www.emailmeform.com/builder/form/eb81136oQJ1g2fe9q6RNd73jh.
Tomorrow: Why You Need a Depth Finder for Wintertime Crappie