John's Note: When snow falls, and the temperature drops, you'll find hugging a heater much-more appealing than leaning-up against the bark of an icy tree to take a buck with your bow. In cold-weather conditions, you must make staying warm your first concern without wearing too-many bulky clothes. You also must know what the deer do under these weather conditions for you to locate and take them. These top hunters I've interviewed hunt in the ice and snow every year. Here's the bowhunting tactics they've used that have given them success in cold, bad weather.
 "I bowhunt primarily in Kentucky, Illinois and Nebraska," longtime deer hunter Chuck Jones of Kentucky explains.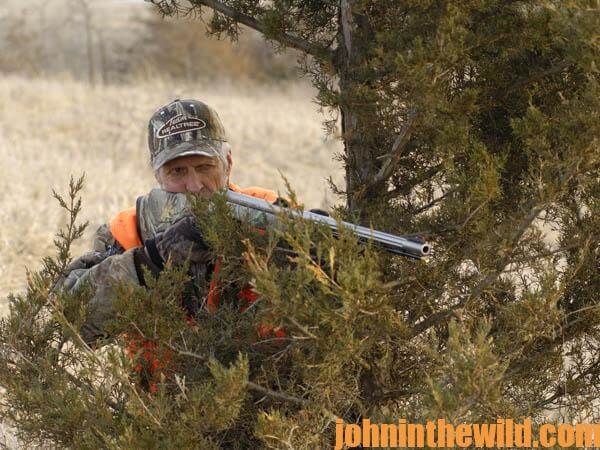 "Usually when an area has snow and bad weather, it also will have blowing winds. Once I encounter these conditions, I look for cedar thickets. If I can't find cedar thickets, I'll search for the thickest cover. Bucks will go to thick cover to avoid bad weather. When you're hunting in a cedar thicket, you can't hang your tree stand as high as you can if you're hunting in a pine forest or a hardwood forest. The secret to locating a buck is to pinpoint a trail with tracks going both ways in the innermost part of the thicket. Your approach to the thicket is as critical as any element of the hunt. You have to be able to go into the thicket and get your stand up without spooking every deer in the thicket. If you know you'll hunt in bad weather and snow, go into the thicket before the bad weather hits, and put-up your stand. Then when you're ready to hunt, you make less noise and are able to get into your stand quicker, quieter and easier. Because cedar thickets often have many low branches, by going into the thicket before you plan to hunt it, you can cut your shooting lanes. If you're hunting in mature cedars, you'll find that the understory isn't nearly as dense as it is in younger cedars.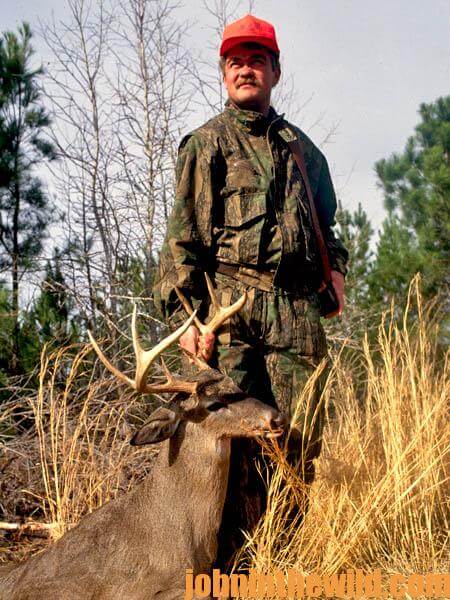 "The perfect cedar thicket to hunt will be on the edge of a corn field in a draw where you find two trails crossing. This type of stand site will provide the bucks with easy, quick access to food and protection from wind and snow. When I've hunted thickets, I've found that deer often get up and walk around inside these areas, possibly just to get their body temperatures up. Once deer go to a bedding area, they don't go to sleep and sleep for 12 hours. Instead they'll get up frequently to go to the bathroom, to walk, to stretch and to possibly nibble on any kind of food they can find in that area. You'll also locate huntable cedar thickets on the ends of points on major ridges. Because these thickets aren't close to food sources, many deer hunters overlook them. But I've learned from scouting and hunting in these regions that older-age-class bucks will use these thickets just like they do the cedar thickets and draws near cornfields. And, another tremendous advantage you'll experience if you hunt in a cedar thicket is that the strong smell of the cedar helps to mask your human odor. Also deer aren't nearly as alert during cold, windy, snowy weather when you hunt them inside the cedar thickets. They're less likely to see you, hear you or smell you."
Click here to get "How to Hunt Deer Up Close: With Bows, Rifles, Muzzleloaders and Crossbows" and "Deer and Fixings" by John E. Phillips.
About the Author
John Phillips, winner of the 2012 Homer Circle Fishing Award for outstanding fishing writer by the American Sportfishing Association (AMA) and the Professional Outdoor Media Association (POMA), the 2008 Crossbow Communicator of the year and the 2007 Legendary Communicator chosen for induction into the National Fresh Water Hall of Fame, is a freelance writer (over 6,000 magazine articles for about 100 magazines and several thousand newspaper columns published), magazine editor, photographer for print media as well as industry catalogues (over 25,000 photos published), lecturer, outdoor consultant, marketing consultant, book author and daily internet content provider with an overview of the outdoors. Click here for more information and a list of all the books available from John E. Phillips.