Editor's Note: 49-year old Kevin VanDam of Kalamazoo, Michigan, is one of the most-consistent professional bass fishermen of our time, having won $6.38 million chasing bass. Pros like VanDam have to know how to win in any kind of weather or water conditions. He's been a pro for 26 years and has had 130, top-10 finishes and 22 wins, including winning two tournaments in 2016. He's fished in 25 Bassmaster Classics, and won four, besides being Angler-of-the-year. VanDam is known as Mr. Consistency.
John Phillips: Kevin, I know that you help design new lures and develop new techniques of fishing. Why you are so quick to develop and fish new lures and try new tactics?
VanDam: Every new bass-fishing lure is a tool for a fisherman to use to solve a fishing problem. These lures have specific uses in fishing and solve specific problem for anglers. No one lure can solve all the fishermen's problems and make every bass under every condition bite. After learning more about problems that fishermen having catching bass, then we can design a lure that we believe will help solve problems. That's the reason the Strike King Lure Company (http://www.strikeking.com/) I work with has such a wide range of various types, colors and differently-designed lures to solve a number of various problems. Some of the most-successful lures in the Strike King Line are being improved by adding new sizes and new colors. Each one of the Strike King lures is designed to be technique-specific. Right now I'm fishing a lot of prototype lures that won't be introduced until 2018. I really enjoy working on the development of new lures to solve bass-fishing problems, since I compete with and fish with the lures I've helped design. So, before a lure comes to the market from Strike King, I've been fishing with that lure for the past year and know under what conditions that lure most likely will produce bass.
Phillips: What new lure has been your best lure during this year's tournament season, and why?
VanDam: I'd have to say the Strike King 8XD has been my favorite new deep-diving crankbait. This new crankbait easily gets down to 25-feet deep and is bigger than the 6XD but smaller than the 10XD. To fish the 8XD, you don't have to have a large reel, a longer rod and a heavier line like you need to use when you fish the 10XD. The 8XD allows the angler to get to a deeper depth and fish that segment of the water better than the 10XD and the 6XD will. The 10XD I can get down to 27-28 feet deep
Phillips: What color of the 8XD have you been using most this season?
VanDam: In any lake that has shade as a forage base. I like the sexy shad color lures.
Phillips: When you're fishing with the 8XD, what line are you using to get bites that deep?
VanDam: I will be fishing 12-pound-test fluorocarbon line. I believe that 12-pound line is the smallest I can fish that can handle the abuse of loading and unloading the rod when I cast it without shock breaking the line. The small diameter of that line helps the 8XD get down to its maximum depth.
Phillips: Kevin, you are in 12th place of the point standings for the Bassmaster Classic this year that will be at Lake Conroe in Texas. What are your thoughts about this year's Classic?
VanDam: At this writing, I still have three more tournaments to fish in the regular season. So, like all the other pros, I'm really hoping to qualify for the Classic. Lake Conroe will be brand-new body of water for most of the competitors to fish, however, I've fished Lake Conroe multiple times on the Tour of Texas Bass Classic. I know what the lake looks like. For the time of the year that the Classic will be held on Lake Conroe, anglers will be able to fish many new techniques and use various lures. I'm really hoping to make the Classic this year, because I know I'll be able to power fish at Lake Conroe. The lake also has a lot of docks and sea walls, and the flipping technique should produce some good catching of some of Lake Conroe's giant bass.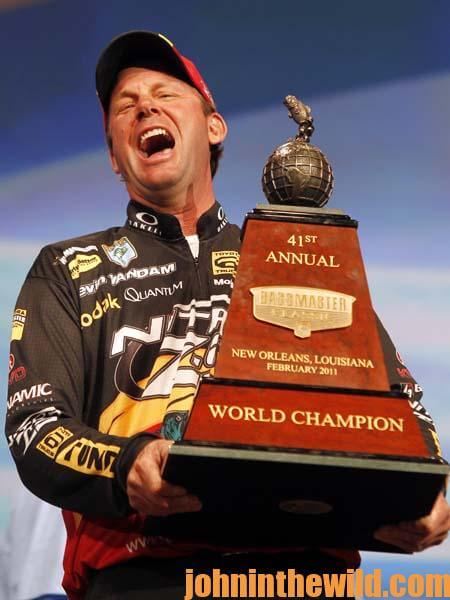 Phillips: What else have you seen new in the bass-fishing market that you are using now?
VanDam: T-H Marine bought HydroWave (https://www.hydrowave.com/) an electronic fishing gear company this past year, and is creating many new sound patterns and a lot of new units for HydroWave. This company has a wide variety of accessories that I use on my boat to make it more efficient for fishing. For me, I like the GeForce trolling model handle that makes putting your trolling motor in the boat much easier and faster, and the new Equalizer Prop Nut for your trolling motor that balances the trolling motor and make the trolling motor much quicker.
To learn more about bass fishing, get John E. Phillips' Kindle eBooks and some print books, "How to Bass Fish Like a Pro (soon to be published as an audiobook)," "How to Win a Bass Tournament," "Catch the Most and Biggest Bass in Any Lake: 18 Pro Fishermen's Best Tactics, "Hot Weather Bass Tactics" and "How to Become A Tournament Bass Fisherman" and go to www.barnesandnoble.com.