John's Note: Darrell Baker of Centre, Alabama, has been fishing and guiding on Weiss Lake in northeast Alabama for 40 years. He's seen wintertime drawdowns and droughts and fished in freezing weather during the winter months. The State of Alabama has had one of the worst droughts that we've ever seen this past year in 2016. When we went fishing in the middle of November with the lake 6-feet below normal pool, I was surprised when Baker said, "The first thing we're going to do is shoot docks."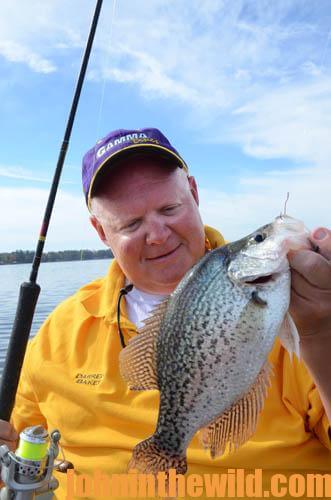 Most crappie fishermen who shoot docks for crappie view this tactic as a spring and summer way to take crappie. However, Darrell Baker has learned that fall and winter months also are productive times of the year to shoot docks for crappie. During the fall and winter, fewer anglers are on the lake fishing, and the crappie often will school-up under docks then. During the fall and winter months, you'll rarely if ever see a crappie fisherman shooting docks.
"October is one of my most-productive months for catching large numbers of big crappie under docks," Baker explains. "As you've seen, I can still catch crappie under docks during November and often into the winter months. In Alabama, the water temperature during the first of October may be in the 80- to 90-degree ranges. But when the water temperature begins to fall, the crappie know that winter is on the way, and they need to feed aggressively to put on weight for the winter. So, they will move up from the deeper water and get in the cooler water under the docks and begin to feed heavily." Because docks have shade and algae growing on the brush and the pilings under a dock, the bait fish will move into this area and start feeding. Then the crappie will feed on the bait fish.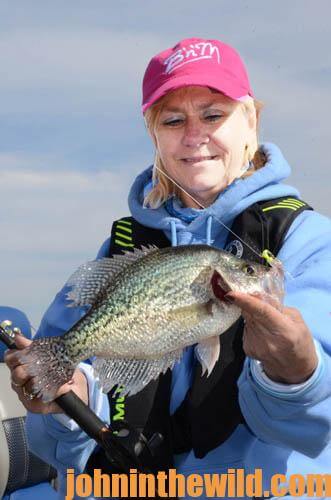 I asked Baker, "Why do you shoot your jig as far back under the dock as you do? Your jig is often landing in only 4-6 inches of water, and I know the crappie aren't holding in that depth." Baker answered, "Most of the docks I shoot, I'll catch crappie in the places that are hardest for an angler to get a lure to, and in the darkest part of the dock, which generally will be the center of the dock. So, I like to shoot as far back under the dock as I can, even if that means my jig is only going to land in 6 inches of water. But by shooting that far under the dock, as I slowly reel my jig toward the front of the dock, as soon as I get a bite, I know where on the dock the crappie are and at what water depth they're holding. The most crappie I've ever caught off one dock was 56 keeper crappie. Here on Weiss Lake, the crappie have to be at least 10 inches for an angler to keep that crappie. That being said, we actually caught more than 56 crappie, because we had to throw back all the short crappie."
Weiss Lake has a 10-inch limit on crappie to help the lake produce bigger keeper crappie and to increase the number of crappie that spawn each year. When a crappie is 8- or 9-inches long, that fish can spawn. So by having the 10-inch limit, more of the Weiss Lake crappie spawn each year than in other lakes that don't have a 10-inch limit. Weiss Lake has had this 10-inch limit for almost 20 years, and the lake consistently produces nice-size crappie for the anglers who fish here. Often, catching 50 -100 crappie per trip is not uncommon.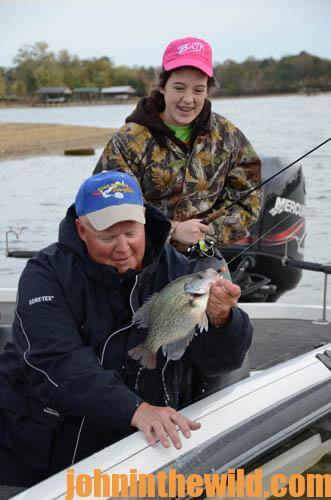 To contact Baker, you can go to his website at www.weisslakecrappieguides.com, call his cell phone at 256-557-0129, or email him at Darrell@weisslakecrappieguides.com.
To learn much more about crappie fishing, get John E. Phillips' Kindle eBooks and some print books, "Crappie: How to Catch Them Fall & Winter," "Crappie: How to Catch Them Spring and Summer," "Catch Cold Water Crappie Now" and "Catch Crappie All Year: Fishing a Single Pole, Using No Boat and Farming Crappie" by clicking on each, or go to www.barnesandnoble.com or to http://johninthewild.com/books/#crappie
To receive and download for free "The Crappie Catchers' Cookbook," by John and Denise Phillips, go to http://johninthewild.com/free-books.
Next: Alabama's Weiss Lake – Known as the Crappie Capital of the World