John's Note: Steve Brown from Millbrook, Alabama, fishes the Alabama River as his home lake. But as a professional crappie fisherman, Steve Brown fishes rivers and lakes all over the United States and shares what he's learned that will help each of us be better anglers in rivers. He defines himself as a crappieholic.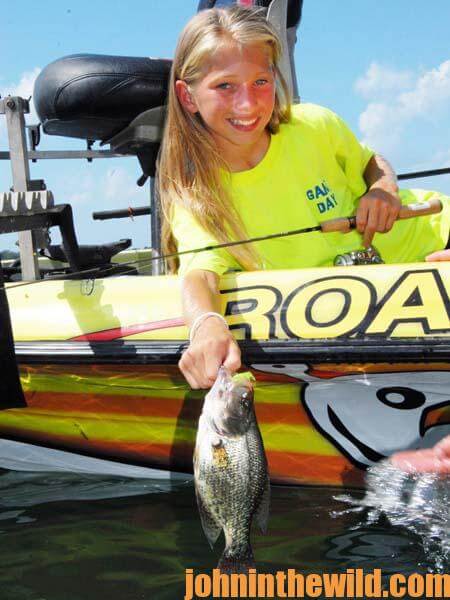 On Day 3, we talked about spider rigging eight poles with double-minnow rigs and pushing them into deep brush on rivers where there's current coming through them. Whether we catch crappie or not, before we leave that brush, we'll back away from it. Each angler will use a single pole, tie a crappie hook onto the main line and about 10-12-inches above the end of the line. At the end of the line, I'll tie a sinker. The current determines how large the sinker needs to be to hold the line straight down from the tip of the pole, a tactic called drop shotting. We'll lower a lead and try to work that lead and minnow right through the center of the brush. Many times the crappie will be buried-up (holding tight inside the brush), especially with a very-heavy current. When there's a strong current coming through the river, we may catch more crappie drop-shotting through the brush than we have pushing 8 poles with 16 baits into the sides of the brush.
I'll use a bell sinker and try to work my line all the way through the brush and to the bottom. When the bell sinker reaches the bottom, I'll keep my line tight. I may let my sinker sit right on the bottom. Remember, my bait is about 10-inches up from my sinker, and I keep a tight line to feel the crappie when they bite. Once I hook a crappie, using this drop-shot technique, I don't waste any time pulling the fish up and into the boat before it gets tangled-up in the brush. If you lose the fish because you're pulling on it too hard, so be it; but if you don't pull the crappie hard and fast when it takes the bait, you're more likely to get broken off.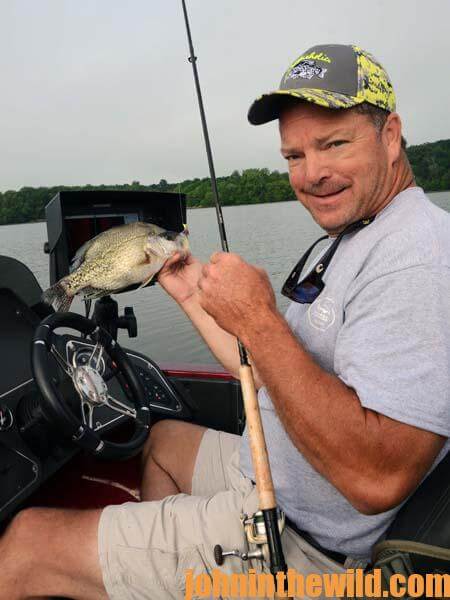 Yet another question I'm often asked is, "What do you do when you find crappie holding on brush or bottom structure, and you can't catch them?" Most of us don't start eating at daylight and stay at the kitchen table and continue to eat until dark. Crappie and their eating habits are much like ours, although they may be holding on structure. They're not going to feed all day and all night. To solve this problem, I'll try and find several different brush piles, stump rows, drop-offs and ledges. When I pull up on a spot, and I can see that there's crappie there, but they won't bite, I make a mental note of where that brush pile is located on the river. I'll go to another brush pile where I've seen crappie on my depth finder and fish it. If I have 10-20 brush piles or structures where I've seen crappie holding with my side-scanning depth finder, I'll keep moving from brush pile to brush pile, until I find a crappie that wants to eat. I'll catch those crappie and continue to fish the rest of the brush piles or structures I've planned to fish that day.
If I have enough time left in my day, I'll return to the locations where I've graphed brush piles holding crappie and fish every one of those brush piles again. I have fished one brush pile four times in one day and not caught crappie until the last time I've fished that brush pile. Or, I may catch crappie all four times I fish a structure. More than likely you don't stay in one room of your house all day long or even at your house all day long, every day. Crappie move just like you do. A place where you've seen crappie before on your depth finder may not have any crappie on it when you return to check it again, or that spot may have a big school on it and you think you've caught all the crappie off that place earlier. You may catch as many or more crappie than you've caught before when you fished that location. If you see crappie on a site but they won't bite, the chances are good that at some time during the day, those crappie will bite. All you have to do to catch them is to be fishing that structure at the time the crappie want to eat.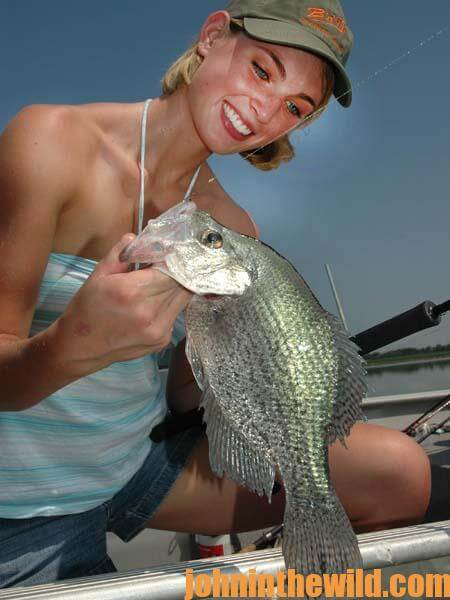 Bonus Video with Steve Brown
"Rainy Day Crappie:" https://youtu.be/GM3ERh4CqEs
Editor's Note: I met Steve Brown at the Bass Pro Shops' (www.basspro.com) Crappie Masters' (www.crappiemasters.net) Alabama Championship where the sponsors included: www.bobbygarlandcrappie.com; Black River Tools (www.blackrivertools.com); www.purefishing.com including Johnson Fishing and others; B'n'M Poles (www.bnmpoles.com); TTI Companies' Fishing Group (www.tticompanies.com); Hampton Inn and Suites (http://hamptoninn3.hilton.com/en/hotels/alabama/hampton-inn-and-suites-prattville-MGMCFHX/index.html); www.elmoreco.org; www.gammafishing.com; and www.prattvilleal.com.
To learn much more about crappie fishing, get John E. Phillips' Kindle eBooks and some print books, "Crappie: How to Catch Them Fall & Winter," "Crappie: How to Catch Them Spring and Summer," "Catch Cold Water Crappie Now" and "Catch Crappie All Year: Fishing a Single Pole, Using No Boat and Farming Crappie" by clicking on each, or go to www.barnesandnoble.com.
To receive and download for free "The Crappie Catchers' Cookbook," by John and Denise Phillips that offers free recipes, go to http://johninthewild.com/free-books.
Next: Deal with Change to Fish Rivers for Crappie
EXPLORE MORE: you'll love these stories from John too