Editor's Note: Many years ago, I met a man named John Demp Grace, when I was turkey hunting at Bent Creek Lodge www.bentcreeklodge.com in Jachin, Alabama. Grace had built a turkey blind, and he was the first person I ever had met at that time who was taking turkeys with a bow. The evolution of that hunting blind and the skills required to harvest wild turkeys with a bow were passed down to his son, Steve Grace, who's obsessed with taking turkeys with a bow and arrow. Fifty-year-old Steve Grace from Pennington, Alabama, has been turkey hunting for 35 years and has taken 250 wild turkeys with his bow – mainly on public lands.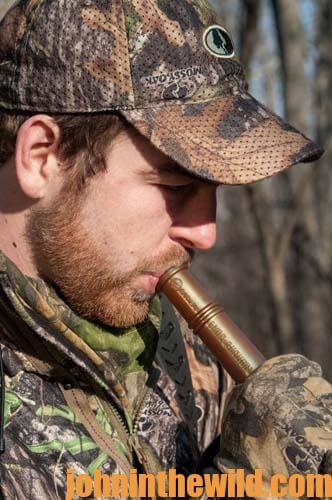 When I'm scouting before the season, I don't use a crow call, a hawk call, a pileated woodpecker call or any of the calls that most turkey hunters use to try to locate a gobbler. Here's why. I've learned from hunting a lot of public land that the people who use crow calls and hawk calls usually cause more turkeys to quit gobbling than the people who don't use locator calls. I've been out working a bird before and heard a four-wheeler stop on top of a ridge. Then as soon as the hunter got off that four-wheeler, he'd give a crow call, and the turkey I was working would quit gobbling, until the woods completely settled back down, and I heard that four-wheeler crank up and leave the ridge. When a person can owl hoot really good, the owl hooting doesn't seem to shut the turkeys down as often as the crow call and the hawk call will.
If I do use a locator call when I'm scouting or hunting, I use an excited hen-yelp call. At one time, I liked a cutting call. However, so many people began using a cutting call, and I heard so few hens in the woods cutting, that now I've found that the excited yelp gets more responses than cutting calls. I like a high-pitched, excited yelp to make a turkey gobble. That's the call you'll probably use to call that turkey to you anyway. If that turkey won't respond to an excited hen yelp, there's a good chance you won't call him up ever.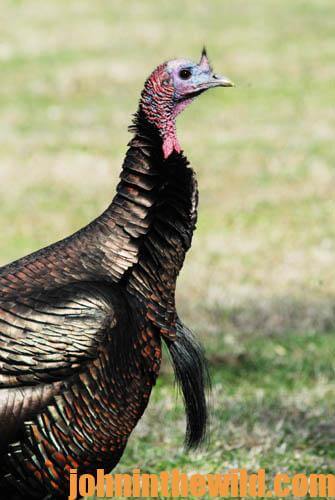 I've had many hunters say, "When I'm scouting, I don't like to use an excited hen yelp, because I'll call the turkey to me. If I'm scouting before the season, I won't have a gun, and I couldn't harvest that gobbler, if he came to me." If I'm using that excited yelp before the season, I'll use that yelp to put a spot on my topomap where I've heard the turkey gobble from, or from where I've heard three or four turkeys gobble. Then I'll leave that area and move on to another spot. So, even if the turkey does come to that yelp, I won't be there to spook him. If this happens during hunting season, and I'm not only trying to use that excited yelp to locate the turkey, but also to call him in, I'll look for a really-good place to set-up. Then I can take the gobbler, if he's close. I probably have called up some turkeys that have come in silent, and I haven't seen them. But if a turkey answers my excited hen calls quickly, that means he's on the way, and he'll probably show up within 15 to 30 minutes. If not, I'm on the move again.
During turkey season, I'll use this run-and-gun tactic on the days with clear skies and a temperature of about 70 degrees, and I believe I have a really-good chance of taking a gobbler. On cloudy days, or when the temperature is about 80 degrees, more than likely, I'll set-up in an area where I've marked a turkey and call for about 30 minutes, knowing that the turkey may come in silent. If he doesn't, or I don't hear him gobble or drum, I'll move to the next place where I have a turkey marked and repeat that same tactic. But on those days when I feel like I should be able to make a turkey gobble, I'll call and move, until I hear a turkey gobble. About 90 percent of the time, I'll be calling with a mouth-diaphragm call, but sometimes I'll use a slate call, which has a little-more pitch to it than my diaphragm call. Sometimes I'll use the slate and diaphragm call intermittently.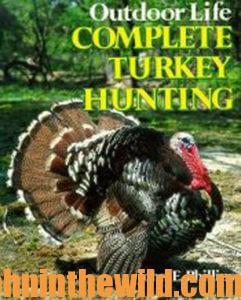 To learn more about turkey hunting, check out John E. Phillips's book, "Outdoor Life's Complete Turkey Hunting," available in Kindle at https://www.amazon.com/dp/B00IXXJWOQ and in print at https://www.amazon.com/Outdoor-Lifes-Complete-Turkey-Hunting/dp/1720096821.
Tomorrow: How Steve Grace Hunts Crowded Public-Land Woods