John's Note: Longtime, avid deer hunters Chris Yeoman, a guide, and Dr. Jim Nelson – both of Rapid City, South Dakota – enjoy shooting deer on the run and think nothing of making several hundred yard shots at running deer.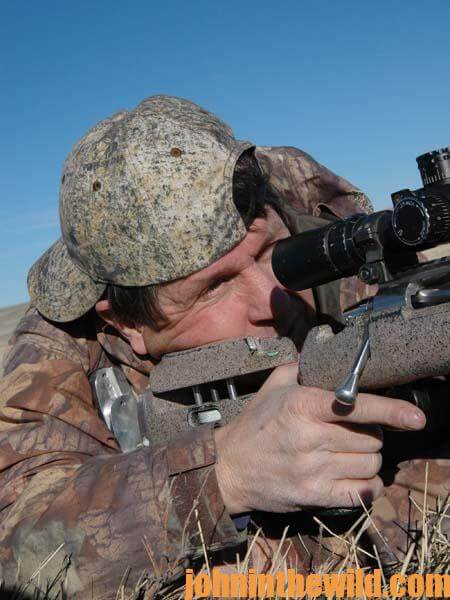 When Jim Nelson shoots at a deer running straightaway at 200 to 300 yards, he first will take a kneeling, a sitting or a prone position. "You must make sure you've got a solid rest," Nelson says. "And, you must steady a rifle to shoot it accurately at long distances."
Nelson usually sits and steadies his rifle on his knee or lies on the ground in the prone position, although Chris Yeoman (see Day 1) prefers to use a forked stick to brace his rifle and steady for the shot. "With the stick, I not only can steady my rifle, but I still can swing on a level plane with the deer. I usually carry a forked stick. I've learned I can shoot more accurately with the stick than I can when I'm either sitting or lying down." When either man takes the shot, he aims for the back of the deer's head and expects the bullet to land either in the buck's neck or shoulder region, depending on how fast the deer's moving and at what angle the deer is going away from him.
According to Nelson, one of the worst shots is a broadside shot. "The distance you must lead the deer to bring him down when he's running broadside to you is amazing. If the buck's only 100 yards out, you can aim in front of him and generally get a shoulder shot. But if the buck's running 200 to 300 yards broadside to me, I usually lead him 10 to 15 feet – a distance that is difficult to judge when the deer is moving. I aim at the deer and begin to swing in front of him, just like I do when I'm swinging on ducks. As I continue to swing in front of the deer, I squeeze the trigger. But this shot is not a good one to make. However, one of the advantages of hunting in open country is that in many instances you can see where the bullet lands, just like you can when you're hunting coyotes. Then, when you take your next shot, you can adjust your swing before you squeeze the trigger."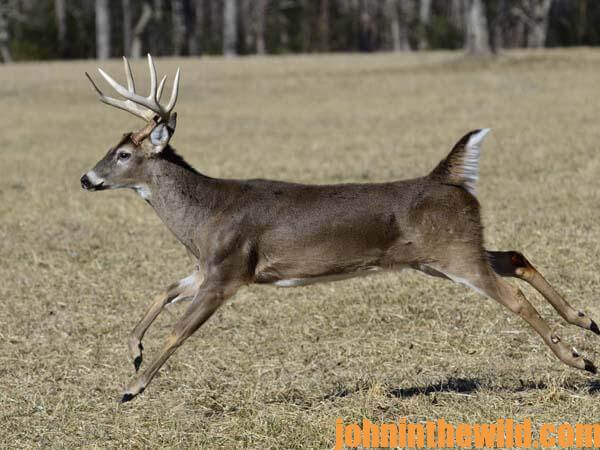 "At 200 to 300 yards, when a deer runs broadside to you, your chances are far greater at missing it than if it's running straightaway from you at that distance," Yeoman observes. "Aim like you're shooting ducks. Begin your swing behind the deer, pick the deer up in your riflescope, and continue to float and swing in front of the deer before squeezing the trigger. At these distances, you can't hold the crosshairs out in front of the deer. Let him run into the crosshairs to shoot accurately. You have to swing with and then past the target, squeeze the trigger and continue your swing. This shot is one of the most difficult for most hunters to learn to make. This shot is more like shotgun shooting or wing shooting than rifle shooting. Another reason this shot is hard to make is that most hunters really can't believe how fast and how far deer can move from the time they squeeze their triggers until their bullets land."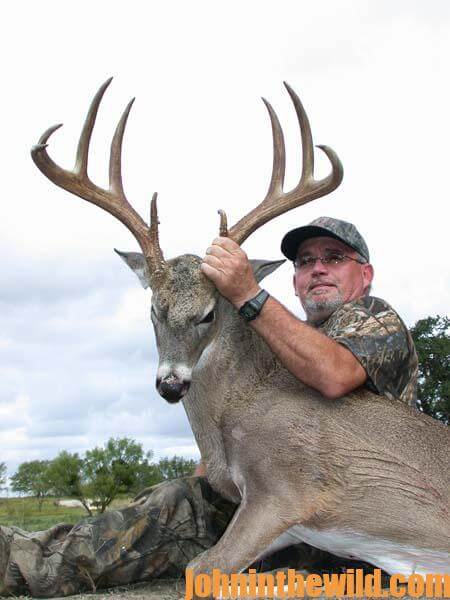 Both hunters agree the easiest shot to make on a running deer is when the animal is running straightaway. "When the deer's running away from you, you have the full length of the animal to hit," Nelson comments. "If you hold on the head area, you'll have a good chance of taking him." One of the reasons Nelson believes he can shoot so accurately at great distances is because he's shooting a Remington Model 700 .25-06. "I like this gun because it's fast and flat-shooting, and at 300 yards, I'm dead on," Nelson says. "I set my gun 3-inches high at 100 yards, and I can aim dead on from 400 yards down to 100 yards or less."
To get John E. Phillips' Kindle eBooks and print books on hunting deer, "How to Hunt and Take Big Buck Deer on Small Properties," "How to Hunt Deer Up Close: With Bows, Rifles, Muzzleloaders and Crossbows," "PhD Whitetails: How to Hunt and Take the Smartest Deer on Any Property," "How to Take Monster Bucks," "How to Hunt Deer Like a Pro," and "Bowhunting Deer: Mossy Oak Pros Know Bucks and Bows," or to prepare venison, "Deer & Fixings," click here.
For information on making jerky from your deer to provide a protein-rich snack, you can download a free book from http://johninthewild.com/free-books.
Next: How to Hunt Deer Uphill and Downhill