John's Note: If you want to catch more and bigger bass and have more fun doing it, then a tube boat or a belly boat may very well be your answer. Dr. Robert Sheppard of Tuscaloosa, Alabama, is one of the most-serious bass fishermen I ever have met. Whatever he needs to catch bass, Sheppard will buy it, modify it, invent it or figure out a way to borrow it. Bob is also a loner who doesn't enjoy a day on the lake, flying across water at 50 to 75 miles an hour and watching others do the same thing. He likes the quiet waters away from the crowds where he won't see another angler and generally catches more and bigger bass.
Dr. Sheppard has learned that using a tiny bream cork works when angling for really-big bass.
"I'll place a bream cork 4- to 6-feet up the line, which lets my hook either touch or float just off the bottom,"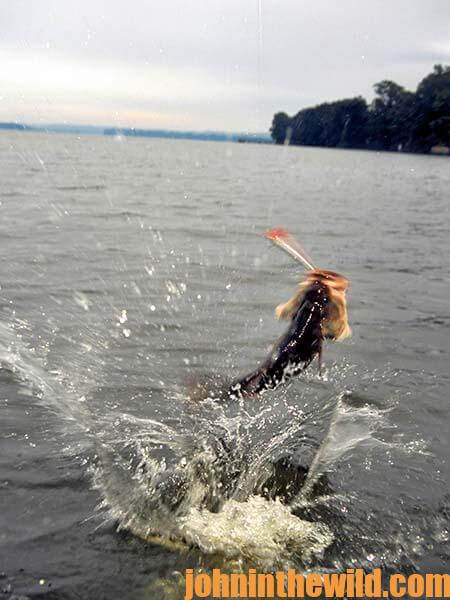 Sheppard says. "The purpose of the cork is to let me know where my bait is the majority of the time, not to float my bait up off the bottom. I tie a No. 6 treble hook on the end of the line and hook the shiner through the lips. Since one disadvantage of fishing in a tube boat is that I can't get up high enough to get a good hook set from water level, I use either a big surfcasting rod or a flipping stick. I can put more leverage on bigger bass by using a longer rod.
"Once I've got my bait set, I let out the line about 20- to 30-yards behind the tube boat. Then, I kick slowly backwards around the lake to troll the big shiner, so the big bass can see my bait. A lunker largemouth will be the only fish large enough to take the big shiner I'm fishing. When I use this technique, I've got my pole rigged with 30-pound-test line to handle that big bass when it takes the bait. Once the bass attacks, I feed it line for about 30 seconds to allow it to swallow the shiner. Then I set the hook. Fishing for big bass in a belly boat is fun fighting – a real tug-of-war. The fisherman gets dragged around as much as the bass does. Hard as it is, I've found this tactic pays big dividends in small farm ponds when I'm fishing for huge bass."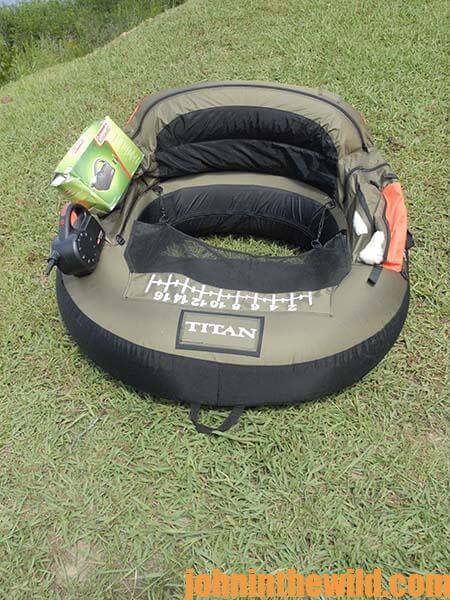 Another ideal situation for belly boat fishing is beaver ponds or dead lakes off of major river systems. According to Sheppard, "I can usually use my flat-bottomed boat to reach a stretch of land that cuts off access to an oxbow lake, a beaver pond or a dead slough. I walk across that land carrying my belly boat and can gain access to fishing waters that other bassers can see but not fish. The belly boat takes-up little room in a flat-bottomed boat, and I can also tow it behind my flat-bottomed boat."
For more information about belly and tube boats, go to http://www.basspro.com.
To learn more about bass fishing, get John E. Phillips' Kindle eBooks and some print books, books "How to Bass Fish Like a Pro," "How to Win a Bass Tournament," "Catch the Most and Biggest Bass in Any Lake: 18 Pro Fishermen's Best Tactics, "How to Become A Tournament Bass Fisherman,"  "Click here to get these books."
About the Author
John Phillips, winner of the 2012 Homer Circle Fishing Award for outstanding fishing writer by the American Sportfishing Association (ASA) and the Professional Outdoor Media Association (POMA), the 2008 Crossbow Communicator of the year and the 2007 Legendary Communicator chosen for induction into the National Fresh Water Hall of Fame, is a freelance writer (over 6,000 magazine articles for about 100 magazines and several thousand newspaper columns published), magazine editor, photographer for print media as well as industry catalogues (over 25,000 photos published), lecturer, outdoor consultant, marketing consultant, book author and daily internet content provider with an overview of the outdoors.