Editor's Note: Today, 34-year-old Ryan Solomon of Aguilar, Colorado, spends a portion of turkey season each year in Colorado guiding for western turkeys for Fulldraw Outfitters (https://www.fulldrawoutfitters.com/). However, he's spent most of his life in Georgia on his family's 9,500-acre Gopher Plantation (http://www.gopherplantation.com/) guiding for eastern wild turkeys. We've asked Solomon to tell us the difference in calling Merriam's and Rio Grande gobblers in the West and eastern gobblers.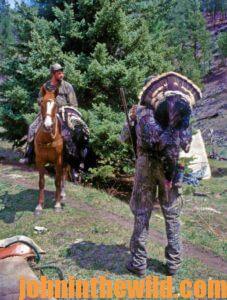 Something else I've learned about Merriam's gobblers is that I may be standing on top of one mountain and start calling and have a turkey on the next mountain gobble to me. Down home in Georgia, when you have a turkey that far away from you, the best thing you can do is try to close the distance you are from that turkey by circling the gobbler, getting on the same mountaintop he's on and moving in fairly close to the last place you've heard him gobble. Then you start trying to call the bird from that spot. But with the Merriam's turkeys, as soon as you start calling from the mountaintop where you've last heard the turkey, that gobbler will be over on the mountain you've just left – probably standing in your tracks and gobbling back to you, while you're on the mountaintop he's just left.
What I've learned from hunting out West is if I have a turkey on one mountaintop, and I'm on another mountaintop, and that turkey gobbles like he's coming to me, I'll wait much longer for that bird to reach me than I normally will. If he's just giving me a courtesy gobble, like a bull elk often will bugle just to say hello, but not indicate that he's coming to me, then I'll wait a little while before trying him again. If he doesn't gobble back, I'll go hunt another tom.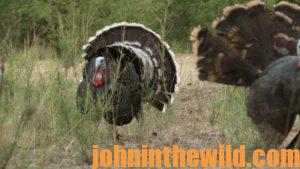 Oftentimes, Merriam's gobblers will come in quiet and not gobble after you already know that they are interested in coming to you for three reasons. The West homes lots of coyotes and bobcats. So, the turkeys know if they gobble as they come to a hen calling, there may be a predator that's going to attack them on the way in, if they keep gobbling. So, they'll become silent, and won't gobble and will come in much slower, looking for a predator. Also, if you've ever watched a turkey walking in the woods, you'll notice they have very-short strides, and they don't walk very fast. They walk even slower as they're going up a mountain. So, I tend to give a Merriam's gobbler more time to reach me than I will an eastern gobbler or an Osceola gobbler. The third thing you have to remember is when you're on a mountaintop, and a turkey is on a mountaintop, you can hear him gobbling from much further away than you can if you're hunting in the thick swamps of Florida or the heavily-timbered woods of Georgia. Over the years, I've learned I'm much more patient and willing to wait much longer for a Merriam's gobbler to come to my calls than I am when I'm calling to an Osceola gobbler or an eastern gobbler.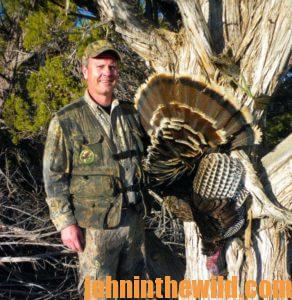 Many of the hunters I guide are eastern hunters. Usually, when we're waiting on a Merriam's gobbler to come to us, one of my clients will say, "Don't you think you ought to be calling a little bit more?" I'll usually turn to my hunter and say, "Do you want to hear this turkey, or do you want to kill this turkey? If I start calling to him, he may gobble a lot more, but we probably won't kill him. If we're going to kill him, we've got to sit still, be quiet and wait for him to show-up."
But what I really enjoy about hunting and calling Merriam's is that you often can call them and see them from 500-yards-plus away from where you're calling. To get those turkeys to come from that far, I use a high-pitched call and like to have the wind at my back to carry my call to the turkey. If I'm calling a two-year-old gobbler, he'll come that far – gobbling, strutting and putting on a show like he's read the script, and he knows how to perform.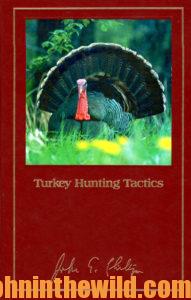 To learn more about turkey hunting, check out John E. Phillips's book, "Turkey Hunting Tactics," at https://www.amazon.com/gp/product/B007PK9B2G/ref=dbs_a_def_rwt_hsch_vapi_taft_p2_i9
that's available in Kindle, print and Audible versions. You may have to cut and paste this link into your browser. (When you click on this book, notice on the left where Amazon says you can read 10% of this book for free and hear 10% for free). To learn more about other turkey books by John E. Phillips, go to www.amazon.com/author/johnephillips.
Tomorrow: Guide Ryan Solomon's Favorite Turkey Calls