Editor's Note: Like you, I've had elk guides before I've thought may have wanted to kill me. But, I've also hunted with some elk guides who have become lifelong friends because of the way they've helped and taught me. A good guide's often the critical ingredient in whether or not you take an elk. But what does that guide think of you, and what's he trying to teach you? I've asked several elk guides and hunters to confess their innermost secrets about their elk-hunting clients, and what they do to help their clients take elk.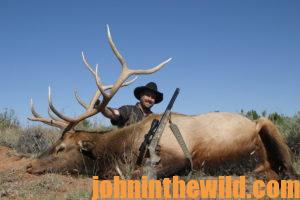 Chad Schearer, once the owner of Central Montana Outfitters in Great Falls, Montana, and longtime avid elk hunter, guided customers for 15+ years to mule deer, antelope, elk, bear and fish. "I'm not comfortable wearing a coat and a tie and having to fight traffic to go to work," Schearer says. "However, often the out-of-shape, overweight, middle-aged-plus people who lived in that world were the hunters I guided. A guide once told me, 'My client's my weapon. Sometimes I have really-good weapons, sometimes I have weapons that don't shoot real well, and often my weapons aren't in peak condition. But my job as a guide is to hunt with the weapon I have that week.' This statement sums-up my philosophy of guiding." Schearer today produces his TV Show, "Shoot Straight TV" on the Pursuit Channel https://www.shootstraighttv.com/ and serves as the PR Director for Blackpowder (BPI) Outdoors.
While guiding, Schearer evaluated each hunter's physical condition and shooting ability before and during the hunt. Schearer realized that some hunters could shoot accurately at 200 to 300 yards, while other hunters didn't shoot well at 50 yards. He first would talk to the hunter on the phone to learn the hunter's general physical condition and to determine how much hard hunting he could handle. "I didn't want to put any hunter in terrain so rough he'd be miserable during the hunt," Schearer explains. "If a guy wasn't accustomed to exercise, then I didn't want to get his heart rate so high that he might have a heart attack. I knew I'd need to leave camp earlier in the morning with this hunter, so we could walk slower and take our time getting into elk country."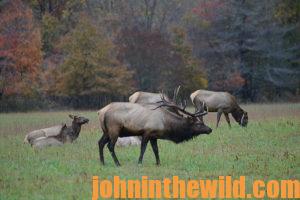 Schearer learned quickly whether or not the hunter would need 20 minutes or 2 hours to reach the top of a mountain. Once Schearer judged each hunter's physical condition, he then could decide the elk places that hunter could hunt. "After the first day of hunting and with the background information I'd learned over the phone, I had a good idea of whether a hunter could reach the elk I've spotted, or, if I needed to find a bedded elk for that hunter," Schearer comments. "We only would make stalks on elk he physically had a chance of taking. I also had to determine if my hunter could get the shot. If we had to run up the side of a mountain to reach a spot to take the shot, my hunter might be breathing so heavily and be so out of breath that he couldn't hold the rifle steady enough to make an accurate shot. That's why I'd often stop on the back side of a mountain and let my hunter rest and regain his strength before coming over the top of the mountain where we expected to see the elk."
Schearer always maximized his hunting time in elk country. "If I knew my hunter wasn't in good physical condition and that he only had enough energy and stamina to climb the mountain one time that day, I'd pack a lunch, carry water and plan to stay on the mountain all day."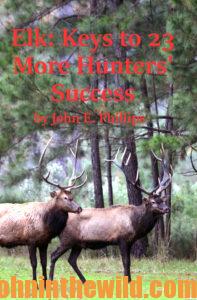 To learn more about hunting elk successfully, check out John E. Phillips' book, "Elk: Keys to 23 More Hunters' Success," available in Kindle https://www.amazon.com/  and soon to be available in print and Audible versions. You may have to copy and paste this click into your browser. (When you click on this book, notice on the left where Amazon allows you to read 10% of the book for free).
Tomorrow: Elk Calling Specialist Wayne Carlton