Editor's Note: Mark Land of Cartersville, Georgia, worked for Muzzy Broadheads (https://www.feradyne.com/muzzy-broadheads/) for 20 years. He's been bowhunting since 1977 and has been big-game guiding for 15 years. "Georgia is where I call home, but sometimes I like to walk the Florida beaches and also guide for Fulldraw Outfitters (https://www.colorado.com/hunting/fulldraw-outfitters) in Augilar, Colorado. I hunt at high altitudes (about 7,000 feet or higher) in the Colorado Mountains, and how we hunt is somewhat different from what flatlanders in the East know." To learn more about Mark, visit his Facebook page at https://www.facebook.com/people/Mark-Land/100003101287281.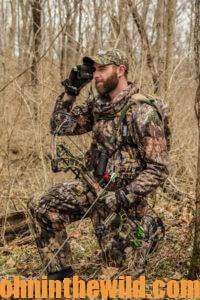 Most hunters spend a good deal of time before they come to camp sighting-in their rifles, tuning up their bows and practicing shooting at different distances to make sure that their equipment will perform well on an elk hunt. However, the one piece of equipment that's probably the most important in helping you get your elk is a good pair of boots.
* Boots: If you don't have quality boots that are broken in, then your hunt is often over before it even starts. Bad boots will leave your feet sore with blisters, and you won't be able to walk as far as you can with a really-good pair of boots. However, if you're going to sit in a blind throughout the entire hunt, you can get by with almost any kind of boots.
The number-one factor that I look for in a quality boot is good ankle support without being overly binding. Some of our hunters come to camp with 8-10-inch-high boots and lace them up all the way to the top. Those boots are often very stiff and aren't going to be comfortable when climbing up and down mountains. I prefer hiking boots and personally like the Meindl (https://meindlusa.com/), Cabelas (https://www.cabelas.com/shop/en/shoes-boots) and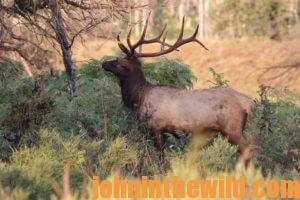 (https://kenetrek.com/) brands. Even though you may get a good deal on boots, I don't suggest buying boots for an elk hunt out of a catalog or online, because you won't get a chance to try them on until they're delivered to your house. Buying boots in a store is best. Then if they don't feel right, you can put them back or choose another pair. One time, in 2015, I ordered boots and did a solo 14-day bowhunt, putting 80 miles on two pairs of boots. By the second week of the hunt, I was in my second pair of boots, due to my having worn a hole through the bottom of my first pair of boots.
The hiking boots that I wear are extremely light and reach high enough to support my ankles. Remember that putting a pound on your feet is equivalent to having 8 pounds on your back. The lighter your boots are, the less strain you'll be putting on your body. My favorite pair of boots are the Merrell Moab boots (https://www.merrell.com/US/en/mens-moab/).
* Binoculars and Bino Harnesses:
Another piece of equipment that's critical to your success are your binoculars. All of the guys at Fulldraw Outfitters use Leupold binoculars (https://www.leupold.com/binoculars), which are very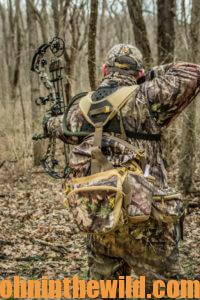 clear and allow you to see very well the animals you want to take. For western hunting, I like 10x binoculars that are strong enough for me to identify an animal at long ranges, but not so powerful that I can't see an animal clearly at 50 or 60 yards. When I'm hunting in the East for whitetails, I prefer 8x binoculars because I'm not usually looking at great distances like I am in the West. One of the disadvantages to the 10x binoculars is that they'll weigh more than the 8x binoculars. I don't like tiny, high-power binoculars, but instead prefer mid-weight binoculars. Then I don't have to strain my eyes when I'm trying to look through them.
Since you'll be carrying those binoculars all day long, I recommend a bino harness (search the internet since there are many kinds available) that can carry your binoculars and range finder, making for a more-efficient hunt. I absolutely love a bino harness because it keeps the binoculars tight to your chest. Then if you're running or climbing, your binoculars are not bouncing around and hitting your chest. There are many brands of bino packs, and I strongly recommend that you try on bino harnesses before you buy one. I have five different bino packs in my closet. I bought them and then tried them out, learning that four of them weren't nearly as comfortable as the one I'm using right now. Having a comfortable bino harness is just as important as wearing comfortable boots.
One of the problems we see is that many hunters will come to camp with new gear they haven't tried out. Sometimes, we'll have hunters arrive at camp with their rifles or bows still in the boxes in which they've been purchased. Half of that gear is left at camp because the hunter can't use it or doesn't know how. Hunting season is not the time to learn how to use your equipment.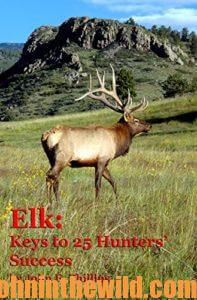 To learn more about hunting elk successfully, check out John E. Phillips' book, "Elk: Keys to 25 Hunters' Success," available in Kindle, print and Audible versions at https://amzn.to/2IDszQk.
by copying and pasting the click into your browser.
Tomorrow: How Far Does an Elk Bow or Rifle Hunter Need to Shoot Accurately