When Janay and I spotted this bull (see Day 4) we quickly glassed him with my Vortex Optics Diamondback 10×42 (https://vortexoptics.com/vortex-diamondback-10×42-binocular.html) and saw that he was a fine 6-pointer. Luckily every time we had encountered a bull – that bull would teach us what we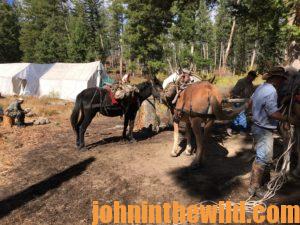 needed to do to try and get close enough to take a bull. Although I had a shot, I hadn't taken any meat for the skillet. One of the mistakes that Janay and I made that we learned later was that we hadn't practiced cow calling or bugling to an elk, because we thought we'd be with our guide during the entire hunt. Neither Cowboy Matt, Janay nor I thought that walking back to camp we would encounter a bull with cows. The situation that we were in was that the bull and the two cows were between us and camp. We either had to try and take the bull or spook the bull as we went back to camp.
So, I told Janay, "This is a good 6-point bull; you go to the left of the mountain, and I will go to the right. One of us might get a shot at this bull elk, depending on which way he goes." When we got to within 125 yards, the cows saw us and spooked. As I was stalking up to the spot where I thought the bull and the cows might come out, the cows arrived first, spotted me and took off running. When the bull elk came up, he stopped for just a minute to see what had spooked the cows. I quickly brought my Browning 7mm rifle (https://www.browning.com/) to my shoulder, aimed and shot the bull in the shoulder. The bull was exactly 125-yards from where I shot.
When the bull took the first round, he started limping. I immediately chambered another round and fired again. The bullets I used were Federal Premium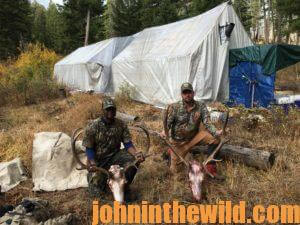 ammunition 7mm Mag 150 grain
(https://www.federalpremium.com/rifle/). Since I felt positive the bull was down, I waited on Janay to get to where I was. Then we could walk up to the bull together. Janay and I had worked hard together on this hunt and had shared an adventure of a lifetime. So, I wanted him to be with me when I walked up to the bull. He reached where I was in less than five minutes, because he'd started coming to me as soon as he heard the shot. We both threw our arms up in the air and started yelling and hollering. We were so surprised to be able to take an elk like this without our guide and without calling. Everything just happened in the moment, and it really shocked both of us that we took this bull elk the way we did.
Although we had our knives with us, neither of us had either field dressed, caped or quartered an elk. We were hoping that Matt had heard us shoot and would come back that way to help us do what we needed to do to the elk. We thanked the Good Lord above for allowing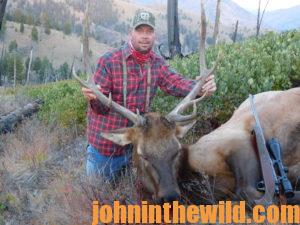 us to take this elk, and we talked about the hunt. Within the hour after I had downed the elk, we looked up. Cowboy Matt was on top of the ridge above us with the horses and mules, knives and saws to process the elk. He had about 10 horses and mules strung together, and I heard him scream, "Oh my gosh! What have y'all done? I can't believe y'all took that bull! This was the size bull I would've told either one of you to shoot." Cowboy Matt did the field dressing, skinning, caping and quartering, and we helped him do whatever he asked us to do. We put all the meat in the game bags and loaded them into leather saddle bags and put the horns and the skull on the horse and returned to camp about 8:00 pm. We all had headlights and needed them to finish the final loading of the meat and heading back to camp. We took our antlers back on horseback on our last day of the hunt, and the meat already had been flown out on the airplane and taken back to the original camp.
Janay took his elk on Day 6, and I was with him when he harvested his bull. We had heard the bull bugle, and Cowboy Matt bugled back to him. As the bull came up, we put Janay behind a tree with his back against the tree. We thought the elk should come up behind Janay and walk out in front of him. We were set-up about 60-yards behind him calling. Once the bull was about 60-yards from Janay, we gave him hand signals, so he would stand up, turn around and shoot his elk. With one shot from his .300 Mag, the elk went down. Janay's elk was a 5×6 and was a fine trophy. Because Janay had taken the bull about 2:00 pm, we had plenty of time to process the bull and get his meat and horns out of the mountains before dark. The other two hunters who had gone with us also took their elk prior to this Day 6 hunt. I had taken plenty of whitetails and mule deer. But this was my dream hunt, and the adventure that it produced was everything that I hoped it would be.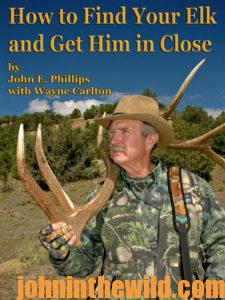 To learn more about hunting elk, check out John E. Phillips' book, "How to Find Your Elk and Get Him in Close," available in Kindle, print and Audible versions at http://amzn.to/17ENNqK.