Editor's Note: The last Friday in April, 2018, I received unbelievable pictures from my friend, fishing guide Tony Adams in Eufaula, Alabama. Tony sent me pictures of giant shellcrackers (redear sunfish), crappie that were longer than a 5-gallon bucket, and catfish that weighed from 10 to 30 pounds. "This is it!" I told Adams when I called him. "Now's the chance to catch the Lake Eufaula trifecta of delicious-eating fish – shellcrackers, crappie and cats. I'll leave on Monday, and we'll slay them." But I forgot what a good friend of mine once told me many years ago. "A fishing report is history and  tells you what's happened yesterday. But it in no way influences what will be happening tomorrow or next week."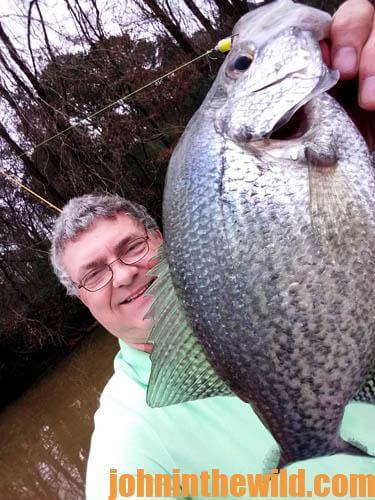 I finally got to sleep about 2:00 am on Tuesday morning, May 1, after arriving in Eufaula the previous late afternoon and fishing for shellcrackers, catfish and crappie. I knew I'd have to get up at 6:30 am on Tuesday to meet Tony Adams at the boat ramp at 7:30 am. When the alarm went off the next morning, my eyes gave me every reason they didn't want to open, but a voice inside me said, "John, get your lazy self up. You've got to go catch some crappie." Reluctantly, I pushed the covers back, and my feet eventually found the floor.
Adams had bought  us some more minnows and jigs that morning. We returned to the same spot we'd fished the night before and struck out, but this time Tony's Humminbird (www.humminbird.com) Helix depth finder lit up like a Christmas tree. The crappie were there, and they were plentiful. I couldn't believe that the place that had produced no crappie the night before was now loaded with crappie. We caught them one right after the other on Tuesday morning.
Adams prefers to fish with small Tuffy minnows, a wire crappie hook and 4-pound-test line. We put out two ultralight rods apiece, and Adams began to fish Big Bite jigs (www.bigbitebaits.com). By watching the two ultralight rods and watching the rod holders that were fishing the Tuffy minnows, we caught numbers of crappie quickly. We kept the bigger crappie and threw back the small ones. Often Adams would catch crappie while fishing his jig, and he'd  have two crappie on his rods fishing minnows. We had a great morning of fishing the spot that had been a dud the night before.
"I've got another site not far away where we caught those crappie last summer, John, when you fished with me," Adams explained. " If you want to, we'll go try it." We left the site where we'd been fishing to go to a new place that might hold more big crappie. Once we arrived at the new place that Adams said he hadn't fished since he and I had fished it last summer, the crappie began to bite. As Adams had predicted, we caught more big crappie and fewer smaller crappie. By now the time was 11:00 am on Tuesday, and we had plenty of fish to clean. So, we started heading back to the boat ramp.
However, with the boat ramp in sight, Adams announced, "John, I've got one little spot right here close to the boat ramp that we need to check. There may be some bigger crappie there." After catching on minnows five nice-sized crappie that we kept, Adams' rod pretzeled as the tip of the rod dove toward the water, while Adams tried to hold his reel and the rest of the rod vertical. Because of the leverage Adams applied to his ultralight rod, the crappie's head broke the surface – probably  the biggest crappie we'd caught – weighing more than 2 pounds. But we only saw the fish for about an instant before the hook popped out of its mouth.
Finally at 12:00 noon on Tuesday, May 1, we decided to leave the water, go to Tony's house and clean the fish we had caught – including more than 40 nice-sized crappie and six or eight good eating size catfish, with one weighing about 12 pounds.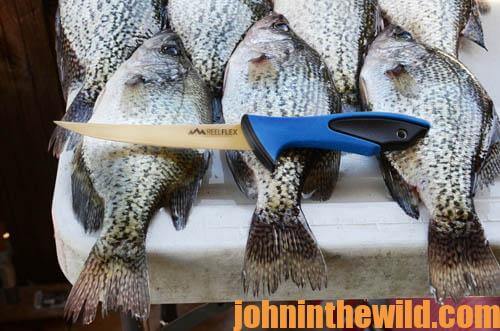 We used Outdoor Edge (www.outdooredge.com) Reel-Flex Fillet Knives crafted from German 4116 stainless steel that were comfortable, very sharp out of the box, lightweight and made filleting and deboning the fish quick and easy.
After an afternoon of shellcracker fishing, and a night of catfishing and crappie fishing until 1:00 am, and a 7:30 am start for the next day, I picked up a two-piece chicken meal with two sides and iced tea, returned to Lakepoint Resort, took a hot bath, ate, was asleep by 6:00 pm and was up the next morning at 6:00 am on Wednesday to drive home. Even though we weren't able to take the Eufaula trifecta limits per person of 50 giant shellcrackers, 300 pounds of channel and blue catfish and 30 monster-sized crappie per person, I went home very excited with the great adventure I'd  had. We caught plenty of crappie, a good mess of catfish, lost a giant cat and a giant crappie and had had a great day and night of fishing with my buddy Tony Adams – one of the best all-round fishing guides on Lake Eufaula or anywhere.
You can contact Tony Adams at 334-688-7505, or tony.adams@marvins.com. He also has Facebook page https://www.facebook.com/tony.adams.5477.
While in Eufaula, I stayed at Lakepoint Resort in the Alabama State Park (http://www.alapark.com/lakepoint-state-park), where the rooms have views of the lake, and the food is delicious. Contact the sales director, Sone Kornegay, at 334-687-8011 to learn more. Email pam@alabamablackbeltadventures.org to learn more about Alabama Black Belt Adventures which cover fishing at Lake Eufaula.
To learn more about fishing for catfish, go to http://amzn.to/W900eu and for crappie, http://johninthewild.com/books/#crappie. For free copies of "The Catfish Catcher's Cookbook" and "The Crappie Catcher's Cookbook," visit http://johninthewild.com/free-books.