John's Note: You can catch truckloads of catfish during the fall and winter on the Tennessee River that runs through Tennessee, Alabama and Mississippi, if you know how to troll for catfish. In late October, I learned a technique that makes catfishing fun and productive all the way up until about Christmas. This week Brian Barton of Muscle Shoals, Alabama, a professional catfish and smallmouth guide, will teach us all how to catch fall and wintertime cats.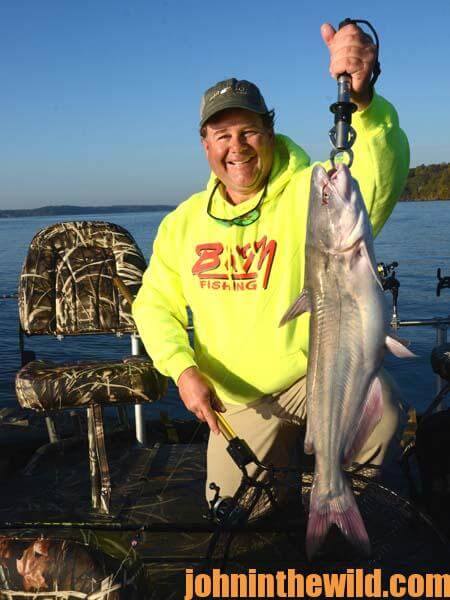 My main line is 30-pound test Vicious (www.getvicious.com) braided line in a moss-green color, but you can fish with braided line from 30 to 60 pounds. Since we're fishing for eating-size catfish in the fall and winter, instead of cats that will weigh from 20 to 70 pounds, I prefer to use the lighter 30-pound braid. If I'm fishing for trophy catfish, I'll use 65-pound test braid or larger. I put an orange plastic bead up the line before I add an egg sinker, because many times customers will get excited when they catch a fish or are reeling their lines in to re-bait. Then that egg sinker will hit against the end guide on the rods they're fishing with, and that sinker will damage that rod's line guide. That little glass or plastic bead above the weight will prevent the egg sinker from hitting the guide. Next, I add a 1-ounce egg sinker onto the line and put another bead under that sinker to prevent the lead from hitting the knot that I tie the line to on a barrel swivel. To the other end of the swivel, I tie a 30-pound-test monofilament leader line. At the end of my leader line, I tie on a Daiichi No. 3/0 Bleeding Bait Circle Hook (www.ttiblakemore.com). I like the circle hooks because I put my rods in rod holders. If I'm fishing for trophy catfish, I'll use either a No. 7/0 or a No. 10/0 hook. I bait with either shad guts or cut skipjack herring. I drop the lead down to the bottom, reel it up about three turns off the bottom and put the rod in the rod holder. I have four rods in rod holders on the back of my War Eagle boat (www.wareagle.com), and two rods on the sides in rod holders – one on each side. I'll set the drag on the reels from 5 to 7 pounds and set my trolling motor to run at 2-4 miles per hour. Using this setup, the catfish will hook itself without the angler having to set the hook. I run my trolling motor with a remote control to steer and drive the boat. Then I have both hands free to help my anglers land catfish, re-bait hooks and assist my anglers in any way.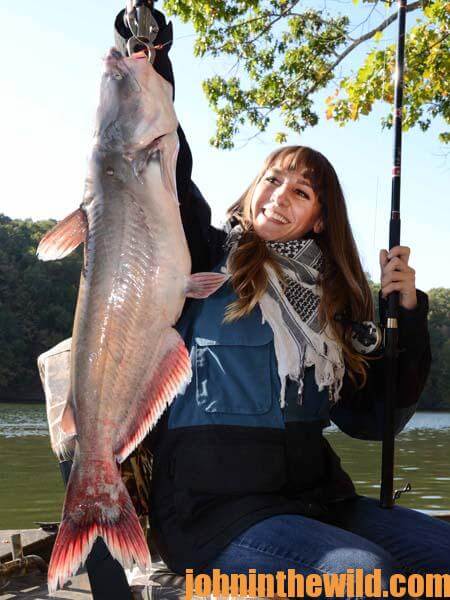 I define trophy catfishing as trying to catch catfish that weigh 30 pounds or more. But when I'm fishing for eating-size cats, I reduce the sizes of the bait and the hooks for my anglers. For the eating-size cats, I prefer to use shad guts and cut skipjack about the size of a half dollar. If I have to buy bait, I prefer shrimp, squid or chicken livers. When I'm fishing for trophy cats, I use large chunks of skipjack herring. I usually bait with the head of the herring or fillets off the side of the herring that will be 3- to 4-inches long. Hook size and bait size are the only changes I make – whether I'm trolling for eating-size cats or trophy cats. I use B'n'M rods (www.bnmpoles.com) and baitcasting reels. During the winter months, we'll often catch 20 to 30 catfish each day we fish.
To learn more about trolling for catfish you can email brianbartonoutdoor@aol.com, go to his website at www.brianbartonoutdoors.com, his Facebook page at https://www.facebook.com/Brian-Barton-Outdoors-155558067855049, or call 256-412-0969.
To learn more about fishing for and cooking catfish, check out John E. Phillips' print and eBooks for "Catfish Like a Pro," "13 Freshwater Fish Recipes You Can't Live Without" and "The Best Wild Game & Seafood Cookbook Ever: 350 Southern Recipes for Deer, Turkey, Fish, Seafood, Small Game and Birds." Click here to get these books. You can also get "The Catfish Catcher's Cookbook" for free at http://johninthewild.com/free-books.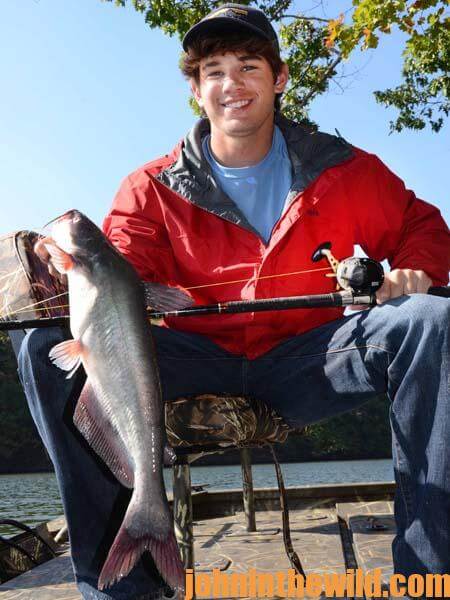 For one of the finest places to stay on the Tennessee River, the Coldwater Inn in Tuscumbia, Alabama, go to http://www.coldwater-inn.com, or call 256-383-6844.
To learn more about the Colbert County section of the Tennessee River, go to Colbert County Tourism at http://www.colbertcountytourism.org, or call 256-383-0783.
Check out these YouTube videos:
"What Are the Best Baits for Catching Eating-Size Catfish"
"How to Rig for and Catch Eating Size Catfish"
Next: Where to Troll for Fall, Winter and Spring Catfish with Brian Barton