Editor's Note: Catfish are hard-fighting and delicious to eat. The equipment you need to catch cats is inexpensive and easy to find, and the ways you can catch catfish successfully are numerous. The largest catfish on record is a 9-foot long, 646-pound Mekong giant catfish caught in China.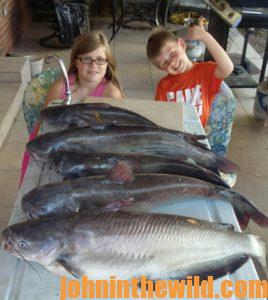 Tony Adams, a fishing guide at Alabama's Lake Eufaula, (334) 688-7505 or tony.adams@marvins.com. He also has a Facebook page at https://www.facebook.com/tony.adams.5477 catches an average of 200-400 pounds of catfish on jugs in a 4-hour trip. He says, "During the hot summer months, I'll run the lines coming from my jugs down to 40-60 feet deep. I'll put out about 72, 20-ounce empty plastic sport drink and soft drink bottles for catfish. I'll paint them orange, so I can spot them easily."
These jugs will fit neatly into the racks that drink salesmen use to carry soft drinks into stores, and they're stackable. Then the jugs don't take up very much room in Adams' boat. Adams likes to have 50-60 pound test line coming off his jugs and attaches either a No. 5/0 or a No. 6/0 stainless-steel circle hook to each, when fishing for catfish weighing 20+ pounds, or a No. 2/0 or a 3/0 hook to catch eating-size catfish. Adams fills the insides of some of the jugs with foam. "A big catfish can pull a jug down so deep that the sides of the jugs will collapse," Adams explains. "By spraying foam in the jugs, I solve that problem. The foam creates more flotation."
Adams baits his hooks with cut skipjack (a hickory shad) and with cut mullet (a saltwater fish that has a lot of oil in it and puts-off a strong smell). On some of his jugs, Adams uses an egg sinker above a swivel with about 18 inches of leader line below the swivel going to the hook. According to Adams, "The weight helps the bait reach the bottom faster, and the swivel prevents the cat from rolling up in the line. When there's little or no current, on some of my jugs, I won't use any lead, and I'll only have a swivel to keep the cat from twisting the line. So, when the catfish picks-up my bait, the fish won't feel any resistance on the line, until it gets the bait well into its mouth. I'll also put about three turns of electrical tape around my jugs to have a place to put the points of my hooks when I take in my lines. Putting the points of the hooks under the electrical tape keeps the line on the jugs from unrolling and gives me a good place to store my hooks after I've finished fishing. I'll have reflective tape on the bottoms of some of the jugs. Then when I fish at night, I'll put out the jugs with the reflective tape to make finding them easier."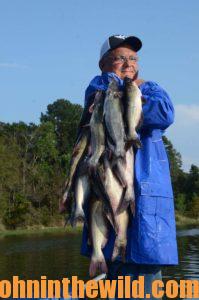 Adams tends to put his jugs out in a straight line on the edge of a river or a creek channel. He explains that, "When I put my jugs on the edge of a river channel, the wind either will blow the jugs on top of the river channel or out over the river channel. The catfish will relate to that river channel, especially in the hot summertime, as well as in the fall when they'll often suspend over a river channel. The easiest way to determine if you've got a cat on a jug or not is to put your jugs out in a straight line. Then when you start running your jugs, if you see a jug off to the left or to the right of that line, you know you've either caught a cat, or a cat has taken your bait. Most of the time, if a jug isn't in that straight line where you've put it, it will have a catfish on it."
Adams uses a fairly stiff B 'n M pole https://www.bnmpoles.com/ with a large bass hook attached to the last eyelet on the pole to pick-up his jugs quickly and play a catfish down. "Then I can get the catfish to the surface quicker and get it up to the side of the boat. If the cat is so big that I have to turn loose of the pole to keep from breaking it, the pole will float back to the surface before the jug does."
Adams produces so many catfish, partly because he uses a Humminbird Helix 12 depth finder https://www.humminbird.com/.
To learn more about caring for and cooking catfish, check out John E. Phillips's book "13 Freshwater Fish Recipes You Can't Live Without" – http://amzn.to/18OiC9v.
Tomorrow: How to Fish Small Streams Close to Home with Lines, Set Poles and Yo-Yos