Editor's Note: Captain Mike Wilson of Silverhill, Alabama, guides on Alabama's Gulf Coast. I asked him what he's catching now from mid-August – the first 2 weeks in September. This report will apply to all of the Upper Gulf Coast and tell you what you can expect to catch while fishing then. Wilson not only fishes the Gulf of Mexico but also Mobile Bay (http://www.mobile.org/includes/content/docs/media/Regional-Map-June-2017.pdf) and the rivers that feed the bay and the Mississippi Sound.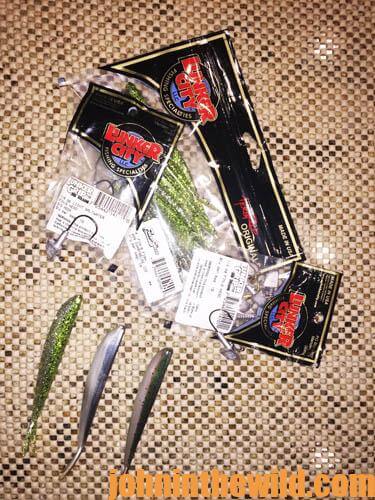 Up until about a week ago, the speckled trout on the Gulf Coast could be caught fairly easily on artificial lures. My clients and I were fishing red-headed jigs with 4-inch chartreuse Finesse soft-plastic jerkbaits. We allowed those jerkbaits to fall to the bottom and then hopped them along the bottom.
That lure will catch almost anything that swims in salt water. Not only do we catch speckled trout with it, but we also catch white trout, Spanish mackerel, bull redfish, black drum (we've caught three over 40 pounds each this summer) and some jack crevalle. The Spanish mackerel have been thick this year on the Gulf Coast, and they've bitten off numbers of our swimbaits with their sharp teeth. So, often we switch over to a wire leader to use to catch the mackerel. We fish those jerkbaits on 8-10 pound test line, and I personally prefer 10-pound test.
But now in mid-August, the speckled trout seem to like live shrimp, live finger mullet and live croakers best, instead of artificial lures. We'll fish those three lures throughout the fall too.
I get up at 3:00 am and drag a 12-foot mongoose patterned shrimp net to catch live shrimp for fishing. Although I believe trout do like the live shrimp at this time of year, we have a problem with the live shrimp, due to the numerous croakers and pinfish in the water that will kill and eat the shrimp before the trout can reach the shrimp. That's why we fish croakers and finger mullet when the pinfish and larger croakers start eating our shrimp.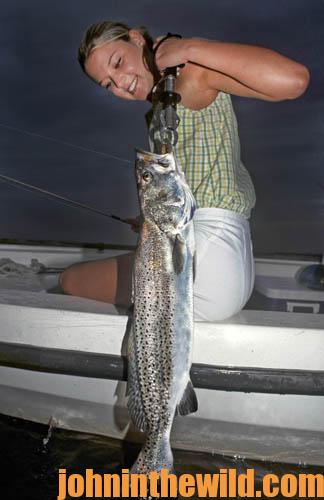 Most of the specks this time of year will be smalls to mediums. But I heard of a 26-inch male speckled trout that was caught in Mississippi Sound in early August. That's a huge male trout. Most of our keeper specks will be the 17-22 inch fish, and they're delicious. The secret to catching speckled trout in mid-August until mid-September is to get an early start on them, fishing just before the sun comes up with top-water lures. That's when we catch those 4-7-pound monster trout. If someone wants to catch big trout, they've got to be on the water early. We'll fish close to shore then for those big trout. I've got some spots on the south shore of Mobile Bay where we generally can catch a big speck.
The top-water lures that are my favorites this time of year include: the red-and-white Badonk-A-Donk (https://www.bombersaltwatergrade.com/bomber-badonk-a-donk-low-pitch-fishing-lure), about a 4-inch top-water hard bait; and a chartreuse MirrOlure Top Dog 4-inch hard bait; I'll walk the dog with these baits and jerk them more than I crank them. I want those baits to dart to the left and then back to the right. There's nothing better than watching a big trout blow up on a top-water bait. One of my customers this year caught a 7-pound speck on a top-water lure in late July just before daylight.
To learn more, you can contact Captain Mike by emailing bamainshoreslam@gmail.com or calling 251-747-6941. On Facebook, go to https://www.facebook.com/bamaslam.inshore/ where you can see his photos of the fish he and his parties have caught.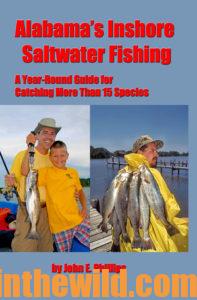 You can learn more about fishing parts of the Upper Gulf Coast from John E. Phillips' books, the Kindle and print versions of  "Alabama's Inshore Saltwater Fishing: Year-Round Guide to Catching More Than 15 Species" at https://www.amazon.com/dp/B009EZR046; the Kindle version of "Catch Speckled Trout and Redfish: Learn from Alabama's Best Fishermen" https://www.amazon.com/Catching-Speckled-Trout-Redfish-ebook/dp/B00CWE3O6O/; and the Kindle and print book versions of "Fishing Mississippi's Gulf Coast and Visitors' Guide"  https://www.amazon.com/Fishing-Mississippis-Coast-Visitors-ebook/dp/B008DWLUZ6/.
Tomorrow: Searching for White Trout, Black Drum and Redfish