Editor's Note: On October 9, 2016, Charles and Fabiola Gerken of Logan, Ohio, set-up a blind on the end of an agricultural field to try to take a buck. They waited for daylight to arrive in the very-cold weather.
"My husband fell asleep, and when I tried to wake my husband up, he was so sound asleep he couldn't wake up," Fabiola recalls. "The buck was less than 3 feet from me, so, I just shot him." Here's what had happened. Charles Gerken decided to take his wife Fabiola on a deer hunt on some of his family's land in Ohio. Although Fabiola had been hunting about 17 years, this hunt was her first with a crossbow. "I shoot a longbow, but my longbow is only rated at 32 pounds, which isn't enough poundage for hunting deer," Fabiola says. "So, Charles loaned me his crossbow to use." Charles told Fabiola, "Go to sleep. I'll wake you up if I see a deer."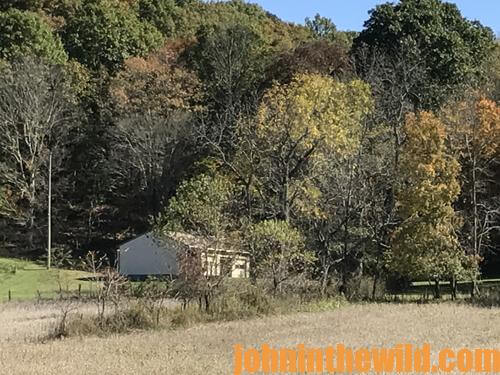 Once Fabiola woke up, daylight already had arrived, and she spotted several bucks – out of range of the crossbow – coming down a hill toward the agricultural field. Later she saw another buck move out from behind a garage and walk down a small fencerow to move out into the agricultural field to feed. Fabiola excitedly explains, "I couldn't believe how big that buck that looked straight at me and stared for quite a while was. He couldn't seem to tell what our blind was, but he recognized something that hadn't been there the previous day. I looked to the other side of the blind where Charles was sitting and spotted another nice buck 20 yards from the blind that broke and ran back to the woods as soon as he saw the blind. The next morning I knew exactly where we needed to hunt – in that little fencerow of bushes where I'd seen the big buck."
The next morning Fabiola and Charles set-up their blind with two chairs on the opposite side of the fencerow below the bushes on the hill from where the buck had walked earlier. Charles suggested Fabiola take a nap until daylight, but she told him, "I'm not going to sleep. I'm too nervous, because I know that buck will show-up this morning." Charles laughed at her, since he didn't have nearly the confidence she had that the big buck would come out from behind the garage at the back of the blind and walk down the fencerow bushes. He leaned back in his chair and went to sleep.
Once daylight arrived, Fabiola looked for the big buck and spotted two other bucks on her left, coming toward Charles' side of the blind. Although Fabiola once again tried to wake Charles up, she couldn't. Turning her head back to look in the direction from where the big buck should come, she soon saw his huge body and big rack. "When I saw that huge buck, I became very calm," Fabiola reports. "I put my knee up to rest the crossbow on and looked into the red dot scope."
The buck walked down the fencerow in front of the Gerkens' blind and stopped in front of Fabiola. "The buck was only 3 feet away and a little above me," Fabiola explains. "I saw his body but not his rack, as he looked away from me and moved on the other side of the bushes, until he stopped in a small opening. If he had looked in my direction, he easily could have spotted me. However, the buck gave me plenty of time to think, steady my crossbow and put the red dot in my scope right on his heart. I had an apple in my pocket, and I believe that apple scent covered my human odor and may have lured the buck in closer."
Fabiola's arrow hit the deer, the buck bolted and ran, and Charles woke up. Fabiola told Charles she thought she'd hit the buck that ran about 10-15 yards before going down. Fabiola nocked another arrow and prepared to take a second shot to make sure the buck was down for good. Fully awake by now, Charles asked Fabiola what she was doing. Fabiola announced, "I'm going to shoot that buck again." However, Charles told her not to shoot because the buck wasn't going anywhere. Fabiola sat down.
While still in the blind, the Gerkens saw two more bucks, and Fabiola prepared for a shot, telling Charles, "I'm going to shoot another buck." Charles smiled and said, "No. You can't shoot another buck." Disappointed, Fabiola got comfortable in her chair and then waited with Charles for 1/2-hour before coming out of the blind.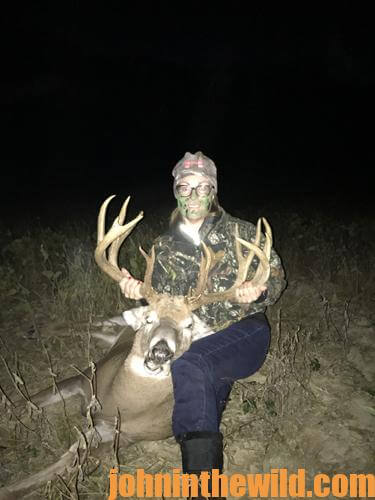 "I gave my big buck the name of Deafy, because that buck was so close to our blind – about 10 yards away – he should have been able to hear me trying to wake up Charles," Fabiola explains.
However, Fabiola realized if she'd awakened Charles, and he'd shot one of the other two bucks on his side of the blind, Deafy was so close to their blind that he would have spooked. Then she'd never have been able to get off the shot. "We took Deafy's head to the taxidermist," Fabiola reports. "I brought the antlers home to show some of our friends. Then I took the antlers back to the taxidermist."
Fabiola Gerken's Deafy irregular-racked buck was taken on October 9, 2016, in Hocking County, Ohio with a crossbow.
To learn more about hunting deer with John E. Phillips' Amazon Kindle eBooks, print books and Audible books and Nook books, click here at http://johninthewild.com/books/#deer. You can type in the name of the book and download it to your Kindle, and/or download a Kindle app for your iPad, SmartPhone or computer. For a free download on how to make jerky from venison to provide a protein-rich snack, choose "How to Prepare Venison Jerky: The Ultimate Snack Food" at johninthewild.com/free-books.
Tomorrow: Kevin Cottrell Hunts a 192 3/8 Kentucky Buck Deer
EXPLORE MORE: you'll love these stories from John too