John's Note: You can catch truckloads of catfish during the fall and winter on the Tennessee River that runs through Tennessee, Alabama and Mississippi, if you know how to troll for catfish. In late October, I learned a technique that makes catfishing fun and productive all the way up until about Christmas. This week Brian Barton of Muscle Shoals, Alabama, a professional catfish and smallmouth guide, will teach us all how to catch fall and wintertime cats.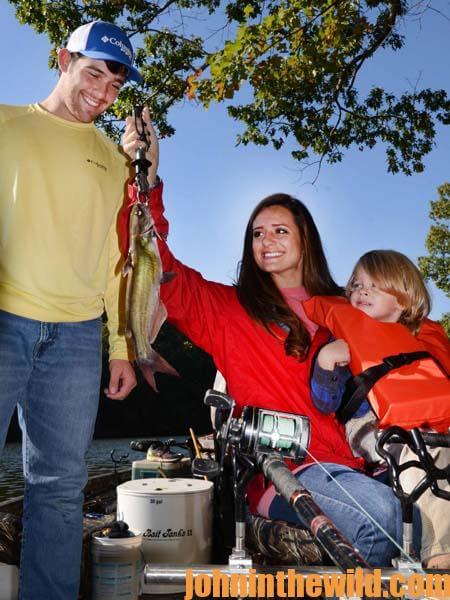 Another reason I like to troll for catfish is because I can take families out on fun fishing trips, and then they can go home with boxes full of catfish as well as memories to last a lifetime. Because I can set my trolling motor on autopilot at a speed at 2 to 4 mph, I'm hands-free to help my anglers catch catfish, boat them and re-bait their hooks. This technique of trolling for cats allows me to take a single parent with one or two children catfishing, whether they have any fishing knowledge or experience or not. When a catfish takes the bait, if the youngster is old enough and strong enough, he can take the rod out of the rod holder and reel in the cat. However, if we have smaller children, they can leave the rod in the rod holder and wind in the cat. I can help them and use my dip net to get the cat in the boat. Mom and/or Dad can continue to watch their rods for catfish to bite, and I can help the youngsters catch fish. Too, this type of trolling-for-cats trip lets grandparents take grandchildren on a catfishing trip. I help the youngsters catch cats, while Grandmother and Granddad are catching cats on their rods and reels. I really enjoy taking a single Mom and her children catfishing, because no one in the party has to have had any fishing experience to be successful. Also, I can take a Dad with one or two sons trolling for catfish, and help them become successful catfishermen, usually, the first time a catfish takes a bait.
These family fishing trips are gaining in popularity – especially in the spring and summer. During those times of the year, I offer an after-school 4-hour fishing trip. So, the parents or grandparents can pick up the children after lunch at school and come to Wilson Lake. We have plenty of time to fish for several hours before dark and catch plenty of catfish. Another big advantage to the 4-hour fishing trip is that my anglers can fish and have a good time without having to fish for 8 hours and be worn out when we come in at the end of the day.
One of the most-important aspects of taking a youngster and/or a family fishing is that I want their trip to be successful. When we're trolling for cats, I know my customer will catch a good number of catfish. Another advantage of fishing with me or with a guide is that the guide has all the equipment that the family needs for fishing. I provide all the tackle, bait, snacks, water, soft drinks and sunscreen, if my clients don't have something they need with them. All they have to do is get in my boat, and we go catch cats. When a family's fishing with me, I also suggest they bring their cameras and their video recorders. Nothing is more fun than watching a youngster reel in catfish and hold a catfish up to have his or her picture taken.
To learn more about trolling for catfish you can email brianbartonoutdoor@aol.com, go to his website at www.brianbartonoutdoors.com, his Facebook page at https://www.facebook.com/Brian-Barton-Outdoors-155558067855049, or call at 256-412-0969.
To learn more about fishing for and cooking catfish, check out John E. Phillips' print and eBooks, "Catfish Like a Pro," "13 Freshwater Fish Recipes You Can't Live Without" and "The Best Wild Game & Seafood Cookbook Ever: 350 Southern Recipes for Deer, Turkey, Fish, Seafood, Small Game and Birds." Click here to get these books. You can also get "The Catfish Catcher's Cookbook" for free at http://johninthewild.com/free-books.
For one of the finest places to stay on the Tennessee River, the Coldwater Inn in Tuscumbia, Alabama, go to http://www.coldwater-inn.com, or call 256-383-6844.
To learn more about the Colbert County section of the Tennessee River, go to Colbert County Tourism at http://www.colbertcountytourism.org, or call 256-383-0783.
Check out these YouTube videos:
"Why and How to Catch Remote Controlled Catfish"
"What the Advantages Are of a Low Cost Family Catfishing Trip"
Next: Catching Smallmouths and Catfish with Brian Barton Year-Round