John's Note: Captain Sonny Schindler was born and raised fishing on the Mississippi Gulf Coast. After graduating from college, Schindler worked on tugs and private boats before moving to Venice, Louisiana, in 2002, where he fished blue water full time for tuna, marlin, dolphin, wahoo, snapper, grouper, cobia and more. For the last few years, Schindler, who fishes every day, has been a captain with Shore Thing Charters in Bay St. Louis, Miss. You can contact him at sonnyschindler@yahoo.com or 228-342-2295.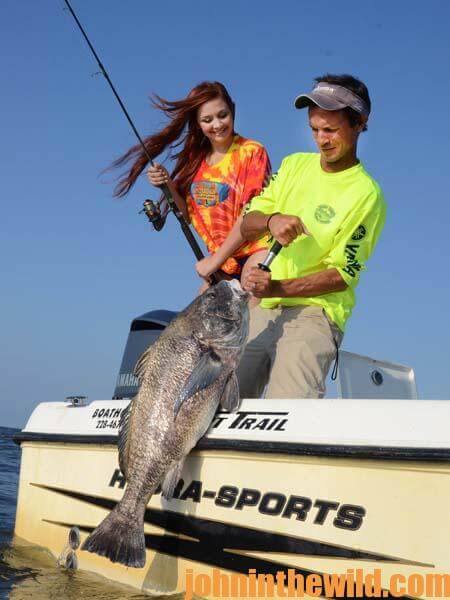 "What's the biggest fish you've ever caught?" Captain Sonny Schindler asked angler Allie Verde, who answered, "A fish about 18-inches long." Then Schindler asked, "Would you like to catch a 30 or a 40 pounder?" Verde smiled (of course) and said, 'Oh, yeah. I don't know anyone who would turn down a chance to catch a big fish.'" And, when you fish with Shore Thing Charters (www.shorethingcharters.com) out of Bayou Caddy near Bay St. Louis, their captains can make it happen. We only had motored a few hundred yards out onto the bay when Schindler stopped the boat, hooked up half of a blue crab and cast it out into the salt water. In less than 10 minutes, the rod that was secured in the rod holder almost bent double. "There's your fish Allie; go reel him in," Schindler yelled. As Verde reeled, the drag squealed. For about another 10 minutes, there was an all-out battle of tug-of-war between Verde and a 35-pound black drum.
Black drums grow to tremendous sizes, and they're great fighters. The little ones called puppy drum are delicious to eat. But when you catch a black drum that weighs more than 6 pounds, they're not particularly good table fare, although they're fun to fight, take pictures of and release. After catching that one big black drum, Verde had had enough. Another member of our crew that day, Meaghan Elizabeth Buntin, got on the rod and caught a really nice black drum, probably the easiest fish to catch that swim the waters of Bay St. Louis.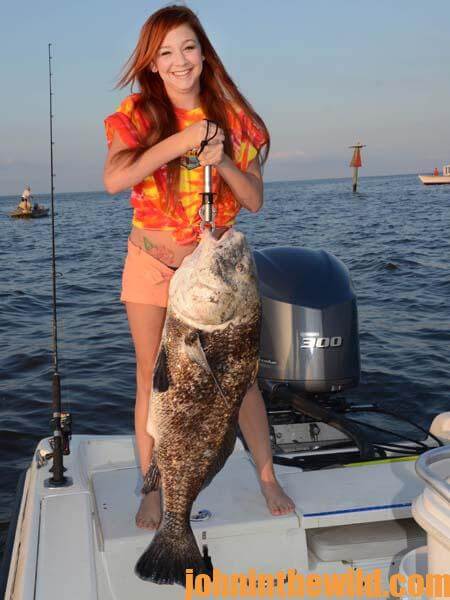 According to Schindler, "The good news is that we've caught black drum in the rain, in the wind, in muddy-water conditions and in clear-water conditions. When the speckled trout, redfish, flounder and Florida tripletail aren't biting, you always can catch black drum. The black drum isn't that much different than the red drum (redfish) and is easy to catch on almost any kind of bait, but prefers cracked blue crab." Schindler will cut a live blue crab into four different pieces, put one crab part on his hook and cast the bait out. He may have as many as four rods baited with blue crabs in rod holders along the sides of his boat. "When the black drum picks up the blue crab, that fish will start pulling out line," Schindler explains. "We have the reels set on clickers. So, when you hear the reel start clicking, all you have to do is pick-up the rod and set the hook. When you're fishing for black drum, you never know when you also may catch a redfish. This is fun fishing. Almost every week I'll have anglers tell me, 'That's the biggest fish I ever caught in my life. Can we catch some more of them?'"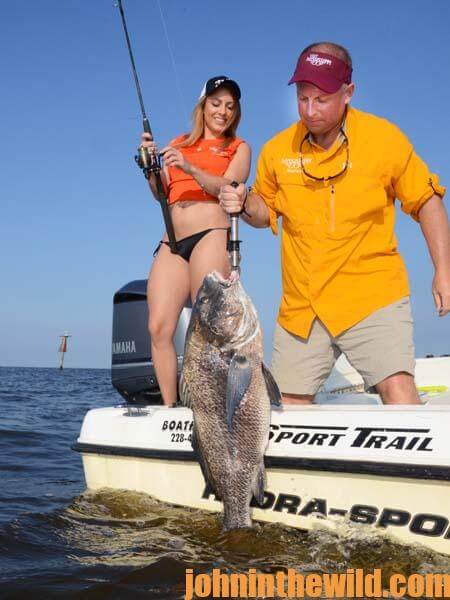 My summer never is complete, until I go to Bay St. Louis and fish with Shore Thing Charters and Captain Sonny Schindler. You can catch a wide variety of fish there. Their specialty is speckled trout and redfish, and you can load the boat with them. You also can catch big fish like black drum as well as flounder, sheepshead and Florida tripletail. Also, I really enjoy staying at the Bay Town Inn (www.baytowninn.com) and having my fresh fish cooked by Chef Aimee Anglin at The Blind Tiger restaurant (www.theblindtiger.biz). Later this week, I'll show you some of the delicious ways Chef Aimee prepares your fresh catch.
To get more information and to see more pictures of fishing trips and cooking seafood at Bay St Louis, go to www.shorethingcharters.com. Also, check-out www.visitmississippi.org.
For more information about fishing Mississippi's Gulf Coast and to get John's eBooks and print books "Fishing Mississippi's Gulf Coast and Visitor's Guide," "The Best Wild Game & Seafood Cookbook Ever: 350 Southern Recipes for Deer, Turkey, Fish, Seafood, Small Game and Birds" and "13 Saltwater fish Recipes You Can't Live Without," click here.
Next: Deadly Sins Anglers Commit When Speckled Trout Fishing with Mississippi's Captain Sonny Schindler