Editor's Note: "I can't wait for you to get here to Lake Eufaula," Mayor Jack Tibbs of Eufaula, Alabama (http://eufaulaalabama.com/, told me on the phone. "Tony Adams, who will be your guide, assures me he's found a spot where you and him should be able to limit out on crappie in 2 hours, and at the same time, Tony will have jugs put-out for catfish. He thinks you should be able to catch 100-200 pounds of catfish too in that 2-hour-time period."  I wanted to leave immediately for Eufaula, right after talking to Mayor Tibbs. But I remained at my home outside Birmingham, Ala., went to Eufaula the next day and enjoyed the fishing trip of a lifetime. Pam Swanner with the Alabama Black Belt Adventures Association (ALBBA), a non-profit group promoting the 23 Black Belt counties' hunting and fishing, (www.alabamablackbeltadventures.org) helped me set-up my trip and had put me in touch with Mayor Tibbs.
Fishing guide Tony Adams moved to Eufaula, Ala., in 1989 and started fishing Lake Eufaula as soon as he arrived for his job. He also built artificial fish attractors, which now number more than 250. I met Adams at the boat ramp, just before first light in late September, 2017. He had a boat full of 20-ounce empty plastic bottles in stackable cartons, a 5-gallon bucket of catfish bait, a cooler full of soft drinks and two, minnow buckets, each packed with small shiner minnows, a bottle of frozen water and an aerator to keep the minnows alive. After putting out 75 jugs for catfish, Adams nosed his boat toward the middle of 45,000-acre Lake Eufaula, at least a 1/2-mile or more from both banks of the lake.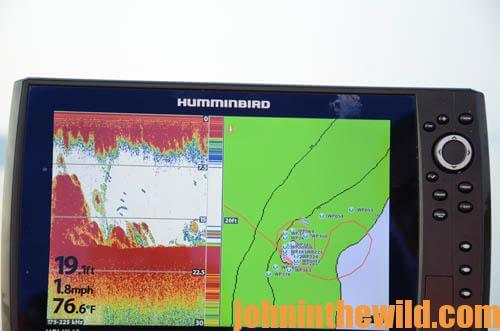 "I'm strictly a structure fisherman when I fish for crappie," Adams explains. "I look for underwater trees and logs and places where the current has piled-up limbs, sticks and brush." As I looked at Adams' new Humminbird Helix 12 (https://www.humminbird.com/Products/HELIX-12-CHIRP-SI-GPS/ depth finder, he pointed out the trees and brush on the bottom of the lake and hundreds of small dots on the screen that he explained were crappie. "These crappie are holding right on the edge of an underwater creek channel where it runs into the main river channel. The bottom here is about 20-feet deep. As you can see, I've got all the spots I like to fish highlighted in green on my depth finder. Then I can see the bottom better, using that green overlay. Notice that you can see several different trees underwater at this site, and I have the trees I've caught the most crappie out of tagged as waypoints. Not only does this place have underwater trees and brush on it, I've built and sunk some artificial reefs at this location also, to increase the number of crappie it'll hold.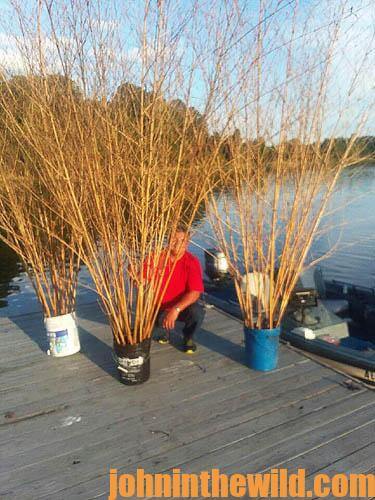 "I build my reefs out of 5-gallon buckets. I cut river cane and put those canes in the bucket, leaving about 10-12 feet sticking out of and above the bucket. Then I mix up and pour concrete in each of the 5-gallon buckets. At the locations where I'll put these artificial reefs, I generally place three buckets in the same spot. By building these buckets during the week, I can take the new buckets with me every time I go fishing and create a new reef. They're easy to load and unload out of the boat, they stand up straight on the bottom, and I sink these buckets in 20 feet of water. This way, the cane stands up at 8-10 feet off the bottom, and that's the depth where I catch most of my crappie all year long.
"This spot we'll be fishing today is a hump on the edge of the creek channel and the river channel that homes natural trees and brush as well as the artificial reefs I've sunk. When I pull up on a site, I'll put a buoy out off to the side of the spot I want to fish."
You can contact my guide, Tony Adams at 334-688-7505 or tony.adams@marvins.com and see photos of his fish on his Facebook page (https://www.facebook.com/tony.adams.5477). While in Eufaula, I stayed at Lakepoint Resort in the Alabama State Park (http://www.alapark.com/lakepoint-state-park), where the rooms have views of the lake, and the food is delicious. Contact the sales director, Sone Kornegay, at 334-687-8011 to learn more.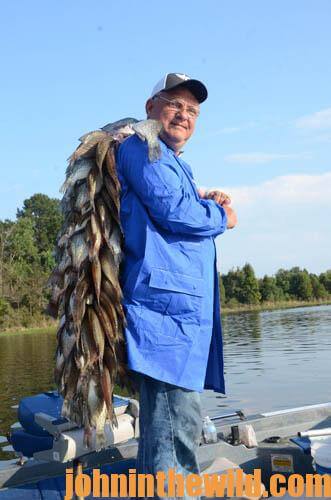 If you want to hold a crappie-fishing or a bass-fishing tournament at Lake Eufaula, you can contact Mayor Jack Tibbs at mayortibbs@eufaulaalabama.com or call 334-695-3765. You also can call 334-343-6173 or email pam@alabamablackbeltadventures.org to learn more about Alabama Black Belt Adventures.
"60 Crappie in 2 Hours" – https://youtu.be/1Nsq-Of5s9w
To learn much more about crappie fishing, get John E. Phillips' Kindle eBooks, and print and Audible books by going to http://johninthewild.com/books/#crappie or to www.barnesandnoble.com for Nook books. To receive and download for free "The Crappie Catchers' Cookbook," by John and Denise Phillips, go to http://johninthewild.com/free-books.
Next Week: While at Lake Eufaula, I also enjoyed as great day of catfishing and learned some new ways to rig, fish, store jugs and bait for catfish and bass fished with Mayor Tibbs.
Tomorrow: How We Fish for Crappie
EXPLORE MORE: you'll love these stories from John too