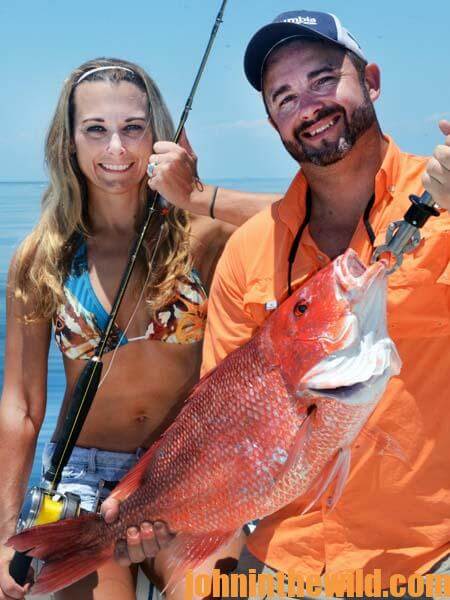 John's Note: Because fish is low in calories and cholesterol, it makes an ideal main course for heart-conscious, calorie-conscious people who are concerned about their health. A complete protein food, 1/4-pound lean fish supplies a person with 1/2 of their daily protein needs. Fish has all nine essential amino acids required by man and is easily digestible. Fish contains the B-vitamins-thiamin, riboflavin and niacin. Vitamins A and D also are found in fatter fish. Too, fish, which supply the minerals phosphorus, iron, copper, magnesium, potassium, calcium and iodine, have low sodium amounts.
Baked Shrimp with Parsley
This easy-to-prepare shrimp dish is big on flavor, and requires minimum work and clean-up.
Ingredients:
1 pound wild Alabama shrimp
1/2-stick butter
1/4-cup oil
1/2-teaspoon garlic powder
1 tablespoon lemon juice
1/2-teaspoon salt
2 tablespoons chopped parsley
2 tablespoons grated Parmesan cheese
Preparation:
Preheat oven to 400 degrees. Clean, wash, and dry the shrimp. Melt butter in a 9×13-inch pan. Add oil, garlic powder, lemon juice, salt, parsley and Parmesan cheese, and mix. Add shrimp, and mix some more until shrimp are well-coated. Bake for 9 to 12 minutes. Serve over pasta or rice. Serves 2.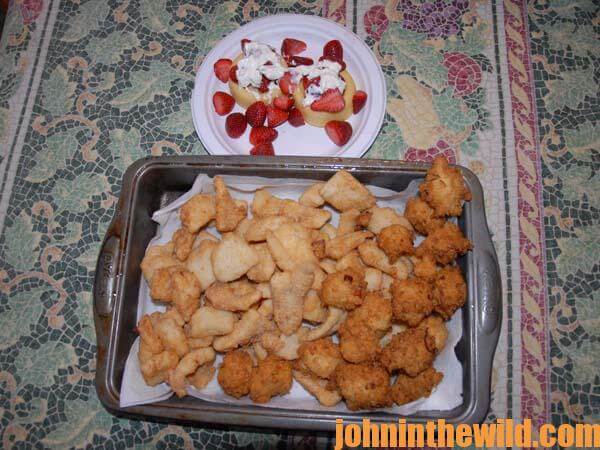 Double-Dipped Crappie Fillets
No dish satisfies like freshly-caught, fried crappie. You also can prepare this dish with catfish fillets.
Ingredients:
2 pounds of crappie or catfish fillets
1 large lemon
1 egg
1 cup milk
2 cups finely-crushed cracker crumbs
1 cup yellow cornmeal
2 tablespoons seasoned salt
Onion powder to taste (usually about 1 teaspoon)
Preparation:
Blend the egg and milk. Combine the cracker crumbs, cornmeal, and salt and onion powder in a shaker bag. Sprinkle the fillets with lemon juice, or dip them in lemon juice, and shake off excess. Dip the fillets into the egg and milk mixture, then drop into the shaker bag, and make sure that they are coated overall. If you want a thin crust, drop them into your cooker as is. For a thicker crust, repeat the dipping and shaking process. Serves 6-8.
Mexican Orange Snapper with Green Pepper Rice
Since having access to red snapper is impossible, except for a couple of months of the year, our family has explored eating other kinds of snapper and enjoy the taste of all of them. This dish tastes great prepared with any kind of snapper.
Ingredients:
3 tablespoons flour
Salt and freshly-ground black pepper
3/4-pound snapper fillets
1 teaspoon olive oil
1/2-cup chopped red onion
1 teaspoon minced garlic
1/2-cup orange juice
4 orange slices for garnish
Preparation:
Place flour on a plate, and season with salt and pepper to taste. Rinse fish fillets, and pat dry with a paper towel. Dip into seasoned flour, making sure both sides are coated. Shake-off excess flour. Heat olive oil in a medium-size nonstick skillet over medium-high heat. Add the fish, onion and garlic. Brown fish for 2 minutes, then turn, and brown the second side for 2 minutes. Remove to a plate and season with salt and pepper. Add orange juice to skillet, stirring to scrape-up the brown bits. Lower heat to medium, and return fish to skillet. Cover with a lid and cook, gently, for 5 minutes. Garnish with orange slices and serve with Green Pepper Rice (See recipe below). Serves 2.
Green Pepper Rice
Ingredients:
1 package microwavable white or brown rice to make 1-1/2-cups cooked rice
1 teaspoon olive oil
1 cup frozen, diced green bell pepper
Salt and freshly-ground black pepper
Preparation:
Cook rice according to package instructions. Measure 1-1/2-cups, and set aside the remaining rice for another dinner. Add the olive oil, heated green bell pepper and salt and pepper to taste. Serves 2.
Quick Shrimp Etouffee
The name of this yummy dish explains part of the reason you'll enjoy preparing it – it's quick to prepare.
Ingredients:
3/4-cup butter
1 cup onions, minced
1 cup green pepper, diced
6 tablespoons flour
4 teaspoons paprika
Salt and pepper to taste
4 cups water
2 pounds wild shrimp, peeled
Preparation:
Melt butter in heavy saucepan. Add onions and green pepper, and sauté for 2 to 3 minutes. Add flour, and stir, until well mixed. Add paprika, salt, pepper and water and simmer for 12 minutes. Add shrimp, and simmer for another 15 minutes. Serve over fresh-cooked rice.
The Grand Marlin's Parmesan-Crust Grouper Piccata Parmesan Crust
This creative and delicious recipe is from the Grand Marlin Restaurant in Pensacola Beach, Florida. Although the recipe has quite a few ingredients, the preparation is simple. (Be sure to check the regulations where you're fishing for grouper)
Ingredients for Parmesan Crust:
2/3-cup Panko breadcrumbs
1/4-cup grated Parmesan cheese
1 teaspoon Italian parsley, chopped
1/2-teaspoon granulated garlic
1/2-teaspoon kosher salt
1/4-teaspoon ground black pepper
Ingredients for the Fillets:
4 grouper fillets (6- to 8-ounces each)
Salt and freshly-ground black pepper
1 cup all-purpose flour
2 eggs, lightly beaten
2 cups Parmesan crust (see above)
4 tablespoons finely chopped parsley
4 tablespoons fresh butter
2 tablespoons fresh lemon juice
2 tablespoons drained brined capers, minced
1/3-cup cooking oil
Lemon slices, for garnish
Preparation:
In a bowl, combine all ingredients to make the Parmesan crust. Season both sides of grouper with salt and black pepper. Place flour in a stainless-steel bowl. Place eggs in a separate stainless-steel bowl. Place Parmesan crust ingredients in a stainless-steel bowl. Dip grouper fillets first in flour, then in the egg and then in the Parmesan crust mixture. Over medium heat, heat about 1/3-cup of oil in a non-stick skillet, add breaded grouper fillets to the pan, and cook about 4 minutes on the first side (until golden brown). Carefully turn to the other side, and cook for another 4 minutes. If grouper is very thick, you can have them butterflied to flatten them out for more even cooking or place them in a 350-degree oven to finish. Cook until fish is cooked to about 135 degrees (they will be just cooked with a most translucent texture). Do not overcook, as the fish will be dry and tasteless. Remove grouper from pan. Add in butter, and heat until butter begins to brown. Remove from heat, and stir in lemon juice, chopped parsley and capers. Pour sauce over fish, and serve. Garnish with lemons. Yield: 4 servings.
Catfish with Lemons and Capers
This dish has a great flavor.
Ingredients:
36 to 40 small catfish fillets
1/2 – 1 cup milk
1/2 – 1 cup flour
Salt and pepper
1/2 – 1 cup oil
1 – 2 lemons peeled and cut into small cubes
6 – 12 tablespoons oleo
1/3 – 1/2-cup capers
2 tablespoons – 1/4-cup chopped fresh parsley
Preparation:
Coat the fish fillets with milk. Dredge in flour seasoned with salt and pepper. Cook in hot oil until crispy outside and tender inside. Drain, and put in a warming dish. Sprinkle with cubed lemon (I squeeze a bit of lemon on each piece of fish). Discard fat from skillet, and wipe clean. Heat oleo until it just starts to brown. Add capers, and cook 15 – 20 seconds. Pour over fish, and sprinkle with parsley. Serve immediately. Yield: 6 – 8 servings.
NOTE: The difference in the measurements depends on the amount of fish you use and how much you like lemon and capers.
Pan-Roasted Mackerel and Veggies
Mackerel is delicious when prepared with roasted vegetables as in this dish, and generally you can catch mackerel year-round.
Ingredients:
2 small orange bell peppers, cut into 1-inch pieces
1 large sweet onion, cut into 1-inch pieces
8 cloves garlic, smashed
1-1/2-tablespoons olive oil
2 slender zucchini, trimmed, quartered and cut into 3/4-inch pieces
1 pint cherry tomatoes
1-1/3-pound mackerel fillets (skin-on or skinless)
1 teaspoon Herbs de Provence (optional)
1/4-cup fresh basil leaves, thinly sliced (optional)
Kosher salt
Preparation:
Heat oven to 375 degrees. Put peppers, onion and garlic on large sheet pan lined with parchment paper, and drizzle with 1 tablespoon of the olive oil. Sprinkle with 1/2-teaspoon kosher salt. Toss to combine. Spread in single layer to edges of pan. Roast until browned, about 30 minutes. Stir in zucchini and tomatoes and sprinkle evenly with 1/4-teaspoon kosher salt. Roast, stirring occasionally, until zucchini softens, about 20 minutes. Remove from oven. Turn on broiler. Place fish on veggies, and drizzle with remaining 1/2-teaspoon olive oil. Sprinkle with herbes de Provence (if using) and 1/4-teaspoon kosher salt. Broil on top rack until fish cooks through, about 6 minutes. Top with basil (if using). Yield: 4 servings.
Tuna Steak with Asian Dipping Sauce
Fresh tuna is one of our family's favorites, and the dipping sauce is so tasty. (Be sure to check the regulations when you're fishing for tuna).
Ingredients:
3 tablespoons miso paste
1 tablespoon reduced-sodium soy sauce
1 tablespoon rice vinegar
2 small cloves garlic, grated
1-1/2-teaspoon honey
1/4-teaspoon hot-pepper sauce (optional)
1-1/3-pounds fresh skinless tuna steaks, about 1-inch thick
2 tablespoons olive oil
Ingredients for Dipping Sauce:
2 tablespoons reduced-sodium soy sauce
2 teaspoons rice vinegar
1 teaspoon sliced scallion greens, plus extra for garnish
Preparation:
Combine miso paste, soy sauce, vinegar, garlic, honey and hot-pepper sauce (if using). Rub on tuna, and marinate 30 minutes in refrigerator. Remove, and let sit at room temperature 10 minutes. Heat lightly oiled nonstick grill pan over medium-high heat. Place fish on hot pan, and brush tops with oil. Cook until deep brown on underside, about 1 to 1-1/2-minutes. Flip, and cook other side 1 to 1-1/2-minutes for rare or until desired doneness. Sear edges of each steak. Mix sauce ingredients in small bowl. Slice tuna, top with extra scallions, and serve with sauce. Yield: 4 servings.
Grilled Peanut Butter Shrimp
We love shrimp cooked in any way, and this Thai-inspired recipe is so fun to cook outdoors on your grill.
Ingredients:
1/4-cup creamy peanut butter
1/4-cup soy sauce
1/4-cup sugar
2 tablespoons olive oil
1-1/2-pounds large wild Alabama shrimp, shelled and deveined
Preparation:
In a saucepan, heat, and stir together peanut butter, soy sauce, sugar and olive oil. Place shrimp on skewers, and brush with peanut butter sauce. Grill over medium-hot heat for 3 minutes; then turn, and grill for another 2 minutes or so, basting if needed. Yield: 4 servings for a main dish or more people as an appetizer.
Sweet 'n' Spicy Cobia or Grouper
Both of these saltwater fish are delicious prepared this way. (Be sure to check the regulations where you're fishing for cobia and grouper).
Ingredients:
3 cups diced mango
1 cup diced cucumbers
1/4-cup chopped scallions
3 tablespoons chopped fresh cilantro
Pinch of cayenne pepper
2 limes, zested and juiced
2 tablespoons extra virgin olive oil
1/2-teaspoon ground cumin
1/2-teaspoon honey
1 clove garlic, chopped
6 cobia or grouper fillets (6 ounces each)
Sea salt
Salt and pepper
Preparation:
Heat-up the grill. In bowl, toss together mango, cucumbers, scallions, cilantro, cayenne pepper, 2 tablespoons lime juice and 1 teaspoon lime zest, and season with salt and pepper, to taste. In a separate bowl, whisk together olive oil, ground cumin, honey, chopped garlic, 1 tablespoon lime juice and 1 teaspoon lime zest, and season with sea salt and pepper to taste. Brush fish on all sides with cumin-oil mixture. Grill fish fillets for 10 minutes or until done, turning once. Let sit 5 minutes before serving. Serve with mango salsa. Yield: 6 servings.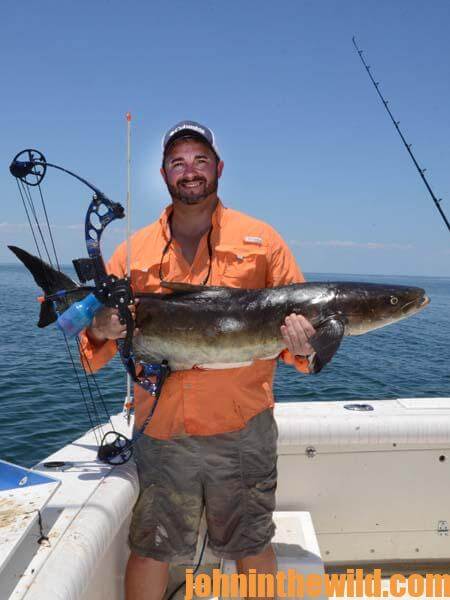 These recipes are new and are not included in our book, "The Best Wild Game & Seafood Cookbook Ever: 350 Southern Recipes for Deer, Turkey, Fish, Seafood, Small Game and Birds," available at http://amzn.to/WkbLRg in Kindle eBook and in print.
Next: Yummy Recipes for Preparing Crappie Catfish, Snapper, Grouper, Crab and Flounder
EXPLORE MORE: you'll love these stories from John too