John's Note: Even with technological and informational advances in recent years, crappie anglers often have three misconceptions about crappie fishing, including: persons who fish for crappie are bound to the crappie holding structure they can see; crappie anglers have to stop fishing when the crappie quit biting; and crappie fishermen who pinpoint productive locations must keep them secret from other anglers. But today's crappie anglers are catching more and bigger fish than ever before, and here's how they're doing it.
"Some anglers believe that the bigger crappie take bigger jigs," Gordon Elkins, a longtime participant in crappie tournaments, explains.
"My friend Hal Barber catches plenty of really big crappie using 1/4 ounce jigs and trolling them with a big round cork on each in the mouths of creeks and along submerged rivers." Barber believes that the 3 inch grub on the 1/4 ounce jig head produces bigger crappie than little jigs do. And, many live-bait fishermen have discovered that bigger minnows catch bigger crappie.
"The larger the minnow, the bigger crappie it takes to swallow it," one avid crappier told me.
Some crappie fishermen use big shiner minnows in open water on old creek channels in the middles of lakes to catch crappie. As one crappie fisherman Andy Stone said, "I like a little current or wind on a lake.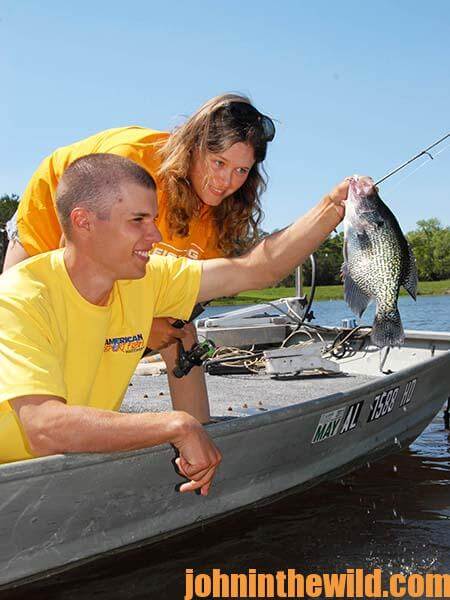 When I'm fishing for big crappie, I try to anchor upwind or up current along the ledge I want to fish. I'll set my big, round, red and white cork, so the minnows float about a foot to a foot and a half off the bottom. I like a big cork, because it catches more wind and will move the bait along the ledge. As the cork carries the bait along the ledge, I continue to feed out line. When a big crappie hits, I set the hook and reel it in to the boat.
There are several reasons I like this technique. First, I feel I catch bigger crappie and occasionally a nice bass with shiner minnows. I can cover a good portion of the old creek bank, while staying anchored. I can catch more fish in a school before they move off, because I'm pulling the fish away from the school and not up through the school. Furthermore, I don't feel I spook the crappie as badly as someone trolling through them or someone fishing on top of them, since I'm further away from the school. I have found that big crappie can be extremely spooky. I can catch big crappie all year long deer on creek channels with this method. I believe that deep crappie are affected less by weather conditions than shallow-water crappie are."
To learn more about crappie and how to fish for them from the masters of the sport, get "Crappie: How to Catch Them Spring and Summer," a new eBook from Amazon's Kindle by John E. Phillips. Also, you can learn more about crappie fishing from the Reelfoot Lake pros by purchasing the Kindle eBook, "Reelfoot Lake: How to Fish for Crappie, Bass, Bluegills and Catfish & Hunt for Ducks" by John E. Phillips. Click here to get these books.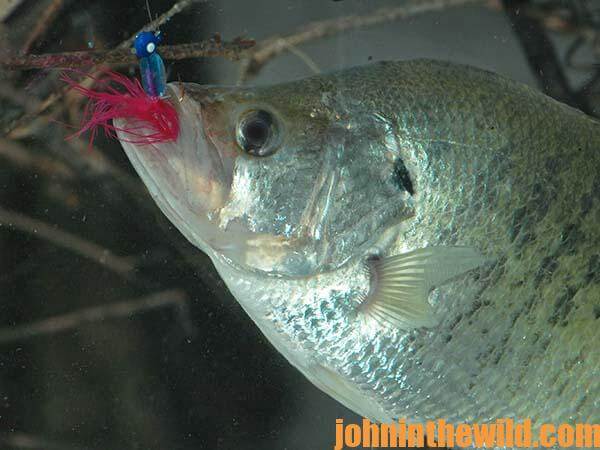 About the Author
John Phillips, winner of the 2012 Homer Circle Fishing Award for outstanding fishing writer by the American Sportfishing Association (AMA) and the Professional Outdoor Media Association (POMA), the 2008 Crossbow Communicator of the year and the 2007 Legendary Communicator chosen for induction into the National Fresh Water Hall of Fame, is a freelance writer (over 6,000 magazine articles for about 100 magazines and several thousand newspaper columns published), magazine editor, photographer for print media as well as industry catalogues (over 25,000 photos published), lecturer, outdoor consultant, marketing consultant, book author and daily internet content provider with an overview of the outdoors.
EXPLORE MORE: you'll love these stories from John too