John's Note: Even with technological and informational advances in recent years, crappie anglers often have three misconceptions about crappie fishing, including: persons who fish for crappie are bound to the crappie-holding structure they can see; crappie anglers have to stop fishing when the crappie quit biting; and crappie fishermen who pinpoint productive locations must keep them secret from other anglers. But today's crappie anglers are catching more and bigger fish than ever before, and here's how they're doing it.
According to the late Bobby Martin, one of the most-intense crappie tournament fishermen I've ever known, "The way to catch crappie in the summer is to fish deep.
That means most of the time in my opinion, you can forget about trolling. However, there are no hard and fast rules in fishing. In other words, always fish deep in the summer, unless you encounter some kind of water condition that prevents you from doing it. Let me explain. There's a place on Lake Eufaula on the Alabama/Georgia border where three creek channels come together. It's about the only place I know of where even in August an angler always can catch crappie. The fish concentrate in this particular region, because there's cool water – from three different creeks – running into the lake at the same spot.
There will be a 10 to 15 degree temperature difference in this area all summer. Although the rest of Lake Eufaula may have 85 to 90 degree water, the water here is a constant 65 to 70 degrees from the surface down to about 6 feet. The fish will be 4-1/2 to 5 feet deep – even in August. This site also has humps on the bottom with trash piled on top of them. The crappie here will have cool water, structure and cover all in one place. Since the water here is always stained, the light penetration doesn't bother the fish either. It's one of those places where you don't have to fish as deep to catch summer crappie.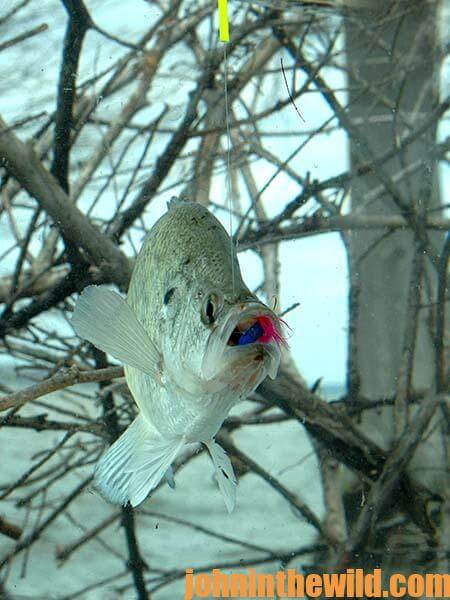 "Another effective technique is to vertically jig drop-offs in deep water. Actually bass angling and crappie fishing aren't that much different. Usually you can find both kinds of fish holding on the same type of structure at the same water depth at about the same time of the year. During hot weather, fish a 1/32 ounce jig on 4 to 6 pound test line, since crappie seem to want a smaller jig when they're holding in deep water. Of course when you're fishing a 1/32 ounce jig 12 foot deep in water, you have plenty of time to talk to your buddy before your jig reaches the bottom. But watch your line, because you'll see the bite rather than feel it. Remember, crappie generally are more aggressive when you're fishing light line and little jigs in deep water."
Most anglers have a more difficult time identifying and catching deep water crappie than they do shallow water crappie.
If you look for and locate crappie in deep water, generally you'll find some of the biggest crappie in any lake holding in those deep water haunts where most crappie fishermen don't fish.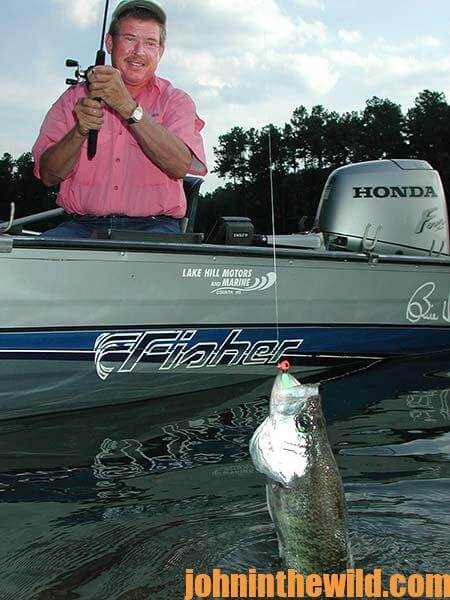 In many clear lakes, especially during the summer months, you may pinpoint crappie holding in much deeper waters that you've ever imagined. Some anglers have reported catching crappie 50- to 60-feet deep on underwater ledges and drop-offs in clear lakes in the summer and winter months. Whether you're finding crappie with a depth finder, trolling for crappie or putting out fish attractors, an angler who uses these tactics can catch a mess of crappie in deep water.
Also, you can learn more about crappie fishing from the Reelfoot Lake pros by purchasing the Kindle eBook, "Reelfoot Lake: How to Fish for Crappie, Bass, Bluegills and Catfish & Hunt for Ducks" by John E. Phillips. Click here to get this book.
About the Author
John Phillips, winner of the 2012 Homer Circle Fishing Award for outstanding fishing writer by the American Sportfishing Association (AMA) and the Professional Outdoor Media Association (POMA), the 2008 Crossbow Communicator of the year and the 2007 Legendary Communicator chosen for induction into the National Fresh Water Hall of Fame, is a freelance writer (over 6,000 magazine articles for about 100 magazines and several thousand newspaper columns published), magazine editor, photographer for print media as well as industry catalogues (over 25,000 photos published), lecturer, outdoor consultant, marketing consultant, book author and daily internet content provider with an overview of the outdoors.
EXPLORE MORE: you'll love these stories from John too